RMIT calls in lawyers as staff prepare to boycott university open days
Key points
RMIT does not want to negotiate its next EBA with staff until next year, even though the current one has expired.
To force the uni to the negotiating table, staff have proposed a series of out-of-hours work bans.
Some of those bans are timed to coincide with next month's open days.
RMIT has threatened legal action at the Fair Work Commission to prevent staff enacting the bans.
RMIT University is threatening legal action to stop staff following through with plans to boycott a series of vital open-day events next month.
Staff voted this month to temporarily refuse to do unpaid or volunteer work, in a bid to force university management to the bargaining table to negotiate a new workplace agreement. The current agreement expired more than a year ago.
Staff at RMIT plan to boycott open-day events in an effort to force the university to the bargaining table.Credit:Rodger Cummins
National Tertiary Education Union members at RMIT voted to reject unpaid or volunteer work for 11 days between August 5 and 15. The action is expected to disrupt planned open-day events at RMIT's campuses, which will be held on Sundays this year.
Open days are crucial for universities to attract prospective students, but they have not been held on campus in Victoria since 2019.
The proposed action also includes refusing to take additional absentee classes unless full-time-in-lieu is provided, or do any work outside paid hours, including answering emails or communicating with students.
"RMIT must come to the bargaining table now when CPI [inflation] is skyrocketing and we are sinking under our workloads," a union motion states.
The university, which said it would not start to bargain until next year, responded through its lawyers on Tuesday, accusing the union of "organising unprotected industrial action".
RMIT threatened to take the union to the Fair Work Commission if staff followed through on the plan to refuse unpaid work for 11 days, and demanded it tell staff to back down by close of business on Wednesday.
"Significant pecuniary penalties may be imposed against the NTEU in respect of unprotected industrial action which it organises," the letter said.
The Fair Work Commission can compel staff under the Fair Work Act to stop or call off industrial action for a set period of time.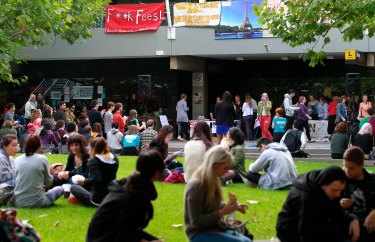 Students at RMIT's Bundoora campus, where an open day will be held on August 7.Credit:Eddie Jim
The union's Victorian division assistant secretary, Sarah Roberts, said the university's move to shut down staff action was disproportionate.
"Why should union members work for free out of the goodness of their hearts for an employer that won't even sit down at the bargaining table?" she said.
"RMIT has proven once again that events like open days mean more to them than ensuring staff grappling with insecure work and flatlining wages get a fair deal."
RMIT vice chancellor Alec Cameron told staff in May a new strategy for the university was being developed and "it's not yet the right time to commence bargaining on our next enterprise agreements".
"In the meantime, all entitlements, benefits and protections outlined in the current enterprise agreements remain in place after expiry dates, until new agreements are agreed and implemented," he said.
Staff would receive a 2 per cent pay rise in June, Cameron said.
A university spokesperson said RMIT was in the final stages of developing a strategy for the next decade, and its staff were being regularly updated while this work is completed.
"RMIT employees who participate at our open days are remunerated," the spokesperson said. "They receive pay or time in lieu for their support, depending on their employment arrangement."
RMIT's open days are planned for August 7 (Bundoora campus) and 14 (Melbourne and Brunswick).
The Morning Edition newsletter is our guide to the day's most important and interesting stories, analysis and insights. Sign up here.
Most Viewed in National
From our partners
Source: Read Full Article