Section of U.S. 40 closed in Grand County by wildfire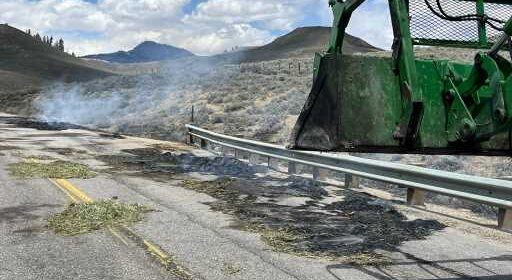 A wildfire sparked in Grand County on Tuesday afternoon when hay bales along U.S. 40 caught on fire. A stretch of the roadway remains closed.
Westbound U.S. 40 is closed at Colorado 134 and eastbound is closed at milepost 164, according to the Grand County Sheriff's Office.
No structures are threatened and no injuries were reported, the sheriff's office said.
The fire started about 12:45 p.m. Tuesday when hay bales along the roadside caught fire and spread to surrounding sage, according to the sheriff's office.
Multiple fire departments responded, including Kremmling Fire, Grand Fire Protection District, Hot Sulphur Springs Parshall Fire Protection District, East Grand Fire Protection District, and Grand Lake Fire Protection District.
"The fire is in mop-up mode," the sheriff's office said in a statement.
An investigation into the full cause of the fire is ongoing.
Source: Read Full Article