E. Jean Carroll ruling LIVE: Get the latest updates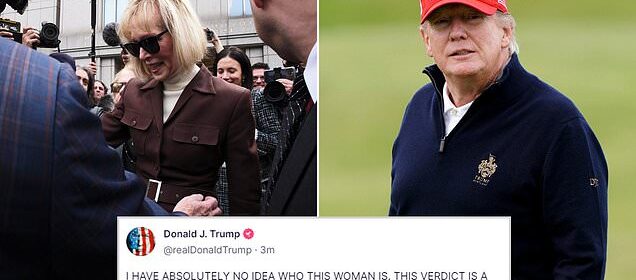 E. Jean Carroll ruling LIVE: Trump reacts to New York jury's decision that he has been found liable of defamation of E. Jean Carroll for $5million
DailyMail.com reporters will bring you all the latest following a New York City jury's ruling that Donald Trump is liable of both defaming and sexually abusing writer E. Jean Carroll. 
Host commentator
A statement from Trump's 2024 campaign doubles down on claims that the verdict is part of a 'witch hunt' of the former president.
'The Democratic Party's never-ending with-hunt of President Trump hit a new low today,' it said.
'Make no mistake, this entire bogus case is a political endeavor targeting President Trump because he is now an overwhelming frontrunner to be once again elected President of the United States.
'The continued abuse of our great Constitution for political ends is disgusting and cannot be tolerated,' the campaign continued. 'Our nation is in serious trouble when claims lacking any evidence or proof or eyewitnesses can invade our courts to score political points.'
CNN is now urged to CANCEL Trump's town hall
CNN is being urged to cancel it's Wednesday evening town hall meeting with Donald Trump after he was found liable for sexually assaulting author E. Jean Carroll.
The former president is scheduled to be at New Hampshire's St. Anselm College forum with voters moderated by CNN's Kaitlan Collins.
But numerous commentators took to Twitter to demand the network cancel the event.
Former President Donald Trump has even more legal troubles coming down the pipeline after a New York jury decided Tuesday in favor of writer E. Jean Carroll, finding the ex-president liable of sexual abuse, battery and defamation – to the tune of $5 million.
Carroll's case was a civil case, and while the jury voted in her favor they also said they didn't believe she was raped, knocking the liability down to sexual assault.
In other unrelated cases, Trump could be criminally charged
In a message to NBC News political reporter Allan Smith, Asa Hutchinson hit out at Trump following the jury's decision.
'Over the course of my over 25 years of experience in the courtroom, I have seen firsthand how a cavalier and arrogant contempt for the rule of law can backfire,' he said.
'The jury verdict should be treated with seriousness and is another example of the indefensible behavior of Donald Trump.'
In a statement following the verdict, Vivek Ramaswamy came to Trump's defense.
'I wasn't one of the jurors, and I'm not privy to all the facts that they have, but I'll say what everyone else is privately thinking: If the defendant weren't named Donald Trump, would there even be a lawsuit?' he said.
The presidential candidate went on to say the verdict 'seems like just another part of the establishment's anaphylactic response against its chief political allergen: Donald Trump.'
'Believe me, it would be a lot easier for me if Trump weren't in this race,' he said. 'But in America, we don't weaponize the law with decades-old allegations to undercut our political opponents.
'I want to win this race by showing voters how I will take the America First movement beyond Trump, and I look forward to facing him on the debate stage.'
Speaking to FOX News following the verdict, Trump said he will appeal the decision.
'We'll appeal,' he said. 'We got treated very badly by the Clinton-appointed judge.'
'And [Carroll] is a Clinton person too.'
Here s a breakdown of how much the former president will have to pay:
SEXUAL ASSAULT: $2.7million
BATTERY: $2million
DEFAMATION: $280,000
TOTAL: $4,980,000
Trump blasts decision as 'a continuation of the greatest witch hunt'
Following the ruling, former President Donald Trump took to his Truth Social to slam the decision.
He wrote in all capital letters: 'I HAVE ABSOLUTELY NO IDEA WHO THIS WOMAN IS.
'THIS VERDICT IS A DISGRACE — A CONTINUATION OF THE GREATEST WITCH HUNT OF ALL TIME!'
Jury finds Trump DID sexually abuse E. Jean Carroll in Bergdorf Goodman dressing room in the 1990s
A jury has found that Donald Trump sexually abused E. Jean Carroll.
The panel of six men and three women also found that Trump injured advice columnist Carroll in a Manhattan Bergdorf Goodman dressing room and defamed her when he called her a liar, ordering the former President to pay $5million in damages.
But they ruled after just three hours of deliberation that the evidence did not show that the former president had raped her.

Source: Read Full Article