Protesters hurl petrol bombs amid riots over Greek rail tragedy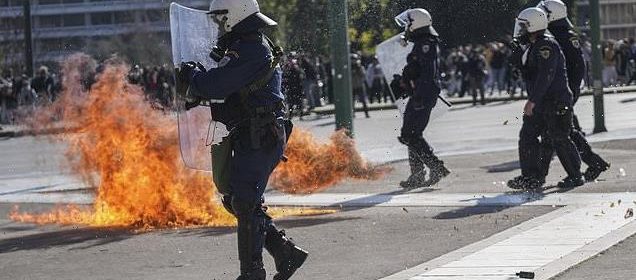 Protesters hurl petrol bombs at police who respond with tear gas as tens of thousands demonstrate over Greek rail tragedy and call for PM to quit
57 people were killed and more than a dozen are in hospital after Feb. 28 crash 
Protests are ongoing and rioters today threw petrol bombs outside parliament
Greek police fired tear gas at firebomb-throwing protesters outside parliament Wednesday as tens of thousands demonstrated over the country's worst rail tragedy and called on the prime minister to quit.
Fifty-seven people were killed, and 14 others remain in hospital after a freight train crashed head-on with a passenger train, carrying mostly students, on February 28.
The biggest protests were in Athens, where over 40,000 people flooded the streets, waving banners that read 'it's not an accident, it's a crime' and 'it could have been any of us on that train'.
Outside parliament, dozens of masked, black-clad protestors hurled Molotov cocktails and stones at riot police, who responded by firing volleys of tear gas, an AFP reporter said. Demonstrators also torched a van a few blocks away.
In Greece's second city of Thessaloniki, riot police fired tear gas at stone-throwing protesters outside the local railway station.
Riot police try to avoid the flames of a molotov cocktail thrown by protesters
Riot police officers operate during clashes that broke out when masked men attacked riot police officers in front of the parliament building during a protest march in Athens, Greece, 08 March, 2023
People take part in a protest during a 24-hour strike, after a collision between two trains, near the city of Larissa, in Athens, Greece
A protester tries to avoid smoke grenade thrown by riot policemen during a rally marking a nationwide 24-hour strike following a deadly train crash that claimed the lives of at least 57 people, in Athens, Greece, 08 March 2023
A van burns during a protest, after a collision between two trains, near the city of Larissa, in Athens, on March 8, 2023
A protester stands in front of a riot police officer during a demonstration following the fatal collision of two trains, near the city of Larissa, in Athens, Greece, March 8, 2023
People take part in a protest during a 24-hour strike, after a collision between two trains, near the city of Larissa, in Athens, Greece, on March 8, 2023
More than 65,000 demonstrators took to the streets nationwide, according to police.
WATCH: Horrifying footage reveals moment two trains collided and burst into flames 
'I am here to pay tribute to the dead but also to express my anger and my frustration,' Athens protester Niki Siouta, a 54-year-old civil engineer, told AFP.
'This government must go.'
Alongside the protesters, Greek civil servants staged a 24-hour walkout while doctors, teachers, bus drivers and ferry crew members also went on strike.
Railways were paralysed as train workers extended strike action launched in the aftermath of the accident.
'This government opts to spend money on the police and the army, but not for our safety,' said Thanassis Oikonomou, a striking worker and bus union representative.
Last week protests triggered by the crash saw riot police clash repeatedly with demonstrators, including in Athens.
Calls are growing louder for Prime Minister Kyriakos Mitsotakis – who is fighting for re-election this spring – to quit over the tragedy, which has shone a harsh spotlight on decades of government mismanagement of the rail network.
A station master, who admitted forgetting to reroute one of the trains, has been arrested and charged, but the government has been criticised for seeking to shift the blame mainly on him.
Firefighters and rescuers operate after a collision in Tempe near Larissa city, Greece, Wednesday, March 1, 2023
Debris of trains lie on the rail lines after a collision in Tempe, about 376 kilometres (235 miles) north of Athens, near Larissa city, Greece, Wednesday, March 1, 2023
Greek Prime Minister Kyriakos Mitsotakis visits the site of a crash, where two trains collided, near the city of Larissa, Greece, March 1, 2023
Critics say the station master was inexperienced and was left working alone during a busy holiday period, and accuse officials of failing to pursue safety reforms on the network.
Greece's transport minister resigned on March 1 and Mitsotakis has apologised to victims' families, pledged to get to the root of what happened and embarked on a flurry of public appearances in an apparent bid to soothe anger.
The premier visited the crash site and gave a televised address, blaming 'human error' for the accident while calling for a special committee of experts to investigate.
But critics have been merciless. 
Writing in liberal daily Kathimerini, columnist Pantelis Boukalas called the prime minister's apology 'belated' and said that some may suspect it was 'guided by PR gurus'.
The prime minister and other politicians suspended election campaigning in the wake of the tragedy. There is now speculation that the polls, expected in April, could be delayed until May. 
The demonstrations and vigils across Greece have expressed a combination of grief and anger at the disaster, which happened when a passenger train and a freight train collided
Police and protestors were pictured fighting on escalators and stairs in Athens
Mitsotakis has vowed to seek European Union assistance to 'finally' modernise the train network.
The executive director of the EU's rail agency and the European Commission's director for land transport were visiting Athens Wednesday for talks with Greek officials.
Giorgos Gerapetritis, Greece's acting transport minister, said rail passenger transport might resume by the end of March.
Speaking at a press conference, he also conceded that if safety systems had been fully automated, 'the accident would not have happened'.
Political life will resume Thursday after a period of national mourning, but the premier seems in no rush to confront the issue of the looming polls.
Asked Monday when Mitsotakis will set an election date, government spokesman Yiannis Economou replied: 'At this stage, this issue is not on the prime minister's mind at all.'
Source: Read Full Article