VdL announces plans to copy Liz Truss as EU to reopen Australia trade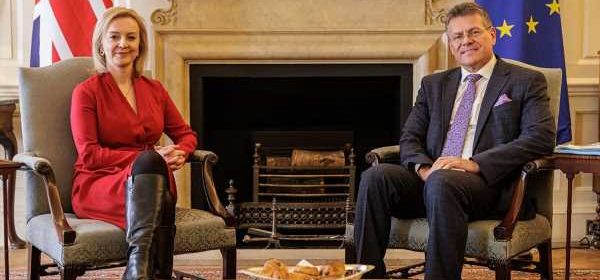 Ursula von der Leyen announces trade plans
We use your sign-up to provide content in ways you've consented to and to improve our understanding of you. This may include adverts from us and 3rd parties based on our understanding. You can unsubscribe at any time. More info
Liz Truss made significant advances in trade talks with Australia as trade minister in 2020 in areas such as data, digital, and services. Last week, the former International Trade Secretary Anne-Marie Trevelyan was privately hosted by the trade and tourism minister – and part-time winemaker – Don Farrell with plans to cement a deal in the new year. Ursula von der Leyen has since announced she is seeking to advance trade talks with Australia and India.
Speaking in the European Parliament, she said: "A lot of steps must be taken on that front but trade policy comes into question there.
"We need new partnerships, geographically these raw materials are not just located in one place on earth.
"We need new partnerships not just to strengthen our economy but also to pursue our interests and values at the global level.
"With similarly minded partners, we can work beyond our borders to improve labour and environmental conditions.
"We need new reliable partners where we can mutually grow.
"The agreement with Chile, Mexico, and New Zealand will be put forward for ratifications and we will continue negotiations with partners like Australia and India.
"We need to learn from the mistakes of the past."
It comes after French President Emmanuel Macron has called for "strengthened co-operation on energy" as he congratulated Liz Truss on winning the Tory leadership.
Truss 'intends to bring forward fiscal statement' says expert
Mr Macron said that despite the relationship between the UK and France being different now due to Brexit, there is strong cooperation in nuclear energy which France is keen to continue.
Rising costs of energy bills is one of the many topics faced by the incoming prime minister, with the average annual energy bill set to jump by 80% in October from £1,971 to £3,549.
The energy crisis has been a global issue following Russia's invasion of Ukraine in February, which has contributed to the increase in oil and gas prices.
At a press conference given in French on Monday, Mr Macron told journalists: "I welcome Liz Truss. I express congratulations on behalf of all of France, and we are available to be able to work among, as they say, allies and friends.
DON'T MISS
Queen's royal photographer shares 'last time' he took Queen's photo [INSIGHT]
Liz Truss to unveil first Brexit strategy card to scupper EU [ANALYSIS]
Truss handed masterplan to speed up fracking [VIDEO]
"I think, whatever happens, we must on the subject of energy, as on others, have strengthened co-operation.
"We have the same values, we have a history of friendship, and we face shared challenges.
"The United Kingdom is a great country which is committed with us to defend the values of democracy by Ukraine's side, and which also needs to strengthen its energy sovereignty and win the battle against climate change.
"That is the real agenda, and the rest is just political froth."
Source: Read Full Article