US Strongly Condemns North Korea's Failed Spy Satellite Launch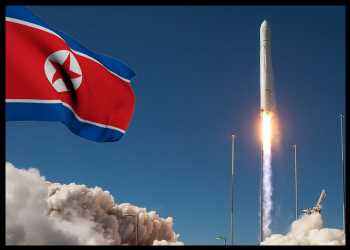 The United States has strongly condemned North Korea's failed attempt to put a spy satellite into space.
A statement issued by NSC Spokesperson Adrienne Watson said the launch is a brazen violation of multiple UN Security Council resolutions, raises tensions, and risks destabilizing the security situation in the region and beyond.
She added that the President's national security team is assessing the situation "in close coordination with our allies and partners."
The United States said it will take all necessary measures to ensure the security of the American homeland and the defense of its allies neighboring North Korea – South Korea and Japan.
The latest provocation by North comes within barely a week of President Joe Biden hosting a trilateral summit at Camp David Friday to shore up Washington's alliance with its two strongest Asian allies to counter the threats from China and North Korea.
The pre-dawn launch of a rocket carrying a spy satellite from the Sohae Satellite Launching Station Thursday ended in crashing into the sea, reports say.
"The flights of the first and second stages of the rocket were normal, but the launch failed due to an error in the emergency blasting system during the third-stage flight," state-run news agency KCNA said in a statement.
South Korea's military said the rocket "traversed international airspace" over the Yellow Sea.
It was followed by an emergency warning in Okinawa, advising residents of Japan's southernmost prefecture to take cover indoors. The warning was lifted within 20 minutes.
According to Washington, this space launch involved technologies that are directly related to Pyongyang's intercontinental ballistic missile program.
The United States urged all countries to condemn this launch and call on the Communist regime to come to the table for serious negotiations. "The door has not closed on diplomacy but Pyongyang must immediately cease its provocative actions and instead choose engagement."
Pyongyang made two attempts to place a spy satellite into orbit, a priority of its military modernization program, but both of them failed.
North Korea's space agency has said it will make a third attempt in October.
Source: Read Full Article