Nicola Sturgeon labelled 'worst SNP leader' in 30 years by ex-SNP councillor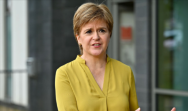 Nicola Sturgeon slammed by Neil Oliver over calls for Indyref2
We use your sign-up to provide content in ways you've consented to and to improve our understanding of you. This may include adverts from us and 3rd parties based on our understanding. You can unsubscribe at any time. More info
David Baird, a North Lanarkshire councillor in Mossend and Holytown, has delivered a scathing review of the Scottish First Minister's job as the SNP leader. Mr Baird insisted he "don't have an axe to grind" after quitting the SNP and joining Alex Salmond 's pro-independence Alba party.
He told the Daily Record: "As leader of the SNP she's the worst since Gordon Wilson.

"I don't think she is leading the party very well.

"Where is the energy company we were supposed to have? Where is the replacement for the council tax?"
Speaking on his decision to leave the SNP, he added: "It's heartbreaking.
"It's been part of me. It's like losing an arm and a leg."
Ms Sturgeon is expected to rip up her promise to bring forward a second independence referendum as Scotland heads to a "position of safety" in the coronavirus crisis.

Michael Russell, director of the party's independence unit commissioned with bringing forward a second vote, suggested separation would be an aim as Scotland "turns to recovery".

He said: "After what we have all been through, that recovery must ensure that we really do build back better – for our families, our communities, and our country.

"And to do that we must set the right agenda – one made in Scotland for Scotland, not imposed on us by Boris Johnson and a UK government we never voted for and which shares neither our ambitions nor our values."
On August 31, as Holyrood returns from recess, the First Minister is set to outline her legislative plans for the year.
The programme is expected to include plans which will see civil servants progress on work from a draft referendum bill.
An SNP source told Express.co.uk: "IndyRef2 will become more prominent than ever before as Scotland emerges from the COVID-19 pandemic, it's getting towards Scotland's time to decide."
DON'T MISS:
Furious Cornwall tourist gives pub one-star review – because it's busy [REACTION]
Britons FURIOUS as pensioner in row with 'woke' council over identity [INSIGHT]
Body of woman wearing green jacket pulled from lake in Oxfordshire [REVEALED]
Source: Read Full Article