LGBTQ+ People *Still* Don't Have Basic Freedoms in 29 States

Five years ago, activist and army veteran Tanya Asapansa-Johnson Walker was given her second diagnosis of lung cancer. After the first diagnosis came in 2013, her fellow activists from the Audre Lorde Project, a New York City-based organization for LGBTQ+ people of color, would call in and visit the hospital. They provided a protective support system that was critical to Walker as a Black trans woman. But by 2017, when Tanya was hospitalized for cancer treatment a second time, the staff at the Audre Lorde project had turned over and things couldn't have been more different. Walker recalls being "treated like an animal" and consistently misgendered by hospital staff after undergoing an intense surgery to remove a part of her lungs. "They wouldn't come in the room at night to check on me," she told Cosmopolitan. "They left me in diarrhea all day."
Today, millions of other lesbian, gay, bisexual, transgender, and queer Americans still remain vulnerable to systemic discrimination in health care and other key areas of life, like business service, employment, housing, and education. That's why Walker and other LGBTQ+ advocates and allies nationwide have been championing the Equality Act, a historic bill that would update and expand current civil rights law that protect on the basis of race, color, and national origin to explicitly outlaw discrimination based on sexual orientation and gender identity, too. "If we had the Equality Act, then people would not have those horrific experiences that I had as a Black trans woman in this country," said Walker.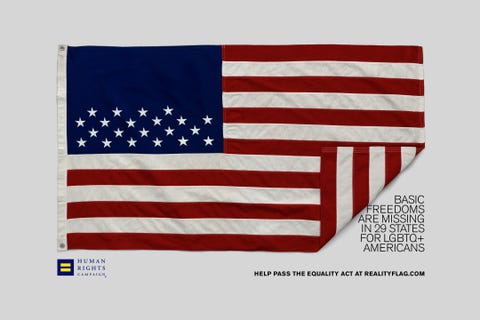 In a major victory for basic human rights, the House of Representatives approved the bill in February 2021. But despite this win (and President Biden's fruitless promise to make the Equality Act law within his first 100 days), the bill has been stuck in the Senate, where it continues to stall basic freedoms and protections in 29 states, according to the Human Rights Campaign's Reality Flag. Backed by Walker and other public ambassadors, this campaign reimagines the American flag by removing the stars that represent those 29 states, to symbolize the lack of comprehensive legal protections for LGBTQ+ people across our country. "People are falling through the cracks in those 29 states," she said.
For the last three decades, Walker has become an unwavering voice for the voiceless. The 58-year-old's multifaceted career in LGBTQ+ activism spans from her time as a radical on-campus organizer at the College of Staten Island to a plaintiff in an ongoing case brought by HRC against the Trump administration's anti-transgender policies. She spoke with Cosmopolitan about her remarkable commitment to LGBTQ+ rights, her history of advocacy work, and her self-care practices for staying hopeful in the darkest of times.
On becoming a radical activist as a college student
"Back in the nineties, I was the leader of the lesbian and gay organization at the College of Staten Island. There were only like four or five of us who were out on campus. During my freshman year, then-Staten Island Borough President Guy Molinari made anti-gay remarks about Karen Bernstein, an openly lesbian judge who was running for attorney general of New York. I found out his staff was coming on campus, organized a rally, and held a sign that read, 'Lesbians and gays live in your borough, too. Shame on you.' The image even made the front page of the local newspaper The Staten Island Advance. That's when everything started to go downhill. Carloads of students would yell all kinds of homophobic epithets at me and eventually ran me off campus. I wasn't able to complete my education.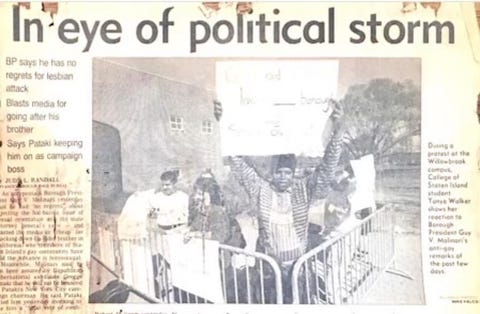 On experiencing anti-trans discrimination from medical professionals
"I was at one of these hospitals here in New York City that specializes in cancer. A part of my lung had been surgically removed, so I couldn't use both arms. They wouldn't come in the room at night to check on me. They left me in diarrhea all day. And they wouldn't clean my room, so I had to do it myself by crawling around on one arm, dragging this big oxygen tank. The staff basically tortured and harassed me during my entire stay. I was treated like an animal.
When the nurse did come into the room, she would constantly misgender me. I wasn't 'she' or 'her' anymore. I was who they wanted me to be. I begged them to call me by my gender pronouns, but the staff didn't give me the right to self-determine my own gender. It was a horrible experience. I could have died in that hospital. This is why health care professionals need cultural competency training. Get to know who you're taking care of. Ask them their gender pronouns. Actually learn something about our community."
On meeting the Black trans liberation activist Marsha P. Johnson
"One hot summer day in 1986, I encountered this Black person coming down Christopher Street in New York City. She was really happy and wore this flamboyant outfit with real flowers in her skirt and hat. At first I kind of gave her a side-eye, because I didn't know who she was. Then a white gay man came over and said, 'That's Marsha P. Johnson. She fought for us to be down here on Christopher Street and on the pier, so have some respect.' So I did. We chatted a bit, but not about the Stonewall riots [of 1969] or anything like that. We spoke about being safe while doing sex work and she taught me and my girlfriend to hide in truck tires when the police patrolled the streets. I quickly noticed that Marsha was a humanitarian, a wonderful, sweet person who loved the youth. I'd watch her panhandle on corners in the Village and give kids who were homeless sex workers all of the money she'd raised. She was definitely a leader and a fighter who put her life on the line for the rights of all of us."
On the importance of self-care for advocacy work
"Activists, you cannot give up. Because you're not only helping yourself, you're helping other folks who may not be able to advocate for themselves. As long as you are breathing and have your health, you keep fighting. Even when one door closes, another will open. But you have to take care of yourself, too. You can be a voice for the voiceless, but you also have to breathe, meditate, and center yourself. You have to sometimes stop for a moment and write down what your needs are. Did you make your doctor's appointment? Did you overspend this month? Do you have enough food? Have you medicated? Self-care is key."
This interview has been edited and condensed for clarity.

To learn more about how you can support Human Rights Campaign's Reality Flag effort, head to the HRC website.
Source: Read Full Article