FBI 'very interested' in determining where Chinese spy balloon was manufactured
video
US military conducts salvage, recovery operations for wreckage from Chinese surveillance mission
Fox News' Bryan Llenas reports on the U.S. military recovery and salvage operation of the spy balloon used in the Chinese surveillance mission.
U.S. military and federal agencies are continuing their efforts to recover wreckage from the Chinese spy flight that was shot down off the coast of South Carolina on Saturday, with the FBI taking a keen interest in determining the origin of the surveillance balloon's components.
A source familiar with the classified briefing provided to members of Congress on Thursday confirmed to FOX that the Chinese spy balloon had Western-made parts with English writing. The news was first reported by Bloomberg.
Sens. Josh Hawley, R-Mo., and Dan Sullivan, R-Alaska, told FOX News Digital following Thursday's classified briefing that administration officials didn't definitively dismiss the possibility that American companies could've provided materials used by China to construct the surveillance balloon.
DOWNED CHINESE SPY FLIGHT LINKED TO GLOBAL SURVEILLANCE PROGRAM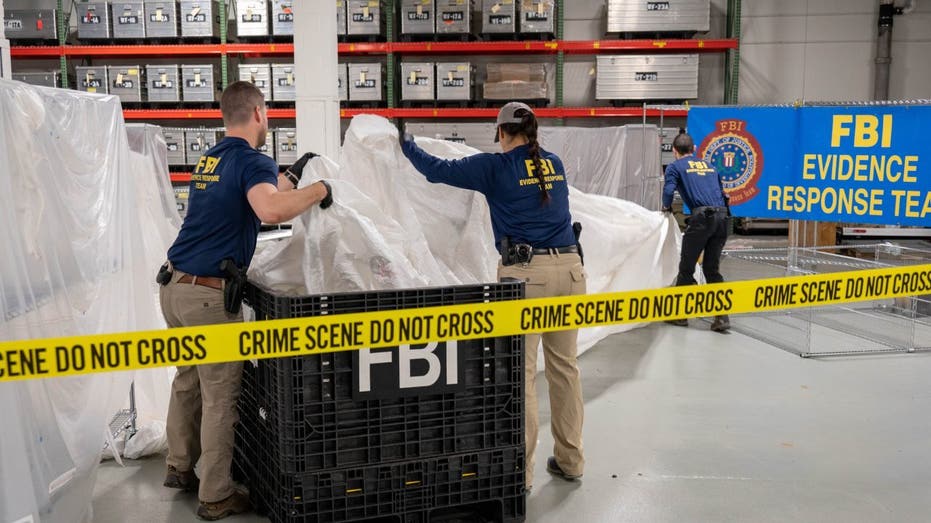 FBI agents process debris recovered from the Chinese surveillance balloon that was shot down off the coast of South Carolina on Saturday. The material is being processed at the FBI laboratory in Quantico, Virginia. (FBI / File)

It's unclear at this time how much of the spy balloon contained Western-made parts, or which components those consisted of, as the investigation and recovery efforts are ongoing. However, a State Department official said Thursday that there is growing clarity about the balloon manufacturer's connection to the Chinese military.

"We are confident that the balloon manufacturer has a direct relationship with China's military and is an approved vendor of the PLA, according to information published in an official procurement portal for the PLA," the official said in reference to the People's Liberation Army.

The State Department is looking into the possibility of imposing sanctions on entities connected to China's spy balloon program as the investigation yields more information about the origins of the downed airship's surveillance components.

CHINA SPY FLIGHT: WHAT TO KNOW
The remnants of the Chinese surveillance balloon plummet to the Atlantic Ocean just off the coast of South Carolina on Saturday. (Chad Fish via AP / AP Newsroom)

A senior State Department official said that the surveillance balloon, which is technically considered an airship given its ability to maneuver, was capable of gathering signals intelligence by intercepting communications and could geolocate those signals to their origin point. China had denied assertions that the balloon was used for intelligence purposes, claiming that the airship was civilian in nature and was used for monitoring weather patterns.

The Department of Defense said the airship entered U.S. airspace over the Aleutian Islands in Alaska on Jan. 28. The airship then passed over mainland Alaska and entered Canadian airspace two days later, before reentering U.S. airspace over northern Idaho on Jan. 31.

HOUSE PANEL ON CHINA ECONOMY: 'SINGLE GREATEST THREAT TO AMERICA'S GLOBAL STANDING'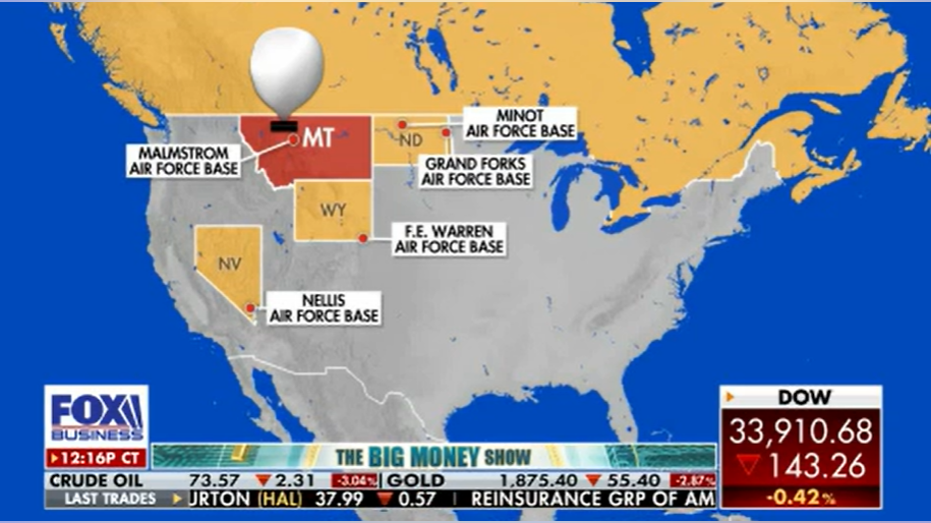 Map shows approximate path of a suspected Chinese surveillance balloon over Montana, Feb. 3, 2023. (Fox News / Fox News)

The Chinese surveillance balloon transited over Montana near Malmstrom Air Force Base, which is home to some of the military's nuclear intercontinental ballistic missiles. The region is home to other notable military bases in North Dakota and Wyoming.

It then passed over Missouri before heading to the Eastern Seaboard, where it was shot down on Saturday by an Air Force F-22 Raptor over the Atlantic Ocean near Surfside Beach, South Carolina.

The airship had been tracked by a number of U.S. military aircraft with specialized sensors for reconnaissance and surveillance before it was shot down.

GET FOX BUSINESS ON THE GO BY CLICKING HERE

As of Thursday, a significant amount of the debris from the downed Chinese airship remains underwater. The debris was dispersed over an area nearly the size of one square mile, and some of the airship's sunken payload has been estimated to weigh more than 2,000 pounds.

Investigators are taking steps to secure submerged evidence to prevent it from moving out of the search area as heavier seas are forecast to arrive in the area heading into the weekend.

The FBI did not respond to a FOX Business inquiry at the time of publication.

Fox News' Aishah Hasnie and Reuters contributed to this report.

Source: Read Full Article