Rupert Murdoch's News Corp Reveals Plan To Lay Off 5% Of Workers After Quarterly Earnings Miss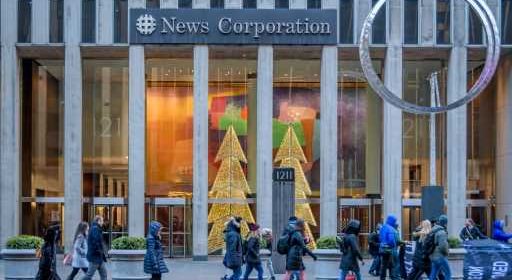 Rupert Murdoch's News Corp., home to media properties including the Wall Street Journal, Dow Jones and HarperCollins, announced as it released disappointing quarterly results that it is laying off 5% of its workforce.
The company reported revenue of $2.52 billion, a shade below Wall Street analysts' consensus expectation for $2.55 billion, according to Refinitiv. Earnings per share missed by a wider margin, coming in at 14 cents compared with a Street forecast for 19 cents.
"Obviously, a surge in interest rates and acute inflation had a tangible impact on all of our businesses," CEO Robert Thomson said in the earnings release. "But we believe these challenges are more ephemeral than eternal. Just as our company passed the stress-test of the pandemic with record profits, the initiatives now under way, including an expected 5% headcount reduction, or around 1,250 positions this calendar year, will create a robust platform for future growth."
Related Story
Yahoo Laying Off 20% Of Workforce In Ad Tech Pullback
The company and its Murdoch-controlled sibling, Fox Corp., last month abandoned a potential effort to reunite after being separate entities for nearly the past decade. Especially after the sale of most of 21st Century Fox to Disney in 2019, many investors have scrutinized the prospects for both entities as they compete with larger rivals. Lachlan Murdoch, CEO of Fox Corp., said Wednesday during the company's quarterly earnings call with analysts that "scale is important," adding that the company would be "looking at M&A."
News Corp blamed the 7% drop in revenue compared with the year-earlier quarter on a number of factors. Among them were foreign currency fluctuations, lower book publishing revenue primarily due to lower book sales, and lower revenues in its Digital Real Estate Services unit due to challenging housing market conditions in Australia and the U.S.
Rupert Murdoch is executive chair of News Corp and chair of Fox Corp.
Must Read Stories
Sacha Baron Cohen & Keke Palmer Team For 'Super Toys'; New Liam Neeson Pic; More
Alec Baldwin Sued For Negligence By Ukrainian Parents & Sister Of Halyna Hutchins
Beats Forecasts With Record Library Revenue, Books $81M Content Write-Down
Florida House Passes Bill Giving State Control Of Special District At Disney World
Read More About:
Source: Read Full Article