Half of US job switchers received big pay increase in 2022, beating inflation
video
Supercore inflation isn't providing the economy any relief: Omair Sharif
Inflation Insights founder Omair Sharif and Kaltbaum Capital Management founder Gary Kaltbaum react to the hotter-than-expected January CPI report and what it means for future Fed rate hikes on 'The Claman Countdown.'
Switching jobs has proved to be a lucrative move for many American workers, who are receiving the biggest pay raises in decades as companies compete to hire a limited number of employees. 
Nearly half of U.S. workers who changed jobs in 2022 received a pay raise that exceeded the average pace of inflation, according to a new blog post published by the Federal Reserve Bank of Atlanta. Roughly 49% of job-switchers saw their real hourly wage increase faster than inflation last year, compared with just 42% of workers who stayed in the same job. 
The extremely tight labor market has allowed workers to quit their jobs in favor of better wages, working conditions and hours – a new trend dubbed the "Great Resignation." The Labor Department reported earlier this month that the economy had 11 million positions open at the end of December, meaning there are roughly 1.9 posted jobs for every unemployed worker. 
US COMPANIES OFFERING RECORD-HIGH RAISES TO RETAIN WORKERS, KEEPING PRESSURE ON INFLATION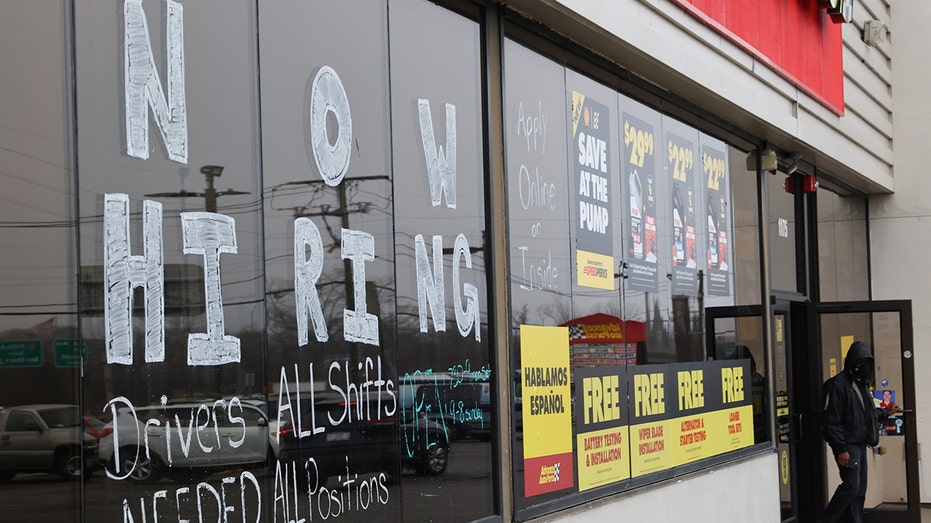 Large "Now Hiring" advertisement posted on the windows of the Advance Auto Parts store in Bay Shore, New York on Mar. 24, 2022. (Steve Pfost/Newsday RM via Getty Images / Getty Images)

The number of available jobs has topped 10 million for 12 consecutive months; before the pandemic began in February 2020, the highest on record was 7.7 million.

At the same time, stubbornly high inflation has left many workers in a cost-of-living crunch, with most households forced to pay more for everyday necessities like food and rent. Many individuals saw their real wages fall last year when factoring in the cumulative effect of inflation. 

The burden is disproportionately borne by low-income Americans, whose already-stretched paychecks are heavily impacted by price increases. 

The Atlanta Fed analysis, conducted by senior policy adviser John Robertson, shows that younger workers, as well as job switchers, had the highest chances of keeping up with inflation. 

REMOTE WORK COSTS NYC OVER $12B ANNUALLY: REPORT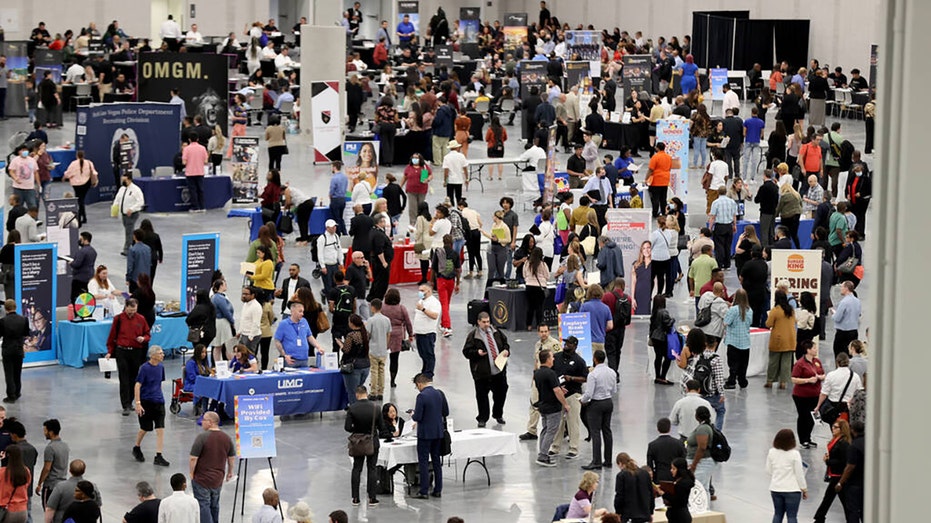 Job seekers visit booths during the Spring Job Fair at the Las Vegas Convention Center Friday, April 15, 2022.  (K.M. Cannon/Las Vegas Review-Journal / Getty Images)

"Some workers have seen their nominal hourly wage increase proportionately more than others because of the tight labor market during the last couple of years, which has blunted the impact of higher inflation on those workers," Robertson wrote in the blog post.

Just 38% of employees age 55 and older saw an increase in their real wages last year – a marked drop from the 53% that recorded an increase in 2019. 

By comparison, 60% of workers between the age of 16 to 24 received a raise last year above the cost of inflation. That's down from 65% in 2019.

GET FOX BUSINESS ON THE GO BY CLICKING HERE

Still, there are other reasons for the difference in nominal wage growth, because pay varies so vastly across the economy.

"That said, nominal wage growth across individuals varies a lot, even within age and job mobility categories," Roberton said. "Explaining that variation remains a challenge for economists who often attribute it factors such as differences in productivity growth at the individual and firm level."

Source: Read Full Article