Marathon Digital sees 670% revenue gain in Q3 as Bitcoin production surges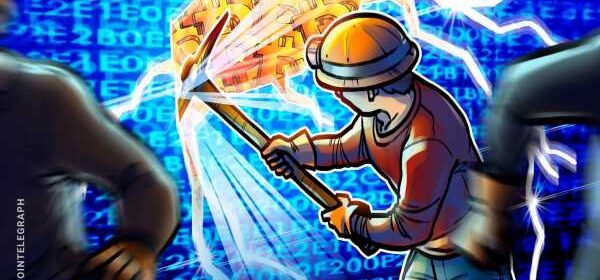 Bitcoin mining firm Marathon Digital Holdings saw its revenue surge $670% year-on-year in the third quarter of 2023, amid a nearly five-fold increase in Bitcoin production.
The results saw Marathon also swing to a quarterly profit, with $64.1 million of net income in the third quarter, according to the firm's Nov. 8 results filing.
The firm partly attributed the improved financial results to a 467% spike in Bitcoin (BTC) production from 6.7 mined BTC in Q3 2022 to 37.9 BTC in Q3 2023. Similarly, Marathon's energized hashrate boosted 403% over the same timeframe.
Part of Marathon's boost in hashrate came from its new, 27-megawatt hydro-powered mining venture in Paraguay, which it announced on Nov. 8.
Marathon's CEO and chairman Fred Thiel said the "significant progress" has helped strengthen the firm's balance sheet ahead of the Bitcoin halving event scheduled for April 2024.
A $417 million note exchange completed in September managed to reduce Marathon's long-term debt to 56% and in doing so captured over $100 million in cash savings for shareholders, Thiel noted, adding:
"For the first time in two years, our combined cash and bitcoin holdings exceeded our debt at the quarter's end."
Meanwhile, Marathon remains committed to increasing its hashrate in the short to mid-term.
Its installed hashrate currently sits at 23.1 exahashes per second but the firm is looking to boost that to 26 EH/s and a further 30% in 2024.
Related: Marathon, Riot among most overvalued Bitcoin mining stocks: Report
Marathon's (MARA) share price fell 6.9% to $8.55 on Nov. 8 but rebounded 4.3% in after-hours trading following the release of Marathon's earnings statement, according to Google Finance.
Magazine: How to protect your crypto in a volatile market: Bitcoin OGs and experts weigh
Source: Read Full Article