Sweeter New York Film & TV Production Tax Breaks Official As State Budget Passes, But Timing's A Bummer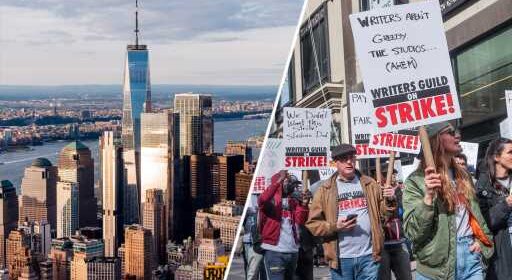 New York lawmakers finally signed off on Gov. Kathy Hochul's state budget including significant sweeteners for film and TV production in a package that now runs through 2034 — the day after the WGA went on strike, ushering in a period of grave uncertainty for the entertainment industry.
The writers strike is attracting headlines and attention with ripple effects already spreading across media and entertainment, including production. Hundreds of writers joined the guild's first picket line yesterday in midtown Manhattan outside of a presentation by NBCUniversal's Peacock streaming service. Other action is planned over the next few weeks after the WGA's three-year contract with the AMPTP (Alliance of Motion Picture and Television Producers) expired Monday night without a new deal in place, and the sides seemingly far apart.
Related Story
WGA Plans Rallies For May 15 In L.A. And New York As Strike Enters Second Day
The WGA East is planning to picket outside of Netflix's NYC headquarters near Union Square this afternoon and is planning actions over the next few weeks at Silvercup Studios, Steiner Studios, Broadway Stages, HBO and Amazon offices and — if the contract is not resolved — at annual upfront presentations in NYC later this month.
SAG-AFTRA and the DGA (actors and directors) have contracts expiring on June 30.
Sweetened NY film industry incentives are still a win as competition has heated up far and wide, from neighboring New Jersey to Georgia. Production is an economic boon and the latest changes will help to support thousands of union jobs and ensure the state's film industry can continue to grow and thrive, government proponents say.
Since 2014 more than 1,500 projects have applied to participate in the incentive program, creating over 1.7 million hires and over $35 billion in spending across New York State, officials said. From 2019 to 2020, the Film Tax Credit directly supported more than 57,000 New York jobs.
In 2019 to 2020, the Production and Post-Production tax credits directly supported nearly 7,500 jobs outside of NYC.
Gov. Hochul released her budget plan in February and reached a tentative agreement with legislators last week.
Must Read Stories
How The UK Is Responding To The Writers Strike – Analysis
WGA Chief Negotiator Ellen Stutzman Talks AMPTP Inaction, AI, DGA & Making A Good Deal
Fallon, Meyers, NBC To Extend Staff Pay On 'Tonight Show' & 'Late Night' Amid Strike
'Guardians Vol. 3' Ganging Up On 'Super Mario Bros' With $250M+ Global Bow: Preview
Read More About:
Source: Read Full Article