'Scrapping centres will be an industry'
'Our automakers export 50 per cent of what they manufacture and once the policy comes into play, which is in the next 2-3 years, we would become a Rs 10 trillion industry.'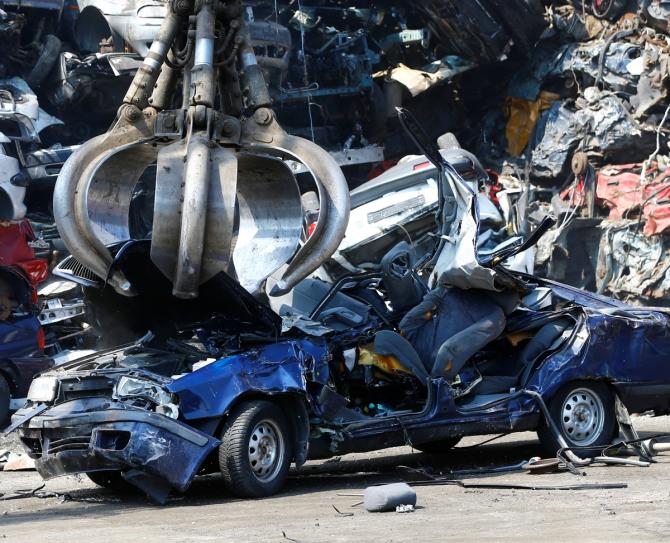 "We are trying to make an electric highway on the Delhi-Mumbai route with overhead cables like the railways. By doing this, we are trying to protect ecology and the environment and reduce pollution." Union Minister of Road Transport and Highways and MSME Nitin Gadkari tells Megha Manchanda and Jyoti Mukul in the concluding segment of a two-part interview.
Part 1: 'In 3 years, India's infrastructure will be on par with the US'
Is the Vehicle Scrapping Policy final and is the automobile industry ready to give incentives beyond one per cent?
We have notified the policy and it would benefit the country's automobile industry.
Our automakers export 50 per cent of what they manufacture and once the policy comes into play, which is in the next 2-3 years, we would become a Rs 10 trillion industry.
Auto industry generates maximum employment and also maximum revenues for both the state and central governments. We intend to become a manufacturing hub for the world.
We have issued an advisory suggesting that vehicle makers should incentivise more.
Some have assured us that they are ready to give incentives up to 5 per cent.
We feel that the competition will take care of the incentive part, and as far as the nudge from the government is concerned, we have issued an advisory — if one follows it, others will also follow.
I have also requested the finance minister to give some rebate under the GST to a consumer who is scrapping an old vehicle for a new one. The proposal has to go to the GST council.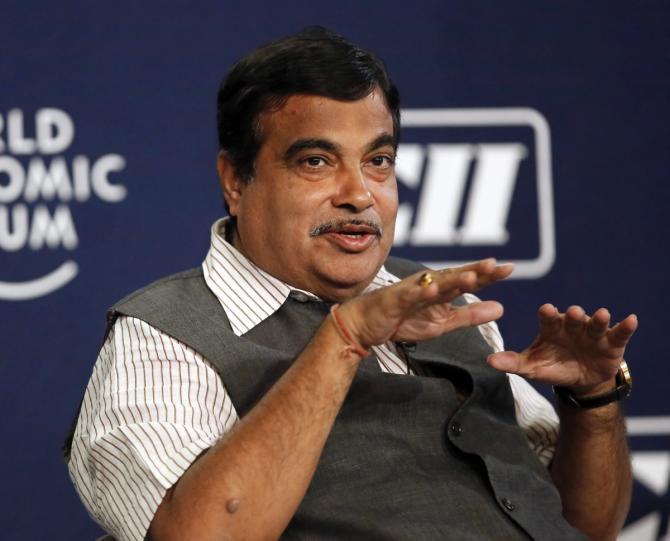 Is there enough scrapping capacity in the country?
Whenever a beginning is made it is small but it slowly increases. Scrapping centres will be an industry.
Whoever puts up the industry, he will have to get environment clearance.
It is a concurrent subject; there will be state and central rules. It will require clearance for sound and air pollution norms.
The cab aggregators had reservations about norms under the Motor Vehicles Act. Have they been resolved?
We have released guidelines, but it has to be implemented by the states.
The aggregators were worried about the clauses on social security so we have eased them a bit.
Comprehensive and third party insurance norms have been notified.
In states, they could be issues which could be resolved by them. We will facilitate it.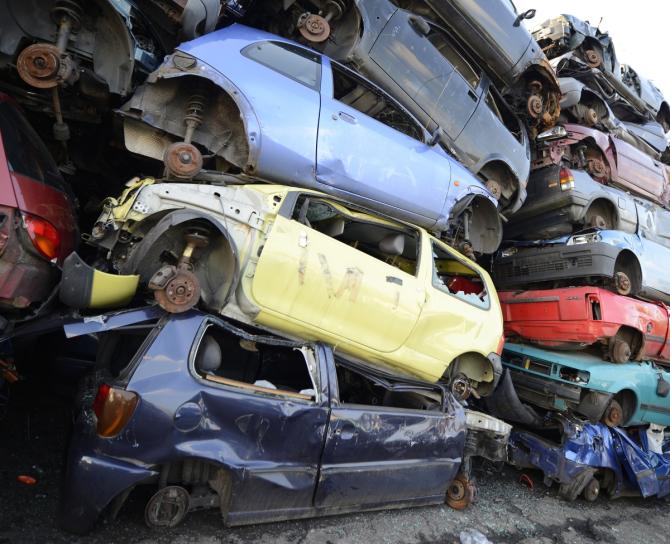 What are the new initiatives that you are looking at in highway construction?
We want to build green highways. It takes 48 hours for trucks to reach Mumbai from Delhi but now it will take 18 hours.
That much pollution would be reduced. Alongside, by working on ethanol, methanol, biodiesel, bio CNG, electric, we have brought rules so that India becomes self-reliant and there is import substitution.
It will be pollution free and indigenous. We are protecting ecology and the environment by constructing roads.
For bitumen, we have approved 10 per cent blending with plastic which is called modified bitumen.
On the other hand, we want to develop 1,000 contractors who can undertake transplantation of trees.
We have started the process so that trees are not cut.
In the Dwarka Expressway, we have transplanted 12,000 trees. We are also planting and tagging trees along with the highways.
Also, we are trying to make an electric highway on the Delhi-Mumbai route with overhead cables like the railways.
By doing this, we are trying to protect ecology and the environment and reduce pollution.
For lithium ion batteries, we called a meeting of experts so that it can be totally manufactured in India.
We are also promoting use of hydrogen.
In the coming years, we not only want to construct roads but build green highways, use waste material and reduce use of steel and cement.
(Former L&T CEO Krishnamurthi) Venkataraman from Larsen & Toubro, a retired secretary and some experts from Malaysia are part of a five-member committee which has been constituted to suggest best global technologies to reduce cost and improve quality of construction. They will have an office in NHAI.
With the second wave of COVID-19, do you think lockdown should be an option?
As a minister for transport and MSME, I understand that because of Covid, lots of problems have come.
Small businessmen, traders… everyone has to face these problems. Not only we but the whole world is in a problem.
We need to understand the art of living with COVID-19 and take all the precautions. The economic situation is challenging but we have to win this.
Feature Presentation: Rajesh Alva/Rediff.com
Source: Read Full Article