Florida Lawmakers Pass Bill To Void Walt Disney World's Development Agreement With Special District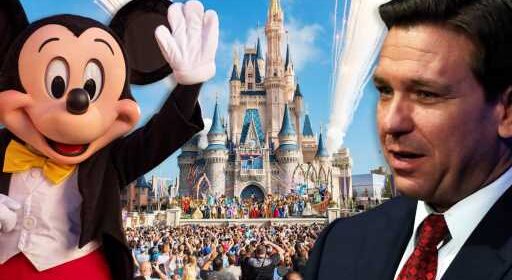 Ron DeSantis is expected to sign a bill that would void Walt Disney World's development agreement with a special district overseeing the theme parks and resorts, the latest move in a bitter battle between the company and the governor.
The state House of Representatives on Wednesday passed a land use bill, in a 75-34 vote, that would essentially invalidate Disney's agreement with the Reedy Creek Improvement District in February, when the special district was still under the company's control. The bill now heads to DeSantis' desk.
The 30-year development agreement ensured that Disney maintained a great deal of automony over land use on its property and that surrounding it, even after DeSantis led a successful state effort to take control of the special district and install the governor's own appointees to its board.
Related Story
'Guardians Of The Galaxy Vol. 3' Ganging Up On 'Super Mario Bros' With $250M+ Global Start – Box Office Preview
Disney last week sued the governor in federal court, claiming that DeSantis' move to install his own appointees on the special district's board was an act of retaliation after the company opposed his parental rights legislation, known as the "don't say gay" bill. Disney contends that DeSantis' actions violated the First Amendment and the Constitution's contract's clause, as well as the company's right to due process.
The bill that passed on Wednesday includes a provision that prohibits the district from complying with the development agreement. More specifically, it bars special districts from complying with agreements executed within three months of a law being passed changing how a district's board members are selected. The Disney development agreements were passed by the Reedy Creek board on Feb. 8; DeSantis signed legislation giving the state control of the board on Feb. 27.
Disney has contended that its development agreement, which includes a set of restrictive covenants, complied with the law. "All agreements signed between Disney and the district were appropriate and were discussed and approved in open, noticed public forums in compliance with Florida's Government in the Sunshine law," the company said last month.
Must Read Stories
How The UK Is Responding To The Writers Strike – Analysis
WGA Chief Negotiator Ellen Stutzman Talks AMPTP Inaction, AI, DGA & Making A Good Deal
Fallon, Meyers, NBC To Extend Staff Pay On 'Tonight Show' & 'Late Night' Amid Strike
'Guardians Vol. 3' Ganging Up On 'Super Mario Bros' With $250M+ Global Bow: Preview
Read More About:
Source: Read Full Article