Broadway's 'Ohio State Murders' Starring Audra McDonald Announces Closing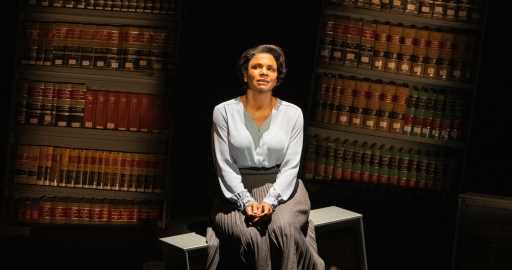 Ohio State Murders, the play starring Audra McDonald that made history by being the first Broadway production of acclaimed 91-year-old playwright Adrienne Kennedy, will play its final performance on Sunday, January 15.
Though generally well-reviewed, Ohio State Murders has struggled at the box office, grossing just $311,893 for nine-performances during Broadway's generally lucrative New Year's week. Attendance for the week, which ended Jan. 1, was only 49% of capacity at the recently renamed James Earl Jones Theatre.
Directed by Kenny Leon, Ohio State Murders starred McDonald as a writer and lecturer coming to terms with a horrific incident from her past: the murders of her two infant daughters. The production also featured Bryce Pinkham, Lizan Mitchell, Mister Fitzgerald, and Abigail Stephenson, with understudies Brett Diggs, Brooke Gardner, Christian Pedersen and Gayle Samuels.
Related Story
Frank Galati Dies: Broadway's 'Ragtime', 'Grapes Of Wrath' Director Was 79
Ohio State Murders began previews on Friday, November 11, 2022 and officially opened on Thursday, December 8. It is the inaugural production at the Jones.
With the announcement, Ohio State Murders becomes 13th current or recent Broadway production set to close this month. Most of the shows are ending pre-scheduled limited engagements, as often happens after the holidays, though Ohio State Murders, Almost Famous and A Strange Loop were planned as open-ended runs.
Following the planned Jan. 1 closing of A Christmas Carol, other shows closing this month include 1776, Almost Famous, Beetlejuice and Into The Woods (all closing Jan. 8); A Strange Loop, Death of A Salesman, The Music Man, Mike Birbiglia's The Old Man & the Pool, and Topdog/Underdog (Jan. 15); and The Collaboration and The Piano Lesson (Jan. 29).
Must Read Stories
'Up' Composer Michael Giacchino Sets Feature Helming Debut With 'Them!' Redo
'The Way Of Water' Will Top $1.5B Today & Become Global No. 1 Release Of 2022
Bezos Pulling An Iger & Returning As CEO? One Investor Says It'll Happen In 2023
How Will Ari Emanuel Deal With UFC Chief Caught On Video Slapping Wife?
Read More About:
Source: Read Full Article