Woman and child, 10, die after she 'leaps from roof of 12-story NYC building with girl in her arms'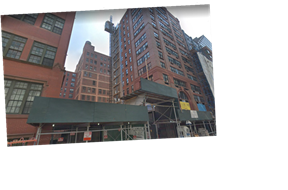 A WOMAN clutching a child is said to have jumped from the roof of a 12-storey building in New York City on Sunday, according to reports.
According to The New York Post, EMT's responding to the scene at 540 West 53rd Street in NYC said the child is approximately 10-years-old.
The unidentified woman jumped from the building shortly before 2pm ET on Sunday.
They were found on the street by a construction worker at 1.45pm.
Police remain outside the red-brick building in the Hell's Kitchen district of the city.
Following the horror fall, both were rushed to St. Luke's Roosevelt Hospital with life-threatening injuries, sources said.
The NYPD confirmed to The Sun that both the woman and child, a girl, died as a result of the fall.
One of the building tenants said: "It really shook me up that it happened. It's very, very disturbing."
Investigations into the tragic event are still ongoing, confirmed the NYPD. No further information is available at this time.
Source: Read Full Article