When Climate Change Hits Home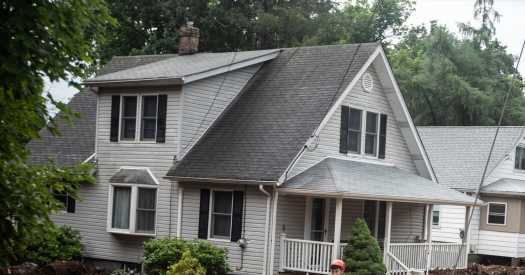 Even if you've been paying attention to climate change, it can sometimes feel very far away, distant in both space and time. But on Sunday night, as I was writing my first edition of this newsletter, it came roaring into my kitchen.
I was with my family at our 100-year-old cabin in the Hudson Valley, north of New York City. It had been pouring for fourteen hours, and our ceiling started leaking. Then, around midnight, a wall of water flooded the house.
Many of my neighbors fared even worse. One woman died and dozens had to be rescued as a slow-moving storm system produced widespread flooding in New York State and New England.
We know that man-made climate change is making extreme weather like this more severe. Warmer temperatures enable air to hold more moisture, which leads to more intense rainfall and flooding.
On Monday, the New York governor said such climate-fueled disasters were "the new normal." In general, the United States is nowhere close to ready for the threat of catastrophic flooding, especially in areas far from rivers and coastlines.
On the other side of the country, much of the Southwest is baking under a heat dome. Major cities have been choking on smoke from Canadian wildfires for a month now. Off the coast of Florida, ocean temperatures are reaching into the mid-90s Fahrenheit.
This is not just about millions of Americans, of course, but billions of people around the globe. Over the weekend, Delhi recorded its wettest July day in 40 years, Beijing residents flocked to underground air raid shelters to escape the heat, and floods carried away cars in Spain.
The planet is entering a multiyear period of exceptional warmth, scientists say. Greenhouse gas emissions, mostly from the burning of fossil fuels, have already heated the Earth by an average of 1.2 degrees Celsius (or 2.2 degrees Fahrenheit) compared with preindustrial levels. Now a powerful El Niño system in the Pacific Ocean is releasing a torrent of heat into the atmosphere. The warmest days in modern history occurred this month. That all sets the stage for more damaging heat waves, floods, droughts, wildfires and hurricanes.
Yesterday, as I spoke with climate scientists for a story about the storm that walloped my house, they all sounded the alarm about what was coming in the months ahead.
"We are going to see stuff happen this year around Earth that we have not seen in modern history," one meteorologist told me. "It will be astonishing."
Abnormal as the 'new normal'
Each of these anomalies creates new risks, threatening human health and biodiversity. Yet with disasters piling up and headlines blurring together, there is another profoundly dangerous risk: apathy.
As temperature records break and extreme weather becomes commonplace, the abnormal can begin to seem ordinary. That's an all-too human reaction to adversity. We're masters of adaptation, and can learn to endure even the most uncomfortable situations.
But in this case, indifference would be the biggest disaster of them all. Growing inured to the signs of a planet on fire would do more than blind us to the damage we've already done. It would also delay critical action at a crucial juncture.
Because as bad as things are, there are still real causes for optimism.
After decades of inaction, a monumental effort is finally underway to confront climate change. Wind turbines and solar panels are rapidly displacing fossil fuels. Sales of electric vehicles, heat pumps and induction stoves are soaring. Across government, business and civil society, there is a concerted, coordinated push to reduce emissions, protect nature and help humans adapt to a hotter planet.
The grand project to decarbonize the world economy can be seen as the biggest collective action in human history. On the agenda is nothing less than the remaking of the world's entire energy and transportation systems, not to mention vast overhauls of the building blocks of modern life. And it all needs to happen with a pants-on-fire urgency as the planet heats up.
That may seem daunting, and it is. Progress is not happening nearly fast enough, and many obstacles remain. But it's also the opportunity of a lifetime. Should we succeed, we'll be creating a world with better air quality, more green space, healthier ecosystems and less waste.
It's a head-spinning moment, one that requires us to honor two seemingly contradictory truths at the same time.
Yes, the fragile ecosystem that sustains human life is in trouble.
And also yes, we have many of the tools needed to get ourselves out of this mess.
Your part of the story
It's this tension — between hope and despair, between urgency and inertia, between a world remade and a stubborn status quo — that will animate this newsletter in the months and years ahead.
I won't be doing it alone. Manuela Andreoni, my co-pilot for this newsletter, is based in Brazil and brings us an essential international perspective and a voracious curiosity about climate and the environment. You'll also be hearing from the Times' new weather team as well as other reporters from around the newsroom.
My colleague Somini Sengupta has been shepherding this newsletter, sharing her keen insights twice a week. From here on out, we'll be arriving in your inbox on Tuesdays and Thursdays, and chiming in with additional rapid-fire analysis when news breaks.
And we want to hear from you. You can email the Climate Forward team and tell us what's got you worried, what's giving you hope and where we should be looking for the next big story.
In the meantime, I'll be in the Hudson Valley, trying to clean up my own minuscule part of the mess caused by climate change. See you soon.
A push to wean China from coal
President Joe Biden is trying to repair relations with China after months of increased tensions, and climate is among the top issues on the agenda. Secretary of State Antony J. Blinken and Treasury Secretary Janet L. Yellen both discussed climate issues in recent visits to Beijing. And climate envoy John Kerry is scheduled to arrive on Sunday.
The diplomatic push reflects an inescapable truth: The United States and China are the world's industrial superpowers. And any chance at staving off the worst effects of climate change will require both of them moving in the same direction.
"The U.S. and China together make up about 40 percent of emissions," said my colleague Lisa Friedman, who is following Kerry to Beijing. "They are also the two biggest investors in clean energy."
China has more solar energy capacity than the rest of the world combined and is the biggest manufacturer and user of wind turbines — a major reason why clean energy has become so affordable for all countries in recent years.
But fossil fuels still make up the majority of China's energy sources. It consumes over half of the world's coal, and continues to approve new coal plants at a rapid pace. The Chinese government's goal is to continue growing the economy while avoiding problems like the power failures the country faced during a heat wave last year that disrupted several supply chains.
China's investments in renewable energy appear to be sufficient to enable it to reach peak carbon emissions by 2030, as it has pledged. But there are concerns about how high emissions will go before they start to decline.
U.S. officials are urging China to accelerate that energy transition and phase out coal. And after the Biden administration secured hundreds of billions of dollars to accelerate America's transition to clean energy, they may finally have some leverage.
"What many analysts are saying is that the U.S. just did a big move on climate change," Lisa said. "Now, it's China's turn."
— Manuela Andreoni
Other climate news
"Underground climate change": Heat from basements, sewers and train tunnels is making the ground shift under Chicago and other cities.
Scholars chose a secluded lake in Ontario, which has trace evidence of nuclear detonations and the burning of fossil fuels, to represent the start of Anthropocene epoch — a potential new chapter in Earth's history.
More than 61,000 people died because of last year's brutal summer heat waves in Europe, as public health efforts failed to keep up with global warming.
A vast re-engineering of Florida's Lake Okeechobee transformed a healthy ecosystem into a pool of toxic algal blooms.
The powerful emotions stirred up by global warming have given rise to the emerging field of "climate therapy," Jia Tolentino reports for The New Yorker.
The weather report
Judson Jones has nearly two decades of experience covering natural disasters and Earth's changing climate, at CNN and now at The Times. He'll be joining us most weeks.
Unfortunately, the deluge isn't over in the Northeast, which should expect widespread rain on Thursday and Friday. It might not bring the same extreme levels of rainfall we saw early in the week. But any additional water falling on the saturated ground will have nowhere to go, creating renewed flash flooding concerns.
In the southwestern United States, there's a different problem. The seasonal monsoon, which usually brings rainfall and cooler weather to the desert Southwest, is delayed this year. And the "heat dome" that David mentioned will strengthen into the weekend, potentially bringing record high temperatures to places like Las Vegas.
In the Southeast, temperatures might not climb quite as much. But high levels of humidity, made worse by the remarkably warm waters in the Gulf of Mexico and the western Atlantic Ocean, will make it feel even more miserable and hazardous along the coast.
Those warm waters will be incredibly concerning as we get closer to the peak of hurricane season in September, but more on that later. In the meantime, you can sign up for personalized extreme weather alerts here.
David Gelles is a correspondent on the Climate desk, covering the intersection of public policy and the private sector. Follow him on LinkedIn and Twitter. More about David Gelles
Source: Read Full Article