Wagner's future campaigns on brink as Group may have 'returned heavy equipment'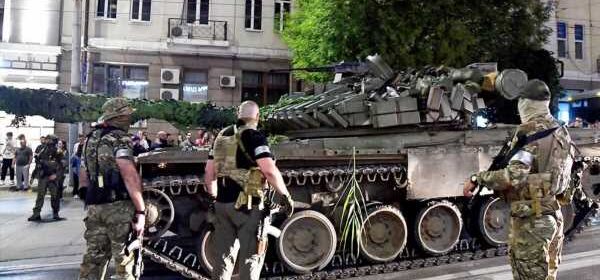 The British Ministry of Defence argued the Wagner Group may have been forced to hand to Russia its heavy military equipment.
Only a few armoured vehicles can be seen in satellite images of the tent camp in Tsel, Belarus, where "at least several thousand" members of the paramilitary group have relocated in recent weeks, the MoD said.
In its latest intelligence update, the British Defence Ministry said: "Imagery shows that since mid-July 2023, hundreds of vehicles have arrived at the previously mostly empty facility.
"Separate reports suggest most of the visible vehicles are trucks and minibuses with few armoured combat vehicles.
"It remains unclear what has happened to the heavy equipment Wagner used in Ukraine; there is a realistic possibility that it was forced to return these to the Russian military."
READ MORE: Putin 'using migrants as weapons' as Wagner sparks EU immigration surge fears
The intelligence assessment argued Wagner's future combat effectiveness rests largely in the ability of the group and its leader, Yevgeny Prigozhin, to "secure heavy equipment and enablers such as air transport".
Days after Wagner troops attempted a coup against the Russian defence leadership in late June, Moscow announced the organisation, which had taken part in the months-long battle for Bakhmut, had handed thousands of tonnes of weaponry and ammunition to the regular army as it was leaving Ukraine.
The Russian MoD said in mid-July to have received more than 2,000 pieces of equipment, including hundreds of tanks and more than 2,500 tonnes of ammunition.
This was one of the clues suggesting Prigozhin is following through with at least some of the aspects of the deal reached with the Kremlin to end the June mutiny.
Don't miss…
Drone attack strikes heart of Moscow in huge explosion just miles from Kremlin[INSIGHT]
Putin 'may be aware reckoning has begun' as he fails to deliver war promises[PICTURES]
Ukraine intends to start efforts to retake Crimea from Russia 'soon'[REPORT]
We use your sign-up to provide content in ways you've consented to and to improve our understanding of you. This may include adverts from us and 3rd parties based on our understanding. You can unsubscribe at any time. More info
Brokered by Belarusian President Alexander Lukashenko, the deal reportedly included also Mr Prigozhin's relocation to Belarus, albeit the warlord is known to have since travelled to Moscow and St Petersburg.
A newly-published report UK Foreign Affairs Committee's inquiry into the mercenary group has suggested the Russian government has been closely linked to Wagner since its creation in 2014.
In fact, all that's needed for combat by Wagner men – such as uniforms, equipment, weapons and ammunition – had been received from Ministry of Defence stocks upon the Group's creation, a source described as a former Wagner member who spoke to the committee claimed.
The links remained strong in the following years, as Wagner "still uses the logistics of the Russian Ministry of Defence", the source alleged, and the MoD provides the group with ammunition and weapons".
The future of Wagner appears not to include for the time being a new campaign in Ukraine.
In a recent video in which Mr Prigozhin could be heard speaking to his men in Tsel, the warlord said "perhaps" his troops will return to wage war against Kyiv "at the moment when we are sure that we will not be forced to put ourselves to shame", in a new dig to the Russian MoD.
Mr Prigozhin told his men to support the training of the Belarusian Army ahead of a new venture in Africa.
In an interview with a Cameroon-based news outlet, Mr Prigozhin said this week Wagner is "ready to increase our various contingents" and will continue to fulfil all its obligations in Africa.
Source: Read Full Article