UK town plagued by wild snakes breeding uncontrollably after escaping zoo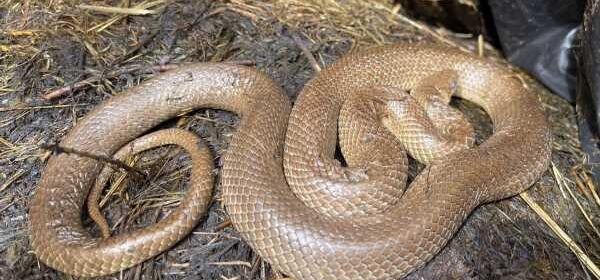 Folk in a British town have unusual neighbours – the nation's largest wild snakes – and they can't get enough of them.
Residents of Colwyn Bay, Conwy, North Wales, have been sharing images of their constrictor cohabitants, which they reckon have been emboldened by the recent warm spell.
After a long winter, the Aesculapian Rat Snake population of the area have been out and about – but social media activity suggests many of them are being hit by cars.
READ MORE: Thousands of fish washed up dead as tightly packed sea creatures choke on one another
First brought into the area in the 1960s by Welsh Moutain Zoo founder Robert Jackson, today's population are understood to be descendants of jailbreakers.
North Wales Live reports that the people of Colwyn Bay are generally big fans of the reptiles – with some conservationists even labelling them a returning species due to evidence of their presence here before the last ice age.
The big lizards have an eye for vermin and as such keep the local rat population low while having no interest in bothering people or pets.
Some 60-70 breeding adults are thought to live in the area – a small population from conservationists' perspective.
They're normally found in southern Mediterranean and Balkan countries yet can still grow as long as 4.5 feet here – far longer than grass snakes, which can grow to 3.5 feet and adders which can reach 2.5 feet.
In their more native territories, these whoppers can grow as long as 6 feet.
Bangor University researcher Tom Major has been tracking some of the snakes as originally part of his PhD.
He said: "The population is stable but it's very vulnerable, being so small.
"Ongoing development in the area, for housing, will always be a threat, as will road deaths.
"Building road culverts would help. Evidence suggests that is once snakes, or any other wildlife, become aware of culverts, they will use them.
"However these are not generally incorporated into transport policies in Britain and it's unlikely they will be built in Colwyn Bay. Cost is one issue, the fact that these are a re-introduced species, is another."
For the latest breaking news and stories from across the globe from the Daily Star, sign up for our newsletter by clicking here.
Source: Read Full Article