Trump slams 'crooked Joe' and 'Biden crime family' after GA indictment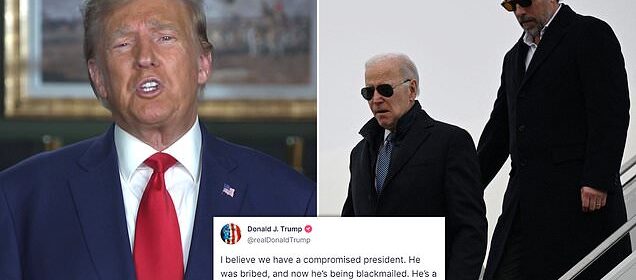 Four-times indicted Trump slams the 'Biden crime family' for taking $20m in foreign money and calls Joe the 'Manchurian Candidate': Demands his trials to be held AFTER 2024 election
Donald Trump on Tuesday posted a video to Truth Social – his first since being indicted in Georgia on charges of attempting to overturn their vote
Trump opened not with a reference to the charges but instead with an attack on the 'Biden crime family', accusing them of taking $20 million in foreign money
He used his usual slur against President Joe Biden, calling him a 'Manchurian Candidate' and alleging he is controlled by China 
Donald Trump has spoken out in a video posted to his social media channels for the first time since being indicted on charges of trying to overturn the election – but used the moment instead to slam Biden and his 'crime family.'
Trump declared that Biden was 'a Manchurian Candidate' – his new favorite insult – and claimed that the president was being controlled by China. 
He also demanded, in an earlier post on Tuesday, that his trials be held after the 2024 election. 
'It is now 100 percent that the Biden crime family received more than $20 million from foreign countries while crooked Joe was vice president – and probably a lot more than that; that's just the money they've found,' Trump began.
'Not one of Joe Biden's defenders has even attempted to explain what Joe and his family did, including his children and his grandchildren – what were they doing to get all this money?
'I believe we have a compromised president. He was bribed and now he is being blackmailed. He's a Manchurian Candidate.' 
Donald Trump is seen in a Truth Social clip he posted on Tuesday afternoon, his first video post since being indicted in Georgia
Joe Biden is seen with his son Hunter, whose business dealings continue to cause his father immense political problems
The term 'Manchurian Candidate' comes from a 1959 novel by Richard Condon, which tells of the son of a prominent U.S. political dynasty who is brainwashed into being an unwitting assassin for a Communist conspiracy.
The thriller has been turned into several films – most recently in 2004, starring Denzel Washington, Liev Schreiber and Meryl Streep. 
'That's why crooked Joe is letting other countries walk all over the United States,' said Trump.
'He's petrified of China because they know exactly how much money has been given to him, and they know where it is. China has paid him a fortune.'
Trump said Biden shut down 'my initiative targeting Chinese spies in the United States' and 'let China off the hook for COVID', allowing the Chinese to set up bases in Cuba and Taiwan.
He added: 'Crooked Joe's corruption is a glaring threat to national security,' and predicted 'World War Three with this grossly incompetent man'.
Trump said 'as soon as I am re-elected' he will appoint a special counsel 'to look at all these bribes and kick-backs.'
'They are trying to stop me. The one person they don't want to run is Donald Trump,' the former president added.  
Earlier on Tuesday, he demanded the trials be held after the election.
'All of these Biden Administration bogus trials and cases, including the locals, should be brought after the 2024 Presidential Election,' he wrote on Truth Social. 
'What they have done is already Election Interference, but if the trials are held before the Election, then it would be Interference on a scale never seen in our Country before.'
Fani Willis is seen on Monday night announcing the charges against the 19 accused of working to overturn Georgia's election results
Trump charged with 13 of the 41 counts in the indictment 
Count 1: Violation of the Georgia RICO (Racketeer Influenced and Corrupt Organizations) Act
Count 5: Solicitation of violation of oath by a public officer
Count 9: Conspiracy to commit impersonating a public officer
Count 11: Conspiracy to commit forgery in the first degree
Count 13: Conspiracy to commit false statements and writings
Count 15: Conspiracy to commit filing false documents
Count 17: Conspiracy to commit forgery in the first degree
Count 19: Conspiracy to commit false statements and writings
Count 27: Filing false documents
Count 28: Solicitation of violation of oath by a public officer
Count 29: False statements and writings
Count 38: Solicitation of violation of oath by a public officer
Count 39: False statements and writings
Trump on Monday was criminally indicted for the fourth time, with a grand jury in Georgia deciding he warranted trial with 18 other on charges related to trying to overturn the 2020 election.
The charges, brought by Fulton County District Attorney Fani Willis, charge the 19 for a scheme intended to reverse Trump's loss to Biden.
The sprawling 98-page indictment listed 19 defendants and 41 criminal counts in all. 
All the defendants were charged with racketeering, which is used to target members of organized crime groups and carries a minimum penalty of five years in prison.
Trump was charged with 13 of the 41 counts: if convicted on all charges, he faces more than 70 years in prison. 
Mark Meadows, Trump's former White House chief of staff, and lawyers Rudy Giuliani, Jenna Ellis and John Eastman were among those charged.
'Rather than abide by Georgia's legal process for election challenges, the defendants engaged in a criminal racketeering enterprise to overturn Georgia's presidential election result,' Willis said at a press conference just before midnight.
Trump and the other defendants have until noon EDT on Friday, Aug. 25, to surrender voluntarily, rather than face arrest, Willis said. 
She said she intends to try all 19 defendants together within six months.
Court records show the case has been assigned to Judge Scott McAfee, a former prosecutor appointed in February by Republican Governor Brian Kemp. 
He will seek election next year to retain his position.
Unlike the federal courts where Trump is also awaiting trial, Georgia state courts allow television cameras, meaning the public could have the unprecedented spectacle of watching a former president's trial on live TV as his campaign for a return to the White House goes into high gear.
John Eastman (left) and Rudy Giuliani (right) were among the co-defendants charged along with Trump
Sidney Powell and Trump's former chief of staff, Mark Meadows, were among those charged
Echoing his criticism of the many other investigations he faces, Trump called the indictment a political 'witch hunt' in a social media post and accused Willis, an elected Democrat, of trying to sabotage his presidential comeback bid.
He said he would release a report on Monday on 'Presidential Election Fraud' that would exonerate him. 'They never went after those that Rigged the Election. They only went after those that fought to find the RIGGERS!' he said.
Since his defeat in 2020, Trump has repeatedly made false claims that the election was marred by widespread fraud. 
Those claims have been rejected by dozens of courts, state reviews and members of his own administration.
Giuliani, who rose to national prominence by using racketeering laws to take down New York mobsters in the 1980s, said prosecutors in this case were 'the real criminals.'
Source: Read Full Article