Soldiers in Niger say they have deposed the President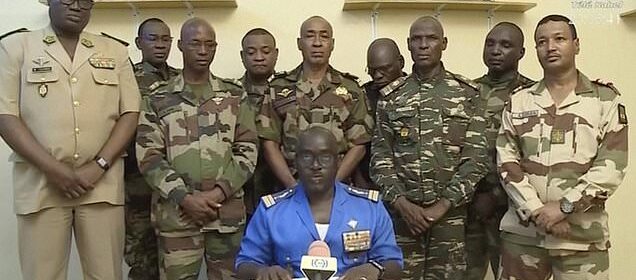 Coup in Niger: Soldiers take to TV in western African state and say they have deposed the President and are holding him at his palace
 Benin President Patrice Talon is said to be heading to Niger in a mediation bid
In a national televised address, a group of soldiers claim to have overthrown Niger President Mohamed Bazoum following an apparent coup in the fragile state.
Disgruntled members of the elite Presidential Guard sealed off access to the president's residence and offices in the capital Niamey on Wednesday, and after talks broke down 'refused to release the president,' a presidential source said. 
Reading from a statement, Colonel Amadou Abdramane, seated and flanked by nine other officers wearing fatigues, said the defence and security forces had decided: 'Put an end to the regime that you know due to the deteriorating security situation and bad governance.'
He said the country's borders are closed and a nationwide curfew declared, and all institutions of the republic were suspended.
The soldiers warned against any foreign intervention, hours after the president was held in the presidential palace. 
In a national televised address, a group of soldiers claim to have overthrown Niger President Mohamed Bazoum following an apparent coup
The Economic Community of West African States (ECOWAS) and the African Union both decried what they called an 'attempted coup d'etat'. 
It described the events as an effort to unseat Bazoum, who was elected president two years ago in the nation's first peaceful, democratic transfer of power since its independence from France in 1960. 
The streets of Niamey were bustling as usual, with many residents refusing to discuss the situation until there was more clarity. 
Some international security forces in the country were ordered put on lockdown. The United Nations said its 1,500 staff members in Niger were safe but had to suspend their regular work. 
The head of ECOWAS said Benin President Patrice Talon was heading to Niger in a mediation bid, after the latest bout of turbulence to hit the region. 
The African Union, the UN, the EU and the United States have all condemned the soldiers' actions. 
READ MORE: Heavily armed jihadis on motorbikes massacre 137 villagers in Niger: Gunmen 'shot anything that moved' in horrifying raid
In a tweet, the U.N. said Secretary-General Antonio Guterres had spoken to Bazoum on Wednesday afternoon and 'expressed his full support and solidarity'.
Earlier, Guterres condemned any effort to seize power by force 'in the strongest terms' and called on 'all actors involved to exercise restraint and to ensure the protection of constitutional order,' spokesman Stephane Dujarric said.
The governments of France and the United States also voiced concern and urged the participating guardsmen to change course. Bazoum's administration has made Niger a key Western partner in the fight against Islamist extremism in Africa's Sahel region.
'We strongly condemn any effort to detain or subvert the functioning of Niger's democratically elected government, led by President Bazoum,' White House National Security Advisor Jake Sullivan said. 
'We specifically urge elements of the presidential guard to release President Bazoum from detention and refrain from violence.'
Mali and Burkina Faso have had four coups since 2020, and both are being overrun by extremists linked to al-Qaida and the Islamic State group. Mercenaries from the Russian military company also have deployed in those countries. 
Nigerian President Bola Tinubu, who was selected this month as the ECOWAS Commission's chairman, said the regional bloc's leadership would resist any attempt to unseat Niger's government.
'It should be quite clear to all players in the Republic of Niger that the leadership of the ECOWAS region and all lovers of democracy around the world will not tolerate any situation that incapacitates the democratically elected government of the country,' Tinubu said in a statement he issued in Abuja. 
'We will do everything within our powers to ensure democracy is firmly planted, nurtured, well rooted and thrives in our region.'
After meeting with Tinubu in Abuja, President Patrice Talon of Benin left for Niger as part of ECOWAS-led mediation efforts. 
'I believe that all means will be used, if necessary, to restore constitutional order in Niger, but the ideal would be for everything to happen in peace and harmony,' Talon said.
The African Union also called on Nigeriens and Africans to 'join their voices in unanimous condemnation of this coup attempt, and for the immediate and unconditional return of the felon soldiers to their barracks.'
Bazoum, a former interior minister, was right-hand man to former president Mahamadou Issoufou, who voluntarily stepped down after two terms.
Their handover in April 2021, after elections won by Bazoum in a two-round contest against former president Mahamane Ousmane, marked Niger's first peaceful transition of power since independence.
But reminders of the troubled past have never been far away.
An attempted coup took place just days before Bazoum's inauguration, according to a security source at the time.
Several people were arrested, including the suspected ringleader, an air force captain named Sani Gourouza, and former interior minister Ousmane Cisse.
Five people, including Gourouza, were jailed in February for 20 years while Cisse was acquitted.
A second bid to oust Bazoum occurred last March 'while the president… was in Turkey', according to a Niger official, who said an arrest was made. The authorities have never commented publicly on the incident.
Source: Read Full Article