Ripper-style killer, 67, convicted of murdering 33-year-old prostitute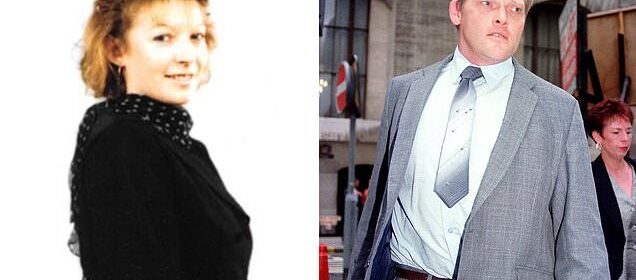 Ripper-style killer, 67, is convicted of murdering 33-year-old prostitute 30 years after he was previously cleared of the crime
David Smith, 67, killed and mutilated Sarah Crump, 33, in west London in 1991
He was cleared by a jury in 1993 and went on to kill Amanda Walker, 21, in 1999
Today, Smith was finally convicted of killing Ms Crump over 30 years ago
A modern day Jack the Ripper who mutilated and murdered two sex workers after carrying out rape attacks on two other women is set to die behind bars.
David Smith, 67, has been found guilty at Inner London Crown Court of murdering 33-year-old escort Sarah Crump 30 years after he was previously cleared of the crime.
The court heard Ms Crump's naked body was found 'brutally mutilated' with the incisions similar to the surgical scars of a woman Smith had 'become obsessed with' and 'rejected his attentions'.
The 6ft 3in loner, who was obsessed with call girls, had been cleared by a court in 1993 of murdering Miss Crump, a chiropodist's secretary who made extra money working as an escort.
He sliced open the pregnant victim down the length of her body, cut her breasts off and disembowelled her.
David Smith, 67, has been found guilty at Inner London Crown Court of murdering 33-year-old escort Sarah Crump 30 years after he was previously cleared of the crime (pictured at his previous trial)
William Boyce, KC, prosecuting, said 'new and compelling evidence' against the killer had led to him once again standing trial.
Smith showed no emotion today when he was found guilty after less than three hours of deliberation and Mr Justice Bryan said he would sentence him on Friday.
Ms Crump's older sisters Joanne Platt and Suzanne Wright, who were in court for the verdict, said in a short statement: 'At long last justice for our lovely Sarah.
'If only mum and dad were here with us today to share this momentous occasion.'
Smith's original acquittal by the jury in 1993 was met with horror and disbelief of the victim's family.
Ms Crump's mother Pat Rhodes had warned at her daughter's Old Bailey trial she believed Smith would kill again.
He walked free to do just that – murdering sex worker Amanda Walker, 21, defiling her body and dumping it near the Royal Horticultural Gardens at Wisley, Surrey, in 1999.
On the night of that killing he had been to an orgy at a brothel in Ilford.
The party featured a 'love dungeon' complete with all the instruments of sexual torture.
Sarah Crump, 33, was a chiropodist's secretary who made extra money working as an escort. She was pregnant when Smith killed her in west London in 1991
Smith went into a steam room with a woman – but left without having intercourse and drove to Wisley where he would murder Ms Walker in 1999.
Ms Walker, who came from a 'solid and strong family' in Leeds, had been on the streets for such a short time that she may not have sensed the danger when she was approached by Smith.
He was convicted of murdering Ms Walker by an Old Bailey jury later that year.
After a modern review of evidence, Smith was finally re-trialled for the murder of Ms Crump and today at Inner London crown court, where he was unanimously convicted of the crime he should have been jailed for 30 years ago.
Smith will return for sentence on Friday.
The jury cleared him during his first trial at the Old Bailey in 1993 after his barrister argued that the real killer had left his fingerprints on the bedroom door handle and on the drawer under her bed.
But those fingerprints have now been identified as belonging to the previous owner of the flat.
Six years later Smith bragged to a cellmate about killing Ms Crump and the Court of Appeal finally ordered that he could stand trial a second time for the killing, despite his earlier acquittal.
Smith walked free to kill again – murdering sex worker Amanda Walker, 21, defiling her body and dumping it near the Royal Horticultural Gardens at Wisley, Surrey, in 1999
Today, Sarah Crump's (pictured) two sisters and niece burst into tears of joy in the public gallery as Smith was jailed
Smith, then aged 34, lived with his parents in Hampton, Middlesex and had the week off work when he arranged to meet Ms Crump on August 29, 1991, at her home in west London.
Ms Crump, originally from Lincoln, had previously been a psychiatric nurse at St Bernard's Hospital in Ealing and lived in a one-bedroom flat at Southall.
She longed for a child and led her bizarre double life to pay for an ultimately successful course of fertility treatment. 
'It was in that flat that she was murdered, almost certainly in the early hours of August 29, 1991,' said Mr Boyce.
She was working as a personal secretary in the chiropody department at Wembley Hospital and left work at 2pm on August 28.
Escort agency boss Lisa Pegg spoke with her at 2am but the victim did not attend work at the Wembley Hospital the next day.
Her boyfriend Mohammed Younis reported her missing on September 1 and police found her 'brutally mutilated' body in the bedroom.
Prosecutor Mr Boyce told jurors: 'During the day she worked as a secretary in the chiropody department of the hospital, but in the evenings, she worked from time to time as an escort, which involved her engaging in sexual encounters for money.
'She would receive male clients to her flat for that reason.'
Smith was someone who used escorts frequently, particularly in the days and weeks leading up to 28 August 1991.
'He developed fascinations and obsessions with some of the women he met in this way,' said Mr Boyce.
'After a series of telephone calls on August 28 1991, the defendant went to the deceased's home.
'It is, now, undisputed that at one stage he left the premises to withdraw some cash.
'At approximately 2am on August 29, 1991, the deceased made a final call to Lisa Pegg to say that the defendant had left.
'The conversation was unusual in that it was short and abrupt, and Ms Crump failed to follow the usual procedure for a call of that sort.
'The call was part of the safety procedures devised by the agency to ensure that nothing untoward had happened.
'It may be in this case that Sarah Crump was being forced to make that call when Mr Smith was still there. It was unusual in format, but it wasn't picked up – tragically.
'The defendant's significant experience of escort agencies, of course, had made him aware that of procedures of this kind were frequently adopted in these circumstances.
'This was the last occasion anyone is known to have spoken with Sarah Crump, save for the defendant.
'Smith, using the false name 'Duncan', was the last person known to be inside Ms Crump's flat.
'He went there as a paying visitor, and it would follow that for such a visitor, she would have taken off her clothes and laid on the bed where she was found, naked.'
Mr Boyce added: 'The murder was one part in a timeline of escalating violent and sexual offending against women by the defendant, which stretched from his teenage years in the mid-1970s, until his commission of the murder of another sex worker in 1999.
'That other murder of a woman called Amanda Walker, bore a number of similarities with the murder of Sarah Crump, not least the substantial mutilation to which the victim's body had been subjected after death.'
A Royal Horticultural Society employee had discovered Ms Walker's decomposing body partially covered in leaves and dead branches on 1 June 1999.
Smith was convicted of Ms Walker's murder on 8 December 1999 by a unanimous verdict and sentenced to life imprisonment by Judge Michael Hyam at the Old Bailey.
Judge Hyam said: 'Anyone who has heard what you did to that unfortunate woman must have been horrified and revolted by what you did to her.
'It is evident you killed her to satisfy your perverted sexual obsessions and your are a man without pity and without remorse.'
While serving his life sentence at HMP Highdown, Smith admitted to inmate Steven Williams that he murdered Ms Crump.
In a witness statement, Williams wrote: 'I would probably see Smith twice a day during association or meal times. He would talk about S&M clubs in London, parties he used to go to and things like that.
'He said he likes to see girls in a lot of pain and tie them up. He had told me that he was responsible for another murder [other than the murder of Amanda Walker], where he said he cut a woman's breasts off or sliced her breasts.
'He kept saying about how the blood actually came out and that it was really sexy and stuff. When he told me about this he showed me how he would cut around the breasts.
'He didn't tell me much about this incident other than that it was about seven years ago, that he was on remand for 18 months, that he went to the Old Bailey and that he walked. He said that they got no evidence on him and that he got away with it.'
Smith was jailed for four years for raping a housewife at knifepoint in front of her two children in Hampton in 1976.
He spotted his victim fixing curtains in her living room and knocked on her door brandishing a seven-inch knife.
Smith was also accused of attempting to rape a sex worker after putting a Stanley knife to her throat in a hotel room on 18 August 1991 – eleven days before the murder of Ms Crump.
He was given a suspended sentence in 1987 for false imprisonment after he dragged a girl into his cab.
In his original police interview Smith had told police we went to see Ms Crump, who went by the name 'Angie', at her apartment in Southall.
Smith said she told him that she was having difficulty having children, and that she feared that her boyfriend did not love her anymore.
He told police that he only went for a massage, and did not have sex with her.
In his interview from 12 February 1992 he told detectives: 'I had nothing to do with this murder at all'
He claimed he initially did not tell police he had been with Ms Crump because he was scared.
'Someone murdered her and I'm getting the rap for it,' he said.
'I'm scared stiff, that's why I didn't say anything.'
Smith, of no fixed address, denied murder.
Source: Read Full Article