Palestinians, Israelis meet in Jordan for talks aimed at de-escalating tensions in West Bank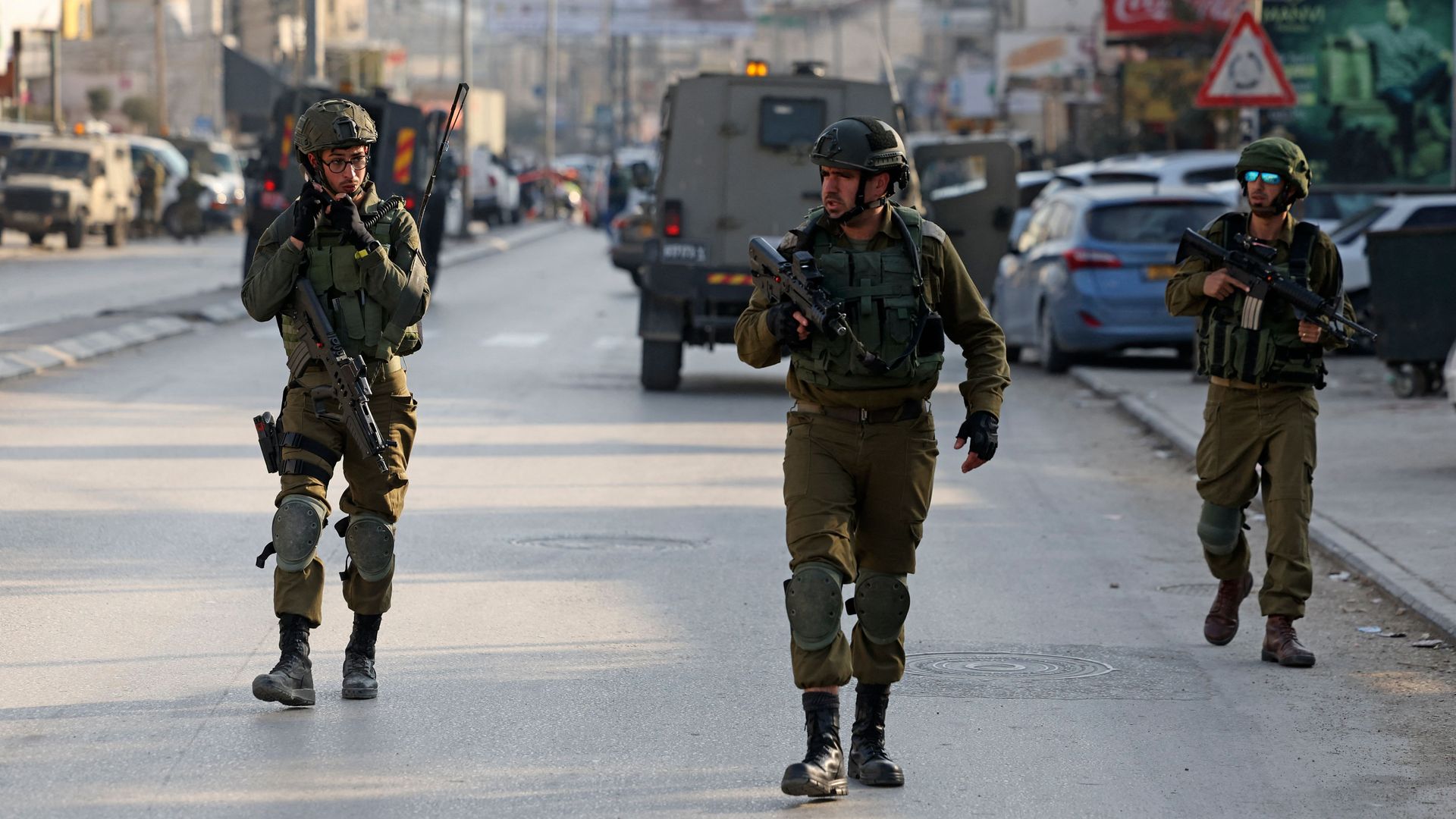 Israeli security forces deploy in the occupied West Bank town of Huwara on Feb. 26 after the Israeli military said a Palestinian gunman killed two Israelis. Photo: Ahmad Gharabli/AFP via Getty Images
Senior diplomats and security officials from the U.S., Palestinian Authority, Israel, Jordan and Egypt convened in the Jordanian Red Sea resort of Aqaba on Sunday for regional talks aimed at de-escalating tensions between Israel and the Palestinians in the occupied West Bank.
Why it matters: It is the most significant regional and international meeting on the Israeli-Palestinian conflict in more than a decade. The meeting is focused on security, but it also carries a lot of political significance.
The last time a similar meeting took place was in 2012 when Israeli and Palestinian negotiators met in Jordan in the presence of diplomats from the U.S., EU, UN and Russia.
Flashback: The Biden administration has been trying to convene the regional summit for two years. The former Israeli government led by Naftali Bennett and Yair Lapid refused, in part due to concerns of getting attacked politically by then-opposition leader Benjamin Netanyahu.
But when Netanyahu became prime minister late last year, he quickly agreed to establish secret talks with the Palestinian leadership and later agreed to send his top advisers to attend the regional meeting.
The big picture: Sunday's meeting was convened in part to formalize the understandings recently reached between Israel and the Palestinians that led to the postponement of a UN Security Council vote on a resolution condemning Israeli settlements in the West Bank.
The Biden administration pushed for the summit as part of its efforts to de-escalate the situation in the West Bank ahead of the historically sensitive period of the holy month of Ramadan.
Behind the scenes: The Palestinian Authority on Wednesday threatened to pull out of the summit after 11 Palestinians, including civilians, were killed in an Israeli raid in Nablus.
Palestinian officials claimed it was a violation of the understandings reached last week, which included a commitment from Israel to decrease military raids in Palestinian cities, Israeli and Palestinian officials said.
Israeli and U.S. officials said that under pressure from the Biden administration, Jordan and Egypt, the Palestinians agreed to attend.
Driving the news: Brett McGurk, the White House Middle East coordinator, Barbara Leaf, the assistant secretary of state for Near East Affairs and Hady Amr, the U.S. special representative for Palestinian affairs, attended the talks.
Several hours after the summit started, the Israeli military said a Palestinian gunman shot and killed two Israelis near Nablus. The suspected gunman is still at large.
What they're saying: Jordanian King Abdullah II met with McGurk on the sidelines of the summit and stressed the need to step up efforts to restore calm and de-escalate the heightened tensions and violence in the Palestinian territories, and to cease any unilateral measures that could lead to instability and undermine peace prospects, the royal court said in a statement.
Source: Read Full Article