Mother, 31, told 'too young' for cancer has 12 months to live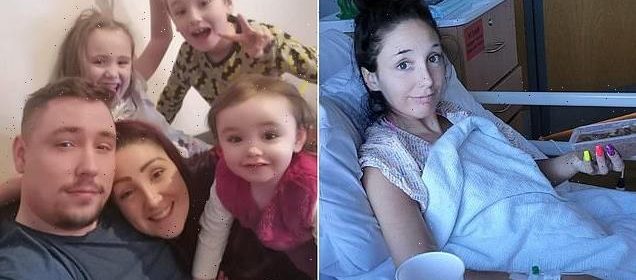 Mother-of-three, 31, told she was 'too young' for cancer is given 12 months to live after being diagnosed with stage three cervical cancer
Emma Louise Clark, 31, says she was told that she was 'too young' for cancer
But then she received the diagnosis she had stage three cervical cancer 
A mother-of-three who says she was told she was 'too young' for cancer has now been told she has 12 months to live.
Emma Louise Clark, 31, had gone to her doctor in January 2022 after concerns over weight loss and sleeping issues.
But she says she was told that it would be her contraceptive coil, and not to worry about it.
Weeks later she received the diagnosis she had stage three cervical cancer, which has now spread to stage four terminal, leaving her with little more than a year to live.
Emma Louise Clark, 31, had gone to her doctor in January 2022 after concerns over weight loss and sleeping issues
Emma Louise Clark, 31, partner David Rice, 34, and kids David Rice Jr, 11, Keeley-May Rice, 10, and Ariella Rice, 5
Now she has decided to spend her remaining time with family, and finally get married to soulmate David Rice, 34.
The pair – who have been together for almost 16 years – set up a GoFundMe in the hopes of raising £5,000 for Emma to experience her 'princess' wedding.
Emma from Claughton, Merseyside also hopes to raise awareness of the disease with the hope that the age for recommended cancer screening be lowered for women – the current age limit being 25.
Emma says she was told in her initial appointment with her doctor that her symptoms would be because her contraceptive coil had 'migrated', and that she was 'too young for it to be anything else'.
Emma Louise Clark and partner David Rice, who are now hoping to have their dream wedding
The mother of three, pictured, has elected to spend her remaining time with family, and finally get married to soulmate David Rice, 34.
However, follow-up appointments to remove the coil left nurses shocked and was fast-tracked for examinations which revealed that she had stage three cervical cancer.
Despite treatments, Emma's condition only worsened, with scans last month revealing that the cancer had spread to her lungs and was now terminal.
David wrote in the fundraiser: 'Hi, I am trying to raise any amount of money so that me and my partner can get married.
'Unfortunately, my partner Emma was diagnosed with stage three cervical cancer approximately 12 months ago, after chemotherapy and radiotherapy.
Emma Louise Clark with children Keeley-May Rice, Ariella Rice and David Rice Jr (left to right)
Emma Louise Clark, 31, in hospital being treated after her devastating cancer diagnosis
'We have recently been informed that she is now stage four as the cancer has spread to her lungs. They have given Emma roughly 12 months before the cancer gets too much for her to survive.
'We have been together since 2007 but have never had the finances to give Emma the 'princess' wedding she has always wanted and definitely deserves.
'This whole situation has, as you can imagine, turned Emma's, myself and the children's world upside down.
'The least I owe this beautiful girl is the chance to become a wife.
Emma Louise Clark with partner David Rice are facing the heartbreak she had just 12 months to live
'No matter how small, a donation anyone can offer will be extremely appreciated and will no doubt help to make this day happen for Emma.
'Thank you in advance.'
Speaking today, Emma said: 'I had lost loads of weight, wasn't eating or sleeping, it was a very rough time.
'I'm not one to go to the doctors but I had no choice.
WHAT IS CERVICAL CANCER? 
Cervical cancer affects the lining of the lower part of womb.
The most common symptom is unusual bleeding, such as between periods, during sex or after the menopause, but other signs can include:
Pain during sex
Vaginal discharge that smells 
Pain in the pelvis
Causes can include:
Age – more than half of sufferers are under 45
HPV infection – which affects most people at some point in their lives
Smoking – responsible for 21 per cent of cases
Contraceptive pill – linked to 10 per cent of cases
Having children
Family history of cervical or other types of cancer, like vagina
Source: Cancer Research UK 
'My doctor basically fobbed me off said 'It'll be your contraceptive coil, it will have migrated but once you've had it removed you'll be fine, you're too young for it to be anything else.'
'He refused to examine me and even after I said I wanted him to check he said no but because I was bleeding, he arranged an ultrasound and a blood count.
'Eventually, after a good three or four week wait I went for the ultrasound at Arrowe Park Hospital and was in and out in five minutes.
'She said 'your coil has migrated to your cervix, you just need it removing and that will solve the issue'.
'I questioned again 'are you sure there's nothing else?' and she said 'I was told to check your coil, thats what I've done' and she sent me on my way.
'I tried to book in at my doctors to have it removed, they initially said yes then said no because the person allocated to do them has left so I would need to go to the place I had the coil fitted.
'I had an examination to remove the coil but the blood was so extreme she couldn't see so she got a senior member of staff to do the same thing – they then went and got the main doctor.
'After looking for less than five minutes, she was out the room on the phone to Arrowe Park and had me booked in and a letter to take straight away and that is when cervical cancer was first mentioned.
'She was disgusted at the state I went into and how bad my cervix looked at even just a glance.
'She was so appalled that she actually asked if I was okay with them putting in a complaint to my doctor which, after the way I have been treated by them, was more than fine by me.
'I went to Arrowe Park, had two examinations and they both said the same thing. I had biopsies done about four or five days later and when I went in for the results they told us it's cervical cancer.
'I had to have a flurry of tests and scans and all kinds, they found it was stage three which is very advanced for cervical cancer – this is why smears are important.
'It's a slow-growing cancer so to get to that point is crazy – you only get symptoms at the later stages, there's no way of knowing before that.
'I had to have a few stays in hospital with infections and sepsis. I also had to have a stoma bag fitted because the tumour was so large my bowels weren't working.
'I had five weeks of radiotherapy everyday except weekends and chemo but after one lot of chemo they had to stop as I was hospitalised again twice with acute kidney damage.
'We found out the treatment hadn't worked at all so I had to have ten more days of a booster version then I had some time off.
'I had my first scan in December and the results came early January to say the tumour had shrunk by about 50% which was great but I had to have a pet scan because they were concerned about my lungs.
'Those came back to say it's spread to my lungs – the cancer is out of control, it's now stage four terminal and they gave me twelve months – a bit longer if treatment works better than they're expecting.'
Despite having to break the news to her three young children, Emma says the trio have been amazing, and that she has been left overwhelmed with the amount of help and support she has received.
She continued: 'The effect has been massive, it's like a domino effect – one thing after another. Not working for me is the hardest part as I adore my job and the work girls are my family.
'I love each and every one of them and the customers – it's like a community.
'Plus the financial side of it isn't great either, but being in pain more often than not and being sick and the treatment being brutal on your system, it takes a lot out of you.
'We have three young children and its mainly them I feel for.
'They have been literally amazing, for their age, they have been so mature and grown up and helpful to say the least but as a mother – the one who does the school mornings and does the girls' hair and sits and does homework – I'm usually too sick for those things.
'It breaks my heart that I can't be more hands-on like I was before.
'But them being so understanding and caring makes me realise we have not done a bad job and we have raised some lovely, kind and caring little people, which makes me happy.
'One thing I hope no one ever has to do is sit and tell their young children that it wasn't good news and watching them break down in tears [left me] just totally heartbroken – that was and will be the hardest thing I've ever had to do.
'We have been truly overwhelmed with the amount of help and support and just how many people we know. Everyone has been amazing, we couldn't have done half of the things without them all.
'This isn't just about having the wedding I have always dreamed of since I was little, this is also about raising awareness – that is so important to me so before I go anywhere, I want to know I've made a change and a difference.
'I would also love to get the age lowered to 16-18 – 25 is just not cutting it and they need to do more when they send out a letter or two, they need to follow up with people who aren't booking in.
'That's the only way to crack down and make sure girls are being safe.'
At the time of writing, the fundraiser has reached £4,710.
To donate to the fundraiser you can visit: https://gofund.me/4d1e6a47
Source: Read Full Article