Mom forced to rob bank she managed, kidnappers strapped fake dynamite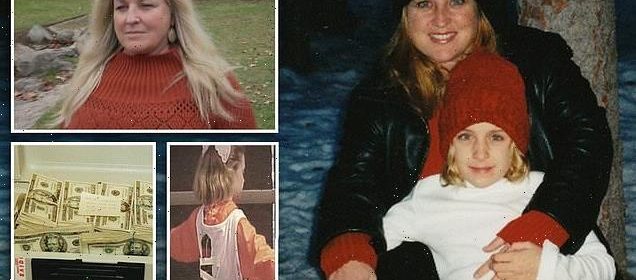 'You're gonna rob the bank for us, or you will die': Mother forced to break into BoA branch she managed when kidnappers strapped fake dynamite on her and her daughter reveals how she helped catch thieves
Michelle Renee, her seven-year-old daughter Breea, and a roommate were held captive for 14 hours in November 2000 by three masked intruders in their home
The  San Diego bank manager was forced to steal $360,000 from her Bank of America branch in Vista 
The trio had been casing the bank for months and threatened to detonate explosives if she did not comply, forcing her to take $360,000 from bank's vault
A bank manger who was made to rob the branch she was managing after kidnappers strapped dynamite to her and her daughter has revealed how she ultimately helped police solve the case, despite the suspect trying to accuse her of planning the heist.
Michelle Renee, from San Diego, was forced to steal $360,000 from her Bank of America branch in Vista in November 2000.
Three robbers had been casing the branch in the months prior to the robbery and knew where Renee, her seven-year-old daughter Breea and a roommate lived.  
Michelle, Breea and the roommate were held hostage for 14 hours and bound with duct tape after the masked intruders stormed into their home, before strapping sticks of dynamite on them all.
'Are you gonna kill my mommy? Are you gonna kill me?' Breea, the little girl, asked the kidnappers. 
Michelle Renee, a bank manager, was held hostage with her 7-year-old daughter Breea and forced to rob the bank where she worked in Vista, California in November 2000
Renee's seven-year-old daughter Breea is seen with the fake stick of dynamite strapped to her
Investigators recreated the fake dynamite sticks and strapped them to the victim's backs
'No, not if your mommy does everything that we tell her to do,' one of the men replied.
They warned Renee that they would detonate the explosives if she didn't comply and take the money from the bank's vault for them.
Renee told CBS's 48 Hours that the kidnappers managed to exert a psychological control over her, saying 'we know everything about you.' 
They explained clearly to her why they had chosen her and how they had followed Renee for months. 
'You're gonna rob the bank for us, or you will die, your daughter will go first,' they threatened. 
They told Renee said that if she made one false move, they would be able to detonate the dynamite within a 10-mile radius. 
Once the bank opened at 9am, Renee went in as usual as if going to work and then walked out with a duffel bag filled with the cash. 
During his police interview, Chris Butler denied having any part in the bank robbery
During the hostage situation, Renee recognized the ringleader's eyes. He had been at the bank hours before the break-in, posing as a customer and had even left his real business card
Christopher Huggins, left, was another who took part in the heist. Investigators recovered $93,000, part of his share of the stolen cash. Robert Ortiz, right, was the masked man who had held a gun to Breea's head. He was arrested in February 2001 in Wisconsin
The gunmen bound Renee and Breea with duct tape.
Renee walked out of the bank with $360,000 and handed it to the ringleader, who was waiting in her Jeep
On the night of November 21, 2000, Renee and Breea were at home on the couch when three masked gunmen wearing all black broke into the house through the back door. They pointed guns at Renee and the 7-year-old's heads and forced them down to the floor
Following the robbery, Renee raced home to find her daughter hiding in a closet. 
'I didn't know if Breea's gonna be there,' Renee says she recalled thinking. 'I don't know if she's gonna be alive when I get there.' 
The police bomb squad determined that the explosive device that was still strapped to Breea's back was a fake and was made up from just two wooden broomstick handles cut up, painted and taped together to look like dynamite.
Renee then set about helping the police. She told investigators how she recognized one of the kidnappers' eyes after he posed as a customer while earlier casing the bank. 
'My brain was going, "Oh my gosh, don't let him know that you know,"' Renee said. 
In what became a schoolboy error Butler had left his real business card at the bank containing his name and phone number. It ultimately became a key piece of  evidence in the case.
The men strapped what they said was dynamite on Renee, her daughter and their roommate
Michelle Renee drove her Jeep to the bank with the ringleader crouched in her back seat. He held a gun to her side while she drove and told her, 'Do everything you would normally do.'
This is the caseload of money Renee walked out of the bank with and handed to the robbers
The bomb squad determined the dynamite used to threaten was fake. It appeared to be nothing more than broomsticks painted red and strapped with wires and tape
Investigators got Renee to return to the house and walk through the events of the night of the break-in and bank robbery the following morning, although she never returned to live there 
One of the robbers, Lisa Ramirez, is pictured during an interview with investigators
The suspect, Christopher Butler, had a history of bank robberies and was placed under surveillance. 
Ten days later, he was arrested during a traffic stop along with his fiancée Lisa Ramirez, who police believed also had helped to plan the robbery with him. 
Investigators found physical evidence tying them to the crime which included a BB gun, ski masks with cutout eye holes, Renee's credit cards, and money straps from the cash taken from the bank. 
At Butler's home, investigators also found 'all the ingredients to make the fake bomb' together with the colored paint used for the fake dynamite sticks. 
Christopher Butler and Lisa Ramirez were arrested during a traffic stop in December 2000. In the glove compartment police found evidence including Renee's credit cards, money straps from the bank, and BB gun that looked like one used during the robbery
Twenty years later, in 2020, Butler finally recanted his testimony and admitted at a parole hearing that Renee, pictured, had absolutely no involvement in the kidnapping
Michelle Renee is pictured alongside her daughter in 2000, Breea 
During his trial, Butler and Ramirez claimed that Renee was in on the heist and subsequent kidnapping.
Butler even claimed Renee had masterminded the entire robbery and he claimed that the two of them had previously had an affair – all complete lies.
It led to defense lawyers relentlessly attacking her credibility on the witness stand.
'They were trying to paint me as somebody that was irresponsible, Renee told CBS News. 'A selfish, terrible mother… that… would do anything for money,' she explained.
Twenty years later, in 2020, Butler finally recanted his testimony during a parole hearing and admitted that Renee had absolutely no involvement in the kidnapping. 
'There was never, ever a chance…that I would…have been involved in anything like this,' Renee said. 'In a weird…way, I could breathe…I could exhale, finally, after all these years.'
For Renee, a cloud of suspicion that had hung over her for decades, was finally lifted.
For Renee, a cloud of suspicion that hung over her for decades has finally been finally lifted
Source: Read Full Article