Michigan woman accused of murdering best friend after fight over man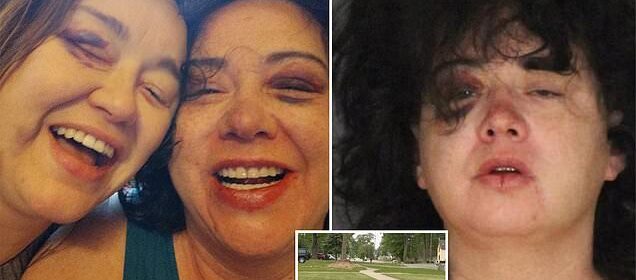 Michigan woman, 44, is charged with beating friend to death after fighting over man they were in 'THROUPLE' with: Shared snap of herself and victim with black eyes just before killing
Raquelle Casillas, 44, from Michigan has been accused of murdering her 'best friend' following a dispute over their involvement in a love triangle
Conflict between the two women boiled over on Tuesday night leading to a physical altercation at the home in Capac, St. Clair County
Deputies were called to find Casillas' friend lying unconscious in the bathroom, but still breathing – she was taken to hospital but died two days later
A Michigan woman has been charged with the murder of her 'best friend' who she was in a throuple with after the pair engaged in a vicious 'booze fueled' brawl over their man.
Raquelle Casillas, 44, from Mussey Township, had allegedly 'shared' the same man with a 44-year-old Almont woman, who is yet to be identified.
Casillas shared a photo captioned 'My best friend' on Facebook in the week prior to the death. Both women were smiling with black eyes, cuts, and bruises in the snap.
When questioned why both women were heavily bruised and scratched, Casillas responded: 'We were fighting. I took her boyfriend.'
Raquelle Casillas, 44, right, from Michigan has been accused of murdering her 'best friend', left, following a dispute over their involvement in love triangle
When questioned as to why both women had black eyes, Casillas responded: 'We were fighting. I took her boyfriend.'
The pair had been fighting over a 44-year-old man from Capac in St. Clair County for days, when he reported an assault in his home where the victim was found unconscious.
Raquelle Casillas was arrested when police went to the home and has been charged with one count of open murder
The Almont woman was taken to McLaren Hospital where doctors said she suffered a head trauma. Two days later she died. 
Casillas' father told DailyMail.com that he believed the beating had been 'booze fueled' – although he was unable to identify the woman killed, or the man the women fought over. 
'They'd been binge drinking for a while and I think that probably had something to do with it. It was definitely the alcohol,' Carlos Casillas, 67, told DailyMail.com of the deadly love triangle.
'When she's not drinking she's a different person but she started drinking the past few years – well before the relationship started.'
'They probably got along because they were all alcoholics,' he added. 
Deputies were alerted to the brawl at the home of the man at the center of the tryst on Tuesday at about 4am after the women began to war over him.
Deputies were called to find Casillas' friend lying unconscious in the bathroom of the home, but she was still breathing. She was taken to hospital but died two days later
Casillas' friend was found lying unconscious on the bathroom floor after being beaten – but had still breathing at the time emergency services arrived and took her to hospital.
The 44-year-old victim was taken to McLaren Lapeer Hospital where she later died from the severe head trauma that she suffered Thursday morning. 
Police said the disagreement sparked over their relationship's with the man, the argument going on for several days prior to the shocking death.
Casillas has been charged with one count of open murder. 
She has also ben denied bail and is currently held at the St. Clair County Detention and Intervention Center with her next court hearing scheduled for June 20.
Source: Read Full Article