Met Office heatwave UK weather forecast as 'five days' of 30C bakes Britain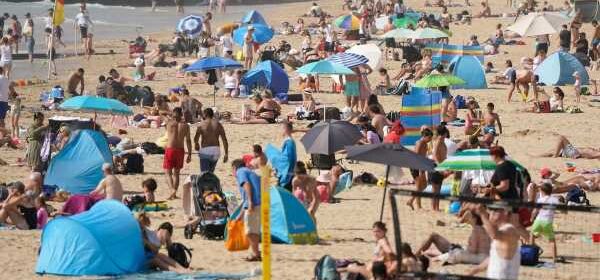 Bookmark
Never miss any of the fun stuff. Get the biggest stories and wackiest takes from the Daily Star, including our special WTF Wednesday email
Thank you for subscribing!
Never miss any of the fun stuff. Get the biggest stories and wackiest takes from the Daily Star, including our special WTF Wednesday email
We have more newsletters
Brits are set to melt on the hottest day of the year today (Thursday) with even warmer days to follow.
Temperatures cranked up to 32C today as the country experienced the hottest day since June 25 and the hottest September day since 2016.
Forecasters reckon it is almost certain the mercury will soar above the current 32.2C record for 2023 on Thursday.
READ MORE: Terror suspect who broke out of jail would've been 'trained to escape'
And they also think there's a good chance that will be beaten again on Friday and a third time on Saturday with temperatures soaring as high as 33C in London.
Sunday will mark five consecutive days of temperatures in the 30s, before the weather cools slightly on Monday.
The UK Health Security Agency has upgraded its heat health alert to amber in every region of England apart from the North East, which has a yellow warning.
While September has seen such high temperatures before, it's unusual for the heat to persist for such an extended period.
The Met Office predicts five to six days of temperatures exceeding 30C in some areas, the Mirror reports.
Irish gangs meet with Mexico's most powerful cartel to bring deadly drug to Europe
The heatwave is being driven by tropical storms pushing high pressure over the UK.
Met Office chief meteorologist Neil Armstrong said the jet stream was "well to the north of the UK, allowing some very warm air to be drawn north".
According to the Met Office, a heatwave is defined as three consecutive days of a particular region exceeding a given threshold, which varies around the UK.
For Scotland, Wales, Northern Ireland, Cornwall, and northern England, the threshold is 25C; for Somerset, Hampshire, and the Welsh Borders, it's 26C; the south coast, East Anglia, and the East Midlands have a threshold of 27C; and for London and the home counties, the bar is set at 28C.
To stay up to date with all the latest news, make sure you sign up to one of our newsletters here.
Source: Read Full Article