Ilhan Omar blames 'dysfunctional' police for Minneapolis violent crime spike

Chicago police union boss bashes Lightfoot's COVID mandate
Fraternal Order of Police first vice president slams The Windy City mayor's coronavirus mandate, calling the situation for law enforcement 'The Hunger Games.' Radio personality Ray Stevens reacts on 'Fox & Friends First.'
Rep. Ilhan Omar, D-Minn., blamed police for the recent rise in crime in Minneapolis, accusing the city's officers of not fulfilling their oath of office.
"What we must also recognize is that the reduction in policing currently in our city and the lawlessness that is happening is due to two things," Omar said during a town hall event Saturday in Minneapolis.
One of them, she said, is that "the police have chosen to not fulfill their oath of office and to provide the public safety they are owed to the citizens they serve."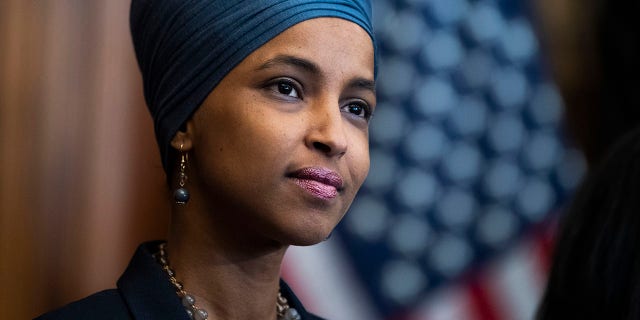 UNITED STATES – JUNE 17: Rep. Ilhan Omar, D-Minn., attends a bill enrollment ceremony for the Juneteenth National Independence Day Act in the Capitol on Thursday, June 17, 2021. (Photo By Tom Williams/CQ-Roll Call, Inc via Getty Images)
Minneapolis, the state's largest city, has had to fight the surge while its police department suffers from staffing and morale problems after the death of George Floyd in the city, something some say has fueled the crime surge. Others have pointed to a rise in unemployment and other stresses brought on by the COVID-19 pandemic, noting that other large cities have experienced similar issues.
But Omar pinned the blame squarely on the shoulders of the city's police department, accusing it of being "dysfunctional."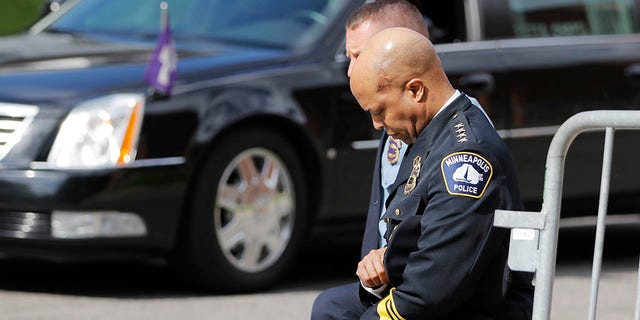 Police officers including Minneapolis Police Chief Medaria Arradondo, foreground, take a knee as the body of George Floyd arrives before his memorial services on Thursday, June 4, 2020 in Minneapolis. (AP Photo/Julio Cortez)
"The Minneapolis Police Department is the most dysfunctional in our state and probably in the country," Omar said.
The Democratic lawmaker blasted the department for a lack of accountability, saying that it is something that "doesn't exist in this moment."
"And I do believe that the current charter that we have does tie the hands of those who want want to have that accountability," Omar continued. "We are mandated to have a specific amount of policing. We are mandated to have this kind of union contract, that you have right now.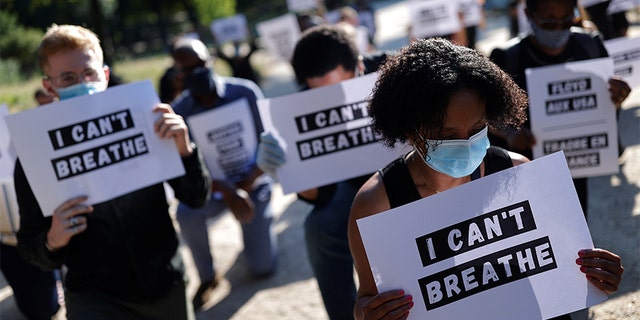 People protest against the death in Minneapolis police custody of George Floyd, next to the U.S. embassy in Paris, France, June 1, 2020. (Reuters/Christian Hartmann)
I don't know any other big city in the state of Minnesota that has the charter that we have," Omar continued.
Source: Read Full Article