Hamburg airport closed after armed man 'drives car with two children'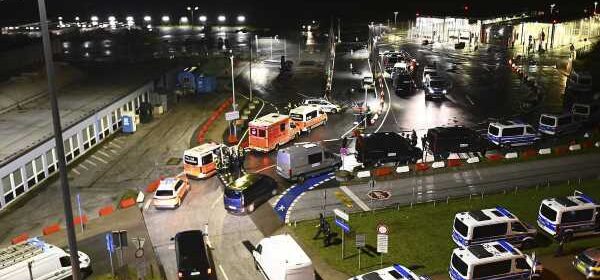 Hamburg airport is closed after armed man 'rammed car through gate with two children inside before shooting into the air twice'
Hamburg airport has been closed after a gunman rammed a vehicle through a security gate with two children inside before shooting a weapon in the air, police said. 
The armed man drove a car through an airport barrier at around 8pm local time (7pm GMT) and fired a weapon twice, federal police said.
After firing the shots, the man threw two burning bottles out of the vehicle, they added.
The man's wife had called police about a possible child abduction. The gunman is said to have had two children in the car – and Hamburg Police tweeted that they were dealing with a 'static hostage situation'.
A large number of officers from state and federal police were on site and in the vicinity of the vehicle, federal police spokesman Thomas Gerbert told German news agency dpa.
Police said no one appeared to be injured, but the airport announced it was currently closed for takeoffs and landings. 
Police vehicles and ambulances arrive at the scene of a security breach at the Hamburg Airport
Police guard the scene of a security breach at the Hamburg Airport after a vehicle broke through
Fire Department vehicles arrive at a security scene at the Hamburg Airport. Flights have been axed 
Hamburg Police tweeted to say there was a "major police operation" at the airport "with a large contingent of emergency services".
They added: 'We are currently assuming a static hostage situation.'
Bild reports that the gunman drove in front of Terminal 1 in an Audi without a number plate. 
The driver initially sped away but a few minutes later broke through a security barrier at the north gate and drove towards the planes.
He is said to have started several fires in the airport area by throwing burning bottles out of the car. They were described as 'a kind of Molotov cocktails' by police spokesman Mr Gerbert.
Footage shared on social media shows flames on the tarmac as fire crews rushed to the scene.
A spokesperson for the airport said 27 flights had been affected. 
This is a breaking news story. More to follow. 
Source: Read Full Article