Grandson of circus showman Billy Smart racked up £9million in debt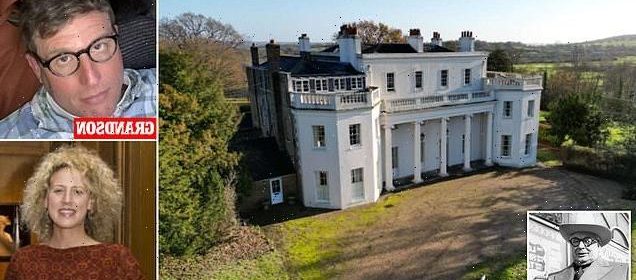 Grandson of legendary circus showman Billy Smart racked up £9million in debt and had to sleep in his car after being evicted from 12-bed Georgian country pile
Billy Jay 'BJ' Smart, 49, was the grandson of 1950s circus showman Billy Smart

BJ Smart became a successful property mogul, owning homes worth £20m

But failed business investments have left him broke and sleeping in his car 

At Central London county court, Mr Smart settled debts with sale of family home
The grandson of legendary circus showman Billy Smart ended up sleeping rough in his car after racking up £9m in debts and getting evicted from his 12-bedroom Georgian country pile, a court heard.
Billy Jay Smart – one of the heirs to the world-famous circus dynasty set up by his grandfather Billy Smart in 1946 – told a judge he ended up so broke he couldn't afford to pay for a funeral for his mother.
Mr Smart, an entrepreneur and property mogul, once owned a £20m string of high-end properties, including a 'sumptuous' Belgravia mansion, a villa in Palm Beach, Florida, and Nazeing Park House, his 12-bedroom Georgian pile near Waltham Abbey, Essex, set in 68 acres of land.
But the 49-year-old ended up flat broke and temporarily forced to sleep in his car after running up millions in debts and becoming embroiled in court fights with his mortgage lender and sister.
Entrepreneur Billy Jay 'BJ' Smart, 49, is selling his family's historic pile in Essex (which he acquired in 2005) in order to settle his debts – telling a judge he has been reduced to sleeping in his car
Nazeing Park House, Smart's 12-bedroom Georgian pile near Waltham Abbey, Essex, set in 68 acres of land, is now on the market with a guide price of over £5.4million
Now of 'no fixed abode' following his eviction from the house last year, Mr Smart told a judge at Central London County Court last week he has no regular internet access and no 'proper place to sleep.'
STUFF OF CHILDREN'S DREAMS: HOW BILLY SMART'S CIRCUS LIT UP THE 1950S AND 60S
Circus showman Billy Smart
During its heyday in the Fifties and Sixties, the arrival in town of Billy Smart's circus was the stuff of children's dreams.
After the war, Billy Smart's New World Circus debuted its first full season on April 5 1946 at Southall Park, Middlesex.
The circus was originally run alongside the funfair ran by his children, but the circus' popularity led to the fair being cancelled.
Billy Smart hangs onto the back of his pet elephant
Caroline Seeds on the trapeze at Billy Smart's Circus in October 2013. She conquered her fear of heights to become a trapeze artist with the travelling circus
Initially, Billy run his circus in conjunction with his fun fair, which was being run by his children, but by 1952 the fun fair, which was overshadowed by the circus, disappeared. 
In 1955 the circus grew expanded from a two-pole tent to a 6,000 seater four-pole round big top with a hippodrome track around the ring, and a spectacular entrance.
The circus became known for its trademark parades.
Smart staged three shows a day, selling ice cream, candy floss and hot dogs to keep the tills rattling in the intervals.
The circus master's fostered relationships with TV channels, broadcasting the circus live on the BBC in 1947 – in a move that boosted Billy Smart's popularity.
Billy Smart's Christmas Spectacular became a holiday tradition for BBC viewers before ITV took it over in 1979 until 1982.
In the 25 years of its existence the circus made a fortune for the Smart family – enough to allow his six daughters and four sons to live in some style following his death in 1966. 
It was a family joke that when children asked Billy for his autograph he would be happy to oblige, so long as they came back having bought a programme for him to sign.
Source: University of Sheffield
He had been sued by his mortgage lenders over his debts and his sister over her stake in it, but has now settled all the disputes, agreeing that the house should be sold to discharge his debts.
Mr Smart's grandfather Billy Smart, a former fairground operator from Berkshire, amassed a vast fortune after founding a traditional travelling circus show with a full menagerie of animals that was at one point the biggest in the world and was visited by the Queen and the Duke of Edinburgh.
After his death in 1966, his son Billy Smart Jr – Billy Jay's father – took over running the circus together with his brothers, Ronald and David.
Whilst it ceased touring in 1971, televised performances continued until 1983, drawing audiences of up to 22 million at its height.
The Smart Brothers also developed Guernsey Zoo, selling it in 1972, and opened Windsor Safari Park – now the site of Legoland Windsor – in 1969, before selling it in 1977.
The 'Billy Smart's' touring circus was later revived by Ronald in 1993, but Billy Jr concentrated on a second career as a property developer, based in Spain, before his death in 2005 aged 70.
Billy Jay, a former Eton pupil, followed his father's path, acquiring a high value property portfolio worth over £20m.
That included the £3.5m purchase of Nazeing Park House in 2005, a 12-bedroom listed home with formal gardens, stable block and coach house located in 68 acres of grounds.
But he was also an avid entrepreneur and invested heavily in business ventures over the years, including sinking £1m into patenting an automated docking system for yachts and hatching plans to bottle and sell water from Nazeing Park's ancient well and start up a micro brewery.
Mr Smart spiraled into debt after taking out a £4.2m loan in 2014 with Castle Trust Capital Plc (CTC), which was secured against Nazeing Park House and scheduled to run over a three-year period.
CTC claimed Mr Smart failed to meet his payments and in 2018 sued over an alleged outstanding balance, which by January this year amounted to £9,064,901.
He initially defended the case on grounds that CTC failed to properly assess his repayment plans when he took out the loan, and that the terms of its buy-to-let loan were unrealistic.
On top of that, Mr Smart became snarled up in a parallel dispute with his painter sister, Baccara La Roux Smart, 44, who claimed a 50 percent stake in Nazeing Park House on the basis that the money used to buy it had been half hers by right.
Five years after CTC launched their claim, the dispute reached court last week when Judge Nigel Gerald heard that a settlement had been reached, with Mr Smart now agreeing to the house sale.
Presenting his own case, Billy Jay said he'd been left rocked by the death of his dementia-stricken mum in September last year, and had struggled to deal with the legal battle after becoming effectively homeless.
'I do not have regular internet access, a proper place to sleep or access to all files relevant to the case, as I did not have enough room in the small car, in which I left Nazeing Park House and temporarily lived,' he said.
In his witness statement, he added: 'This breakdown culminated in my collapse, when my mother died.
'I let my mother down and could not really function at all, as a human being, including not bathing for several weeks and trying to find solace at the bottom of Jack Daniels after she died.
'I could not even afford to give my mother a funeral, let alone afford to seek psychological assistance.'
Mr Smart appeared by video link sitting in a chair in front of a laptop in a nondescript room, which prompted the judge to comment: 'that doesn't look as nice as the accommodation you had before'.
Alec McClusky – barrister for Castle Trust – told Judge Gerald that Mr Smart has now dropped his defence.
Yasmine Smart, granddaughter of Billy Smart, at home in Maidenhead, Berkshire, 1980
Battersea, circa 1968: Billy Smart's Circus Elephants with riders and mahouts and trainers march along Queenstown Road in south London with Battersea Power Station behind
2013: Caroline Seeds, pictured. who used to be so scared that she avoided going up tall buildings and walking over high bridges but conquered her fear by flying through the air in Billy Smart's Circus
Yasmine Smart, granddaughter of Billy Smart, at her home in Maidenhead, Berkshire, 1980s
Billy Smart Junior pictured with his children Baccara Smart and Billy Jay Smart in 1986
Under the settlement, Mr Smart accepts the company's right to 'enforce its mortgage over the property' – with his debts to be discharged by the planned sale of Nazeing Park House at a potential £6m price tag.
A settlement has also been agreed between Baccara La Roux Smart and Castle Trust Capital over the ownership of the house, with Ms Smart accepting that the company has the right to enforce its mortgage against her brother.
In return, the company agreed that Ms Smart has a right to a share of the profits from the house sale.
Ms Smart and her brother likewise struck a deal outside court in relation to a dispute over their dealings with a series of companies over the years.
And the siblings also compromised their clash over goods and chattels left at the former family home, including a 1972 Rolls Corniche, Mercedes Benz 600 SEL, and a 1995 Range Rover with the number plates EFU 1 – all of which will go to Mr Smart.
Ms Smart meanwhile gets to keep her clothes and any artwork she had kept at Nazeing Park House.
The judge told Mr Smart that the settlement would now 'enable closure', adding: 'it's a way of moving forward and making the best of things.
'This is the end of it'.
Source: Read Full Article