Father whose baby Letby tried to murder 'disgusted' about her appeal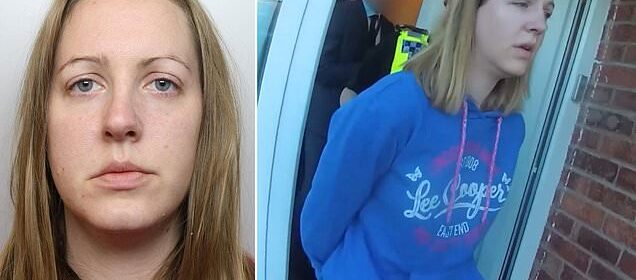 Father whose baby Lucy Letby tried to murder says he is 'disgusted and angry' that she will appeal her convictions for deaths of seven babies and trying to kill another six
Letby is expected to start bid to clear her name at court hearing later this month
Serial baby killer Lucy Letby today launched an appeal against her convictions, infuriating the father of one of the infants she tried to murder.
The 33-year-old nurse – who was last month sentenced to a whole life order for murdering seven babies and attempting to murder six others – is expected to start her bid to clear her name at a court hearing later this month.
But any full consideration of her appeal is unlikely to take place for several months.
Letby, originally from Hereford, was convicted of attacking the babies at Countess of Chester Hospital's neonatal unit in 2015 and 2016. She denied all the offences and refused to attend her sentencing at Manchester Crown Court.
One father, whose baby Letby tried to murder, told the Mail: 'I'm disgusted and angry that Letby is appealing.
Children's nurse Lucy Letby (pictured in a custody photo) was last month given 14 whole life orders
Letby went on a year-long killing spree at the Countess of Chester Hospital
'As if we haven't been through enough. We are trying to rebuild our lives and now this, it's a joke of a system. I don't understand on what grounds she can appeal – there were no mitigating factors in the trial.'
Letby's application comes after a scientist launched a fundraising campaign claiming the case against her was built on 'unreliable expert advice' and 'a bad grasp' of science.
Californian-based Sarrita Adams, who describes herself as a scientific consultant for biotech start-up companies, is leading a group called Science on Trial. The group claims that Letby's conviction 'may represent the greatest miscarriage of justice that the UK has witnessed'.
She was cleared of two counts of attempted murder.
However, the jury was unable to reach verdicts on six counts of attempted murder in relation to five children.
READ MORE: Letby's parents refused to believe her guilt and 'clung to the hope that she would be cleared'
The Crown Prosecution Service will announce whether it is seeking a retrial on those counts at a hearing scheduled to take place in Manchester on September 25.
Letby is now expected to use that hearing to formally launch an appeal against her convictions.
Letby is seeking to appeal against all the crimes she was convicted of, the court confirmed.
Anyone convicted of a crime has 28 days to ask for permission to appeal – the 28-day period from the last verdicts in Letby's trial would have elapsed today.
A judge will now look at Letby's application and decide whether to give permission for it to go to appeal.
Should permission be given, the appeal would be heard by three senior judges.
If her application for permission to appeal is rejected, Letby can still renew her application before a panel of two or three judges.
In order to have an appeal heard, it is necessary to show that there are grounds for arguing that the conviction is unsafe.
Should the judges agree, they can quash the conviction and order a retrial.
Last month Letby's 'best friend' Janet Cox, who worked alongside her on the neonatal unit, told the Mail she still believed the nurse was innocent.
An artist's impression showing a parent of one of Letby's victims reading a victim impact statement as Mr Justice Goss watches on 
Letby's parents, Susan, 63, and John, 77, had attended every day of her trial but were not at her sentencing
The Judicial Office said it had received an application from her legal team.
'I can confirm that an application for leave to appeal against conviction has been received in the case of Lucy Letby,' a spokesman said.
Letby's solicitor, Richard Thomas, declined to comment today.
READ MORE –  Senior doctor who tried to blow the whistle on Letby says he was 'intimidated' by bosses
The Department of Health has previously said that an independent inquiry will be held into Letby's case. It will examine 'the circumstances surrounding the deaths and incidents – including how concerns raised by clinicians were dealt with'. 
The Criminal Appeal Office said it could not give any information about the grounds for appeal. No court hearing has yet been formally listed, the Judicial Office said.
Last week it was announced that one of the country's most senior judges, Lady Justice Thirlwall, would lead the inquiry into Letby's crimes.
Health Secretary Steve Barclay told MPs that Lady Justice Thirlwall, who currently sits in the Court of Appeal, was a judge and barrister 'with many years of experience'.
The inquiry will have legal powers to compel witnesses, including former and current staff of the Countess of Chester Hospital NHS Foundation Trust, to provide evidence.
Letby became only the fourth woman in UK history to receive a whole-life term.
Whole-life orders are the most severe penalty available in the country's criminal justice system and are reserved for those who commit the most heinous crimes.
As the most prolific child serial killer in modern British history, the 33-year-old was handed the sentence after prosecutor Nicholas Johnson KC told the court her offending was a 'very, very clear case' for a whole-life order to be imposed.
The nurse joins a string of the country's most dangerous offenders who are likely to die behind bars, including Sarah Everard's killer Wayne Couzens, necrophiliac David Fuller and homegrown terrorist Ali Harbi Ali who murdered MP Sir David Amess.
A total of 70 criminals are serving a whole-life order, four of whom are being held in secure hospitals. They will never be considered for release, unless there are exceptional compassionate grounds to warrant it.
Only three other women have faced such a punishment: the girlfriend of Moors murderer Ian Brady, Myra Hindley – who died in 2002 – and serial killers Rose West and Joanna Dennehy.
Source: Read Full Article