Father who killed wife and daughter, 12, jailed for 40 years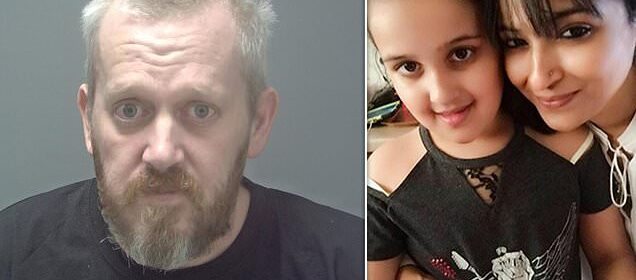 'Self-pitying' husband is jailed for at least 40 years for murdering his autistic daughter, 12, and wife after she started affair with Homebase colleague
Jillu Nash, 43, had been preparing to leave Peter Nash and move in with her lover
A 'self-pitying' husband has been jailed for a minimum of 40 years for murdering his daughter and wife after she started an affair with a Homebase colleague.
Peter Nash, 47, suffocated Jillu Nash, 43, and stabbed his autistic daughter Louise, 12, at their home in Great Waldingfield, Suffolk, in September.
Jillu and Louise were discovered dead at their home in Sudbury, Suffolk, on September 8 when Jillu failed to turn up for work and Louise did not attend school.
When police burst into the house after the alarm was raised they Jillu's dead body on the floor in the living room and Louise's body under a sheet in the bedroom, and Nash stabbing himself. 
Jillu had been suffocated and appeared to have a T-shirt stuffed in her mouth, and Louise died from a stab wound to her abdomen.
Peter Nash, 47, denied murdering Jillu Nash, 43, and his daughter Louise, 12, but, a jury took just over two hours to convict him at Ipswich Crown Court. He has now been jailed
Peter Nash was found guilty of murdering his wife Jillu and 12-year-old daughter Louise who were found dead at their home in Suffolk
Nash had stabbed himself in the chest multiple times and tried to gas himself to death. Police had to taser him and he was taken to hospital with 22 stab wounds.
Prosecutor David Josse KC said Nash 'calmly and chillingly' admitted the killings and tried to justify it as punishment for his wife's infidelity, and that his daughter was his 'property'.
Representing himself, Nash claimed the judicial system did not apply to him and  compared courts to casinos where 'the house always wins'.
Despite protesting his innocence, a jury took just over two hours to unanimously convict him at Ipswich Crown Court last week.
At his sentencing on Wednesday, Mr Justice Murray said the killer father seemed to 'feel no remorse' and that he had a 'distorted view on the law'. 
During the three-week trial, the court heard that Indian-born Jillu had been preparing to leave him and set up home with her lover of eight months Mark Leamey who worked with her at the Homebase.
Officers found a letter to his mother in which he confessed to the double killing, writing that he had 'collected on the trespass made against me'. 
Indian-born wife Jillu, 43, had been preparing to leave him and set up home with her lover of eight months Mark Leamey (pictured together) who worked with her at the Homebase store in Sudbury, Suffolk
Police found evidence of the breakdown of the couple's 12 year marriage when they checked Mrs Nash's phone and found videos of her arguing with her husband which she appeared to have taken secretly. 
In one video filmed on July 3 last year and played to the jury, she could be heard saying: 'I will be out of here in six weeks'.
Another video featured her telling her husband: 'You are a certified c**t', and him replying: 'You are a validated cheater'.
In a second video he accused her of causing 'chaos and drama' while trying to get her own way, saying: 'It's what you do with your friends and it's what you do at home'. In another he stated: 'you treat me like crap. You drain me and cause chaos'.
A fourth recording showed that he was aware of her affair having gone 'four months, maybe longer', only for her to correct him and say that it had been going on for eight months.
Prosecutor David Josse KC said that after the deaths police found a series of videos on Mrs Nash's phone, of the pair talking, adding: 'We would suggest it appears that Jillu was trying to record this covertly.' 
Peter Nash, 47, suffocated Jillu (pictured) by stuffing a T shirt in her mouth
Mr Josse said that TikTok videos, accessed by the defendant, showed the 'embittered' and 'self-pitying' mindset which he had.
One of the clips he watched had the text: 'A broken man who has rebuilt himself is very dangerous'. A second said: 'Tell me why, when anything gets rough in a relationship, women are told to leave him and men are told to try and fix things.'
The third, which showed Kermit the Frog by a fire, said: 'Do girls actually feel for hurting a guy or do they just say their apologies and never think about how she affected his life again.'
The trial was told that Nash and his wife 'had a difficult and unhappy marriage'. 
Prosecutor told the court that Nash had telephoned his mother in July last year to tell her that he and Jillu were going to separate and she was looking for a flat.
Mr Josse said that Jillu had told her friend Laura Saunders on September 6 that her marriage had deteriorated since her husband had been made redundant from the Philips electronics factory in Sudbury in 2020, and he had become the main carer for their daughter.
She revealed to her friend that she was getting a new place to live. Ms Saunders said she saw Jillu again the following day when she was with Mr Leamey and realised she had been crying.
Police at the bungalow home of Jillu Nash and her daughter Louise, 12, in Great Waldingfield, Suffolk, after their bodies were found inside
Mr Josse added that Jillu had dropped Mr Leamey off at Sudbury football club that evening before collecting him again and driving him to the town's Tesco store where CCTV showed them going in together and buying food.
After Mr Leamey returned to his home, he sent Jillu an Instagram message saying: 'Night beautiful, love you xxx'.
Mr Josse added: 'He got concerned that he didn't get an instant reply so he followed it up with another message at 11.14pm, saying: 'Sorry if I have done anything xxx'.'
When Mr Leamey woke up at 7.30am he was concerned to see that Jillu had still not replied, and went to the Tesco store where she worked part time and found she had not turned up.
Mr Josse said he sent another message, asking 'Babe, what's going on? You're not at work. I am worried.' He followed it up with a WhatsApp message, saying: 'Babe, I'm s****ing myself. Are you OK?'.
Louise Nash, 12, was found dead with her mother Jillu at their home
He and one of Jillu's work colleagues then went to her bungalow where he banged on her kitchen window, but got no response and called police.
Officers forced their way into the property just after 10am on September 8, but retreated when they smelled the 'pungent aroma' of gas and called the fire service.
Police discovered the body of Mrs Nash, 43, covered by a quilt on the living room floor. Louise was in a bedroom in a state of undress and was also left under a sheet.
'Significantly, and importantly, lying next to Louise on the bed was the defendant, Peter Nash,' said Mr Josse.
'He had suffered a number of superficially minor yet cumulatively serious stab wounds and was still in possession of the knife. He had to be disarmed by police with the assistance of a Taser.'
Nash and his wife married in 2009 but had a 'difficult and unhappy marriage', Ipswich Crown Court heard.
After being found guilty today, Suffolk Police said that Nash's defence had 'rested on his belief that he 'lawfully killed' his wife and daughter'.
'His attempts to justify this were through his interpretation of common law, property and marriage vows,' a Suffolk Police spokesman said.
The spokesman added that Nash 'believed he 'lawfully killed' Louise as she was his 'property' and he did it to protect her because he did not trust anyone else to look after her, as she had complex care needs due to being non-verbal and diagnosed as autistic'.
Source: Read Full Article