EasyJet announces recovery flights from Greece as hundreds stranded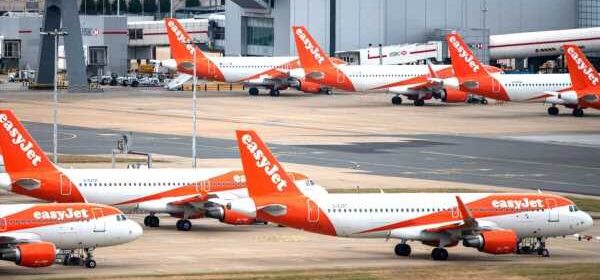 EasyJet has announced they will be running multiple repatriation flights from the Greek island of Rhodes to rescue the hundreds still stranded by the wildfires. 
Thousands have been evacuated from the south and central areas of the island, which have been the most severely affected by the wildfires, with many securing flights back home. 
But more than 400 travellers are still stranded on the island after a spate of cancelled flights and have been forced to sleep on the floors of makeshift camps, or in the local airport. 
EasyJet will run two repatriation flights on Monday and a third on Tuesday in an attempt to clear the backlog of those stuck on the island. 
It comes as rival firm TUI cancelled all outbound flights to Rhodes until at least Tuesday. 
READ MORE Rhodes fire: Brits stranded on island slam 'clueless' easyJet – 'get us home'
A statement from EasyJet read: "We know the situation for many currently in Rhodes is very difficult so we are doing all we can to help customers and provide assistance.
"EasyJet will be operating two repatriation flights tomorrow from Rhodes to Gatwick using an A320 and an A321 aircraft totalling 421 additional seats.
"This is in addition to the nine flights we already have operating between Rhodes and the UK.
"We will also operate a further repatriation flight on Tuesday and continue to keep under review if additional repatriation flights are needed."
Don't miss…
Greece names seven more regions at risk of 'extreme fires'[REPORT]
British couple forced to spend first night of honeymoon on mattress[REVEAL]
easyJet refuses to stop flying Brit tourists to Rhodes despite wildfire chaos[REPORT]
Offering customers advice, the flight provider added: "Any flight-only customers who have been evacuated from their hotel and are currently at the airport should contact easyJet's airport staff.
"Any customers wishing to travel back to the UK early can contact easyJet's customer services team.
"We continue to advise customers travelling to and from Rhodes to check the status of their flights on Flight Tracker."
It is unclear exactly how many people are currently stuck at the airport or further afield on the island. 
We use your sign-up to provide content in ways you've consented to and to improve our understanding of you. This may include adverts from us and 3rd parties based on our understanding. You can unsubscribe at any time. More info
Rival flight provider TUI said they had "300 reps, drivers and service colleagues doing their utmost" to help those affected in a statement on Sunday. 
They offered a "fee free amendment to another holiday or the option to cancel for a full refund" to all those caught up in the wildfires. 
They added that those in still Rhodes not affected by the fires, outside of the south and central areas, would be able to return on their scheduled flights. 
Source: Read Full Article