Denver could see more snow Saturday than all of last January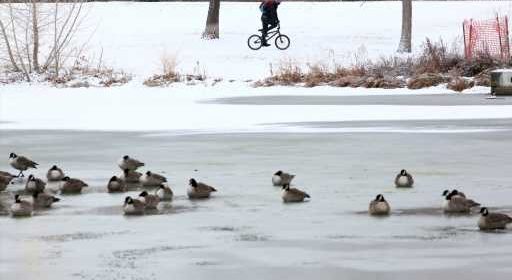 Old Man Winter has largely been evading Colorado over the past week, but a return is coming this weekend.
An area of low pressure will dive southeastward across the Rocky Mountains Friday night and Saturday. As it passes through Colorado, an upslope flow will develop on the north side of the storm. This will promote a narrow window of precipitation along the Front Range and urban corridor late Saturday and Saturday night.
While it won't be a big snowfall, it looks to be enough to cover everything in a fresh blanket of white and act as a reminder that it is indeed January.
One to three inches of snow looks to accumulate over the Front Range and the Interstate 25 urban corridor. Lighter amounts will be found across the far Eastern Plains and closer to the Wyoming border. Heavier snow totals will occur across southeastern Colorado, as the storm intensifies on its journey out of the state.
Denver will most likely end up with an inch or two of snow. Despite the low amount, this could be enough to eclipse the city's snow total from all of last January, when less than an inch fell during the month.
Behind the storm, cold air will remain in control through the remainder of the weekend. High temperatures on Sunday will be stuck in the 20s and 30s over northeastern Colorado, while overnight lows will fall into the teens.
Another warm-up will get underway as early as Monday, taking away snow chances in the state until next weekend at the earliest.
Denver's normal monthly snowfall for January sits at 6.5 inches. The city has not reached that threshold since 2015. We will see if this weekend's light snowfall starts the journey to an above-average January in the snow department.
Ben Reppert is a meteorologist with WeatherNation TV.
Source: Read Full Article