Chief constable of Police Service of Northern Ireland resigns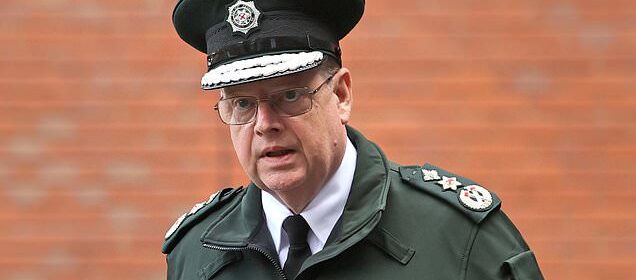 PSNI chief Simon Byrne has resigned after facing mounting pressure following string of controversies including huge data leak which revealed names of 10,000 officers and staff
The chief constable of the Police Service of Northern Ireland stepped down today following a series of blunders – including a massive data leak that left his staff at risk from paramilitaries. 
Simon Byrne was last week found by the High Court to have unfairly disciplined two police officers who were policing a Troubles memorial event in a bid to stop Sinn Fein withdrawing its support for the Police Service of Northern Ireland.
Mr Byrne was already under pressure to quit after a huge data leak revealed the names of 10,000 officers and staff at PSNI. 
The data has now apparently fallen into the hands of dissident republican groups. 
A vote of no confidence from Jeffrey Donaldson, the Democratic Unionist Party Leader, was submitted to the Northern Ireland Policing Board on Friday night. The board held an emergency meeting today where it accepted Mr Byrne's resignation.
Simon Byrne's tenure as chief constable of the Police Service of Northern Ireland has not been without controversy
Policing Board chairwoman Deirdre Toner speaks to the media after a High Court ruling that two officers were unlawfully disciplined following a Troubles memorial event in 2021
Mr Byrne had originally insisted that he would not resign following an emergency meeting of the Policing Board on Thursday and indicated that he was considering an appeal against the court ruling.
That statement was met by anger from the Police Federation, with its chair Liam Kelly expressing 'disbelief and anger' at the Chief Constable's statement.
Mr Byrne has since been facing growing pressure, with both rank and file officers and civilian staff considering confidence votes in his leadership.
Mr Byrne was already facing pressure following a major data breach from the PSNI last month.
Personal data on all serving members of the PSNI was mistakenly published in response to a freedom of information request.
Details of around 10,000 PSNI officers and staff included the surname and first initial of every employee, their rank or grade, where they are based and the unit they work in.
The PSNI has confirmed the list is in the hands of dissident republicans, who continue to target officers.
A number of other data breaches has since come to light, including the loss of a police officer's laptop and notebook which contained details of 42 officers and members of staff after the items fell from a moving vehicle.
During the 30 years of violence in Northern Ireland known as the Troubles, more than 300 police officers from all backgrounds were murdered. 
The Police Federation for Northern Ireland (PFNI) is now preparing a legal case over the leak which could extract millions of pounds worth of damages. 
Source: Read Full Article