Chef Thach Tran leaves Ace East Serve to devote himself to health food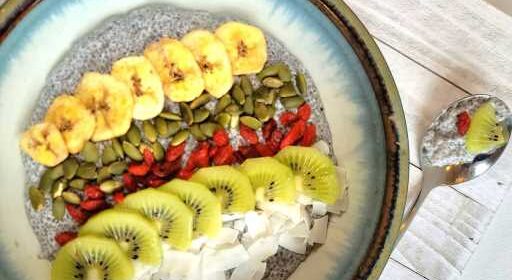 Chef Thach Tran has shifted to the healthier side of cooking.
After six years working for the Secret Sauce restaurant group in Denver, Tran has left his job as executive chef of Ace Eat Serve to fully take over his own spot, the Energy Bar Cafe in the Colorado Athletic Club-Tabor Center downtown.
"The cafe fell into our laps," said Tran, explaining how the manager of the gym contacted him last year after he signed up for a membership. "He knew I worked at Ace and asked if I knew anyone who could operate the coffee space."
Suddenly, Tran started thinking about what it would mean to run his own spot, something very different from the Peking duck, bao buns and signature sauced wings he became well-known for at Ace. He went home and started working out plans with his husband, Dustin Tran. He found out the overhead was low and the rent was cheap, so the next day Tran called about running the space.
Officially, the Trans launched Energy Bar Cafe in December 2022.
"It's a totally different thing. It's health driven, since we are partnering with the gym," said Tran. "We have everyone from their early 20s to 60s and 70s who are all health conscious, and they want something clean and with lots of energy."
Together, the Trans — along with chef Nick Martinez — built a menu of six nutrient-dense smoothies in flavors such as Elvis Moves (banana, date, peanut butter, almond and honey); Purple Magic (blueberry, banana, acai, cacao nibs, hemp seed and chia seed); and Kale-Rizian (kale, avocado, apple, spinach, almond and coconut water). Each option is vegan, gluten-free and dairy-free, and as organic as they can make it. None of the $11 smoothies use water in the mixture, and customers can add boosters including whey protein, CBD and mega mushrooms for an extra $1.50.
"I did go a little chef-y with it," said Tran, adding the smoothies are the top seller at the cafe. "We picked a protein powder that doesn't have a flavor so it won't clash with the flavors of the smoothies."
There's also a small but well-thought-out coffee menu using beans from a local company, Huckleberry Roasters, priced between $3.25 for a basic morning brew to $5 for an iced or hot latte and cold brew. Another unique coffee beverage comes in the form of the Saigon Rush Hour. Also $5, it is Tran's take on a Vietnamese iced coffee that uses a condensed milk dulce with a pinch of salt, something, he said, that harkens back to his grandmother.
"In Vietnam, my grandma, before the restaurants, she used to have a coffee shop," said Tran, adding that a lot of his cooking influence came from her and his Saigon upbringing in the food business. "She always adds a pinch of salt when brewing the coffee, and our version is different, something you definitely can't find at Starbucks."
The cafe also has solid food options, and most get made fresh right there. The Trans make their own overnight oats ($6), chicken pesto flatbread ($9), and avocado toast ($7). Other items are bought in bulk or from local bakers, including bagels with schmear ($6), breakfast sandwiches ($4-$6) and burritos ($4). Some menu items came about because customers were looking for something that fit a specific diet — for example, the Waldorf chicken salad ($6), which is Keto-friendly.
Overall, everything is served with the idea of grab-and-go, either as an energy booster before a workout, something to take after, or as a quick and healthy breakfast or lunch for hungry neighbors in and around the Tabor Center.
With the success of the first location, the pair decided to branch out and open other cafes in tandem with the seven Denver-area locations of the Colorado Athletic Club, which is owned by the national firm Wellbridge. The first planned expansion will take place this fall at Colorado Athletic Club-Monaco, one of the busier gyms, said Tran.
As the business grows, the Trans plan on incorporating more Vietnamese fare, something, said Tran, that lends itself to being gluten-free, fresh and flavorful.
"Even a year ago today, if you said this is where we would be, I would say that would be crazy," said Dustin, who also works nearby at Cholon as front-of- house staff and with the bar program. The Trans also run TTConsultant, their hospitality and restaurant consulting business.
Tran added, "Every time we traveled, we were like, 'We could have a little coffee shop here,' and it just kind of happened and we are on a roll with it."
Energy Bar Cafe is located in front of the Colorado Athletic Club-Tabor Center, 1201 16th St. Mall, Suite 300. Monday through Thursday, 8 a.m. to 8 p.m.; Friday, 8 a.m. to 6 p.m.; Saturdays, 8 a.m. to 2 p.m.; and closed on Sundays. Come this fall, the second location at Colorado Athletic Club-Monaco, 2695 S. Monaco St. Parkway, will open. energybarcafe.com
Subscribe to our new food newsletter, Stuffed, to get Denver food and drink news sent straight to your inbox.
Source: Read Full Article