BREAKING: Paul Flores jailed for 25 years for Kristin Smart murder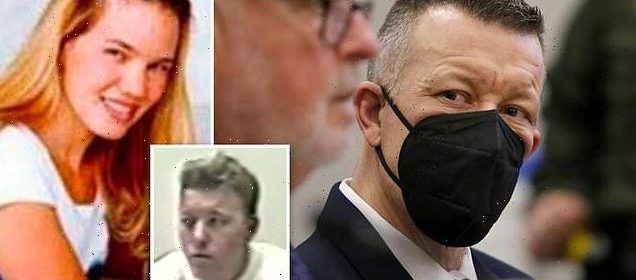 BREAKING NEWS: Paul Flores is jailed for 25 years to life without parole for 1996 murder of Kristin Smart: Judge brands him 'a cancer to society'
Kristin Smart, a student at California Polytech University in San Luis Obispo, vanished in 1996
On Friday a fellow student, Paul Flores, now 46, was sentenced to 25 years to life for her murder 
Judge Jennifer O'Keefe called him 'a cancer to society,' and prosecutor Chris Peuvrelle said he was 'a true psychopath'
Kristin Smart's killer Paul Flores was sentenced to 25 years on prison on Friday – more than 25 years after her murder. 
Judge Jennifer O'Keefe told him: 'Mr Flores, you have been a cancer to society.' 
'For 25 years you have lived free in the community' and continued to drug and assault women, she said, according to the San Luis Obispo Tribune. 
Smart and Flores were both students at California Polytech University in San Luis Obispo when she vanished in 1996. The case remained unsolved for decades, but a 2020 true crime podcast jolted local police. 
Flores, now 46, was arrested as a result. While police have never found her remains, they believe Flores raped her in his dorm room then murdered her. 
Paul Flores is seen on Friday in court in Salinas, California for his sentencing
Flores is seen in an interview at the time of Smart's disappearance
Freshman Kristin Smart disappeared in 1996 after a California college party – and the prime suspect was found guilty after a crime podcast helped crack the case
Smart left an off-campus party on May 25, 1996 at around 2am, accompanied by Flores. 
He claimed he walked her as far as her dorm, but she was never seen again.
A missing persons report was filed three days later.
Friends said she was intoxicated and Flores repeatedly said he would escort her home.
He was identified as a 'person of interest' early in the case, but to this day insists he is innocent.
On Friday, the judge said he was a dangerous predator.
'This predatory behavior has spanned your adult life. 
'You deserve to spend very day you have left behind bars.'
Flores was ordered to pay a total of $10,000 in restitution to his victims. He must also register as a sex offender for life, as he assaulted and killed Smart with the 'purpose of sexual gratification and sexual compulsion,' O'Keefe said.
Smart's brother Matthew told the court that Flores was 'a menace to society'.
'Paul chose to take a life, my sister Kristin's life, a beautiful life,' he said. 
'And now he must pay.'
Prosecutor Chris Peuvrelle told the court that Flores was 'a true psychopath'. 
He noted that Flores 'still maintains his innocence … but we know he lies.' 
He added: 'Paul Flores is a true psychopath' who 'takes perverse pleasure in raping women.
'He murdered Kristin with no remorse.
'Kristin's family will never see her again.'
He and his father, Ruben, were both charged in connection with her death. Prosecutors say Ruben helped his son by stashing Smart's body under their backyard deck for years.
Flores is shown in an unrelated arrest photo from 1996, when he was 19. He was convicted in 2022 for Smart's murder and his sentencing hearing was on Friday
Flores is seen in court in July 2022 in Monterey County courtroom in Salinas
The pair are suspected of moving her remains once suspicion started growing in 2020. 
Flores was found guilty of murder in October last year. 
The trial was held in Salinas, in Monterey County, about 110 miles north of San Luis Obispo, after the defense argued that the case's notoriety prevented Flores and his father from receiving a fair trial in their own county.
One of the items showed only in the courtroom during the trial was an interview at the Arroyo Grande Police Department on June 19, 1996. The film was obtained by KSBY. 
Flores was questioned many times about how he got a black eye.
'It didn't really matter,' Flores said. 'It was days later.'
Asked why his story about the black eye changed, Flores said: 'Why does it matter if I leave out little details?'
A jury found Flores guilty of first-degree murder in October. A separate jury acquitted Ruben Flores, 81, of being an accessory.
Kristin Smart's brother Matthew called Flores 'a psychopath'
At Paul Flores' trial, defense attorney Robert Sanger tried to pin the killing on someone else. 
Sanger noted that Scott Peterson, who was later convicted at a sensational trial of murdering his pregnant wife and the fetus she was carrying, was also a student at the campus about 200 miles up the coast from Los Angeles.
Sanger filed motions on February 24 in Monterey County Superior Court requesting that charges be dismissed and his client acquitted. One motion also seeks a new trial.
Sanger disputed forensic evidence offered by the prosecution. He contended that Flores' right to a fair trial was violated because of prosecution errors and 'the admission of junk science as evidence.'
'There is a reason that a case against Paul Flores was not brought for 25 years,' the motion said. 
'There was no evidence of a murder or that Paul Flores committed it.'
The San Luis Obispo County District Attorney's Office asked the court to deny those requests, arguing 'claims of misconduct are baseless and the claims of judicial error are incorrect.'
Source: Read Full Article