BBC Weather -Strong gusty winds and outbreaks of sunshine sweep across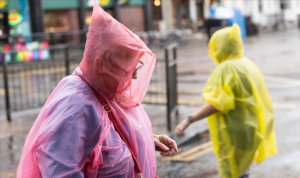 BBC Weather: Carol Kirkwood forecast sunnier conditions
We use your sign-up to provide content in ways you've consented to and to improve our understanding of you. This may include adverts from us and 3rd parties based on our understanding. You can unsubscribe at any time. More info
BBC weatherwoman Carol Kirkwood predicted more outbreaks of rain across Northern England and Wales. Ms Kirkwood also warned that the temperature would begin to drop, making it five to ten degrees cooler across the country. Temperatures have been predicted to range from between 11-19 degrees across the UK. Ms Kirkwood predicted outbreaks of sunshine in the South in the run-up to the weekend.
Ms Kirkwood said: "It's a mixture of sunshine and showers that we're looking at today [Thursday], Naga.
"So last time I showed you some showers, this one I'm showing you some sunshine, the other thing is it's a much cooler start to the day across England and Wales than it was yesterday.
"A good five to ten degrees cooler in fact, so sunshine and showers will be the order of the day so rain coming into the North later and it's going to be another windy day.
"You can tell that just by looking at the array of isobars, they're tightly packed and we've got this weather front coming in and that's going to bring the rain later.
JUST IN: Putin's horror false flag plot unveiled as Russia to create 'improvised nuclear weapon'
Ms Kirkwood added: "The other weather front is producing some cloud across Northern England and Wales at the moment, and we'll see some rain come in here by the middle of the morning.
"But we're starting off with some showers in Western Scotland and we will continue with them as we go through the day.
"And as our weather front approaches it will bring in some rain across central and Western parts of Scotland just edging Northwards fringing into the North of Northern Ireland.
"We can also catch the odd shower in South Wales and South West England today.
READ MORE: Passengers evacuate via slide as tire explodes during Turkish Airlines flight landing
UK Weather: Met Office forecast showers and winds
Ms Kirkwood said: "Now these white circles represent the sustained wind speeds so gusts will be more, a lot more in parts of Scotland, especially with exposure we're looking at gusts of up to 50mph.
"And around this band of rain, it is going to be quite squally, temperatures today 11-19C degrees.
"So this band of rain moves Northwards but we've got a new one coming in, this one is going to merge with that one so whichever way you look at it, it's going to be wet.
"The rain moving across Scotland and into Northern Ireland, windy around it remember the squally winds I mentioned?
DON'T MISS:
'Not an EU alternative!' Truss lists top priorities ahead of her European Community visit[INSIGHT]
Tories face wipeout in Scotland as mini-budget threatens to make Truss' party to 'minnows' [REVEAL]
'Monumental error!' Tories drop top strategist behind Boris Johnson election landslide [SPOTLIGHT]
Ms Kirkwood added: "Cooler behind it and still some showers ahead of it, but not as cold further South.
"So we pick up this squally band of rain tomorrow as it continues to journey steadily southwards.
"Behind it, we see a return to some showers and some of those will be heavy and thundery, rather like today.
"And this takes its time to get down into the South East as a narrowing band, but it will still be windier around it."
Source: Read Full Article