At least 16 people killed as Russia shells Ukrainian market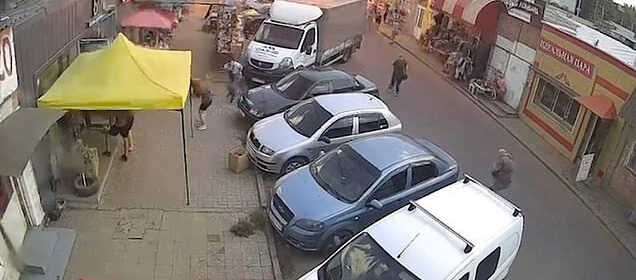 At least 16 people killed and 20 wounded as Russia shells Ukrainian market
Russian shelling of a packed market in the Ukrainian town of Kostiantynivka this afternoon has killed at least 16 people and wounded more than 20, according to the Ukrainian Prime Minister.
The attack, which targeted the 'Mercury' shopping centre in the town in Donetsk, whipped up an inferno which tore through market stalls and destroyed several cars. 
Shocking footage of the incident shared by locals on Telegram showed terrified residents sprinting from the scene as orange flames raged in the background, trailing thick black smoke. 
In a short statement, Ukrainian President Volodymyr Zelensky said Moscow's military was targeting 'people who did nothing wrong' and warned the death toll was likely to increase as rescuers battle to evacuate the scene and extinguish the flames.
'This Russian evil must be defeated as soon as possible,' Zelensky added. 
Konstianynivka is located a mere six miles from the city of Bakhmut, which has long been the epicentre of some of the war's bloodiest and most hard fought battles.  
Flames rise and people run during an attack on the city of Kostiantynivka in eastern Ukraine, September 6, 2023
View of a vehicle on fire following an attack on the city of Kostiantynivka in eastern Ukraine, September 6, 2023
Emergency services work following an attack on the city of Kostiantynivka in eastern Ukraine, September 6, 2023
Source: Read Full Article