A modest reform and the hysteria sets in
Credit:Illustration: Jim Pavlidis
To submit a letter to The Age, email [email protected] Please include your home address and telephone number. No attachments, please include your letter in the body of the email.
TAXATION
A modest reform and the hysteria sets in
It is generally accepted that our current system of taxation, with its heavy reliance on personal income tax and a raft of concessions that typically favour the older and wealthier, is in need of substantive reform. But how does any politician effectively prosecute the case for reform when at the first hint of any changes being considered, the media pack and political pundits pressure our leaders to rule in or out favourite hobby horses – for example, the family home, changes to the GST rate, capital gains tax concessions and negative gearing?
We need an open, informed debate about the sort of tax system Australia needs so that our governments can deliver the services necessary to maintain the living standards of all: the rich and the poor, the healthy and the sick, the fortunate and the less fortunate.
David Brophy, Beaumaris
Higher super tax means more money for public good
Billionaire property magnate John Gandel says "a tax hike on the top earners of the country" is unfair because they worked hard for their money (Business, 2/3). Clearly, the rest of the adult population, who have much less than $3million in their super accounts, are layabouts and spongers. Also, the proposed change is not a "tax hike". It is removing part of a tax concession from those at the top of the food chain so there is a bit more public cash to spend on things that are urgent and needed for the common good.
Lesley Walker, Chewton
We all work hard – but some are paid a lot more
Oh, poor John Gandel, lamenting how high earners will have to pay a higher tax on their bulging super stashes. Has it never occurred to him that people on the minimum wage or in uncertain gig economy employment also work hard for their money, or that mothers and carers work hard for no payment? Hard work is not the exclusive preserve of the rich. It is just the remuneration that is unequal.
Helen Moss, Croydon
Let's take the next step and repeal negative gearing
Reducing tax concessions for super accounts over $3million is an excellent way to rebalance inequity within our taxation system. However, an inadvertent consequence could see the wealthy divert even greater funds into property to obtain tax benefits from negative gearing and capital gains tax reductions. This would see prices rise even further, forcing yet more first home buyers out of the market.
Let's do the job properly and repeal negative gearing, too. It is just as iniquitous in moving benefits from the struggling majority to the wealthy minority.
Caroline Leslie, Hawthorn
Family homes are different to investment properties
How is the exclusion of the family home from capital gains tax a
"tax concession"? The family home is not an income-earning investment. Interest payments on mortgages are not tax deductible – as they are for negatively geared investment properties – nor are council rates and maintenance expenses. Any so-called tax concessions for the family home are a figment of Treasury's imagination, and should be given short shrift.
Jack Wajntraub, South Melbourne
For the majority, super tax change makes sense
Does Peter Dutton really think that opposing the increase in taxes on income for super accounts with balances over $3million will win him votes? Normally, I would never consider voting Labor, but I must agree with Anthony Albanese on this one. It just makes plain sense.
John Clayton, Narre Warren South
Sadly, rich and poor under both sides of politics
Good job, Labor government, on the proposed superannuation change but please let this just be the start. I will not hold my breath though. This government needs to be brave enough to go much further. The biggest challenge in our country today is the uneven distribution of wealth. Under both sides of politics, sadly the rich get richer and the poor get poorer.
Georgina Rea, Wangaratta
THE FORUM
Desperately seeking help
Anna Spargo-Ryan's brilliant article – "Mental illness should be helped, not feared" (Comment, 1/3) – rang loud bells for me, as it probably does for many families. Our son Paul died in 2016. He had been in the acute care psychiatric system for more than seven months to treat his severe schizophrenia. Three weeks before his discharge, we were advised that he could not be sent straight home to his flat but needed transitional care. We agreed.
Sadly, the day before we, his parents, were leaving for overseas for a work commitment, Paul was discharged to his flat. We were told there were no suitable transitional places available for him, but that he would attend the local mental health service clinic twice a week. Two weeks later Paul died from an accidental drug overdose, self-medicating to control the voices in his head. Given the right help, people with problems can make positive contributions to society. We need to ensure the right help is available.
Mardie Townsend, McKinnon
Beyond Blue 1300 22 4636; Lifeline 13 11 14.
Corruption of our game
Three cheers to Melbourne full-forward Ben Brown and other football players who have declined to take part in promoting betting on the footy (The Age, 2/3). As has been said before, enjoy the game, not the odds. It is so sad that football culture has been corrupted by the sad and insidious industry of gambling.
Russell Brims, Bentleigh
Taking an ethical stance
It is so good to see a group of footballers refusing to have their images used by the AFL's wagering partner, Sportsbet. It is so sad that our great game has been abused in this way, as have many of our sports. So many more players could do the same if they really thought about the moral and social effect of all betting.
Wendy Poulier, Ferntree Gully
Betting, a losing game
I would not bet on the AFL giving up its betting revenue through sponsorship or clubs' pokies venues. People play and watch sport for the competition and challenge, not to bet on the competition, or at least they really should not. Rather than players having to opt out of being in images used by the AFL's betting promoter, they should be asked to opt in. Remember, betting companies and venues are profitable because people are losing money rather than that portrayed in the ads when they always seem to be winning.
Dennis Fitzgerald, Box Hill
Silence said it all
I am saddened to report that my daughter-in-law, who was born in Australia, was racially vilified by a woman on the tram this week when she was on her way to work. I don't know if I am more upset that the perpetrator was well-dressed in corporate attire or that people stood back and said nothing. What a sad indictment on our society.
Joanne O'Sullivan, Caulfield South
Taking middle ground
Compromise is the solution to most disputes. The stance by Greens leader Adam Bandt of "no new coal or gas developments" is commendable but will never get past Climate and Energy Minister Chris Bowen. The simple answer: compromise. Gas will be needed in the short-term during the transition period to renewables, so agree to this with some conditions on location, size etc but hold firm on any new coal ventures. A win-win for both parties.
Michael Cleaver, Southbank
Our double standard
What a virtuous lot we Australians are as we close our coal-fired power stations in the hope of avoiding global warming and saving the planet. But hang on, a port in Queensland shipped 53.3million tonnes of coal to other countries in 2022 (Business, 28/2) while "metallurgical coal producer Coronado told shareholders last month it it anticipated Chinese steelmakers would be able to buy coal from its Curragh mine this year".
Also, coal exports "are now forecast to earn more than $132 billion across 2022-23″. Perhaps we can use this money to put a giant dome over Australia to protect us, whilst leaving the rest of the world to heat up.
John Quinn, Avoca
A lesson from Germany
In all the years that we have returned to Germany to visit family, we have seen their community in action over packaging. We went shopping with our relatives and were amazed to see – in the car park area outside supermarkets Aldi and Lidl – shoppers unpacking packaging around their goods and leaving it in the bins provided or in the trolley bays when the bins were full. It was the responsibility of the stores to deal with it and they did.
We did not see anyone take packaging home. Meat and other perishables were put in the cool-storage containers in car boots or bike baskets. Unsurprisingly, we noticed that in both stores there was remarkably less package than in supermarkets in Melbourne.
Pamela Bores, Eltham North
Misleading 'cheap' plans
I signed up to the Nothing Fancy Plan with my energy company less than a year ago. I have just seen on my latest bill that I can "save by switching" to the Nothing Fancy Plan". This is in order to take advantage of the newly discounted rate under this plan.
May I ask why must I "switch" to the plan when I never removed myself from it? Why must I "rejoin" exactly the same plan to enjoy discounted rates when I never gave authorisation to the company to remove me from it in the first place? How many customers are paying higher charge because they assume, as I did, that they are still on the same lowest rate?
Jacqueline Francese, Bairnsdale
Sharing the protection
Why is birth control only a "high cost" female problem (The Age, 1/3)? Male condoms are cheap, plentiful, not harmful and easy to use. It is time men took responsibility. Or is it still, as Monty Python sang years ago, that "every sperm is sacred'?
Dr Nancy Hudson-Rodd, North Hobart
Actions, not words
Why is Pope Francis only going to Hungary in April and not to Ukraine too? The Pontiff needs to visit Kyiv and show his support. The Vatican has mainly only criticised Russia's Ukraine war in woolly, abstract language and Vladimir Putin has never been directly condemned for starting this disgraceful war. Actions speak louder than vague, empty words.
Dennis Walker, North Melbourne
A dysfunctional approach
Four Corners (ABC TV, 29/2) exposed the scandalous lack of government policy in addressing the scourge of eating disorders in our young people. Sarah, an intelligent young woman from Swan Hill, was remarkably articulate in describing the horror of this dreadful disease.
By contrast, federal Health Minister Mark Butler was disappointingly weak in his response to what he agrees is a crisis. It seems that Victoria lags way behind Queensland in taking a coordinated approach to the eating disorders which are destroying the lives of an increasingly young cohort of sufferers — and their families.
Let us hope that Premier Dan Andrews and his Health Minister Mary-Anne Thomas watched the program and are shocked into taking action to remedy the dysfunction in Victoria.
Sue Donovan, Abbotsford
Plan before travelling
Re "European-style transport? It will be a long wait" (Comment, 27/2). In his 11-year absence from Melbourne, Tim Forster may not have heard about Public Transport Victoria's excellent website which enables even amateur commuters to plan their journey efficiently and in a timely way. So, a journey from Hampton to Preston can easily be made by train in one hour and 21 minutes on Saturday or Sunday afternoon, and indeed a little over one hour if travellers are prepared to change to a bus (up Punt Road) mid-journey. Hardly the drama set by Forster of more than two hours.
Jonathan Breedon, Prahran
Aiming for the heights
Re high-rise towers in Box Hill (The Age, 1/2). Some 65 years ago as 700 boys sang Box Hill High's song, little did we realise the significance of "ad altiora certamus" (we strive for greater things).
Russell Harrison, Sandringham
Tragedy of our Box Hill
My uncle, Raymond Hill, was a member of the Box Hill Council and the mayor at one point back in the 1970s. He would be turning in his grave (in the Box Hill Cemetery) at the ugly, high-rise towers which have been built in the area and the proposed developments.
Joy Hayman, Blackburn North
Memories of Sheeran
Mushroom Group chief executive Matt Gudinski says he and his late father, Michael, "always dreamt of Ed Sheeran playing at the MCG" (The Age, 2/3). They must have been absent from the 2014 AFL grand final where 100,000 people saw Ed Sheeran performing before the game. He was much better than Meatloaf.
Brian Kidd, Mount Waverley
A lack of understanding
How can we expect our elected politicians to have empathy for renters and those who wish to buy a home when so many of them are busy buying holiday houses and becoming landlords by investing in negatively-geared properties?
Ludi Servadei, Malvern East
The royals say 'enough'
Prince Harry and his wife Meghan have been asked to vacate Frogmore Cottage, the house within the grounds of King Charles's Windsor Castle estate they use when in Britain (The Age, 2/3). No surprise there. You can't drill holes in the bottom of the ship and still expect to be part of the crew with a good berth.
Lawrence Pope, Carlton North
Putting the public first
Re "Cutbacks planned to save AusPost" (The Age, 2/3). Parcels can subsidise letters just as letters subsidised parcels. But Australia Post is a public service, not a series of cost centres, so it should serve the public.
Barbara Lynch, South Yarra
AND ANOTHER THING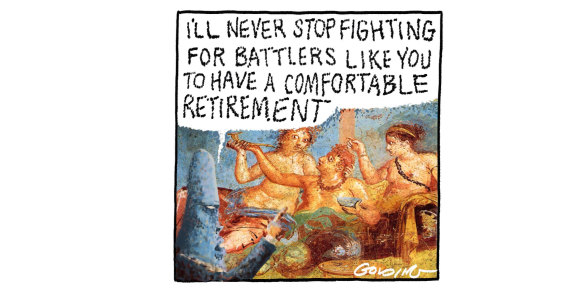 Credit:Illustration: Matt Golding
Taxation
Hurrah for Peter Dutton. He's always out to support those "Aussie battlers" with more than $3 million in their super.
Max Nankervis, Middle Park
Give me a plucky treasurer over a populist prime minister any day.
Liz McCormick, Mornington
The PM's promise that there won't be a capital gains tax on the family home is so reassuring. Memories from the past are just not relevant.
Martin Newington, Aspendale
Is the Coalition's opposition to a higher super tax for the wealthy another nail in Australia's coffin as the country of the fair go?
Elinor Morison, Box Hill South
Here we go again, the 99 per cent of taxpayers supporting the wealthy 1 per cent.
John Johnson, Richmond
Cricket
Australian cricket can win with grace and enjoyment. Well done, again, to the women's team.
Jenny O'Neill, Sale
Is there any rule that says the men's cricket team can't recruit from the women's team?
Dan Carberry, Yackandandah
Hey, male cricketers, play like a woman.
Steve Haylock, Mount Waverley
Does the Indian Cricket Board realise Test cricket should last longer than the ad breaks?
Ross Leopold, Richmond
Furthermore
In establishing moon time (2/3), does this mean a second will instead be called a lunar tick?
Robin Jensen, Castlemaine
Return to sender. The postie (2/3) has left the building.
John McDonald, Wodonga
Write a letter, send a postcard. Keep Australia Post's mail services alive and in public hands.
Sandra Goldbloom Zurbo, Castlemaine
Aah, such joy. Niki Savva (2/3) is back and we can look forward to her column every fourth Thursday.
Margaret Ady, Avondale Heights
Patrick Elligett sends an exclusive newsletter to subscribers each week. Sign up to receive his Note from the Editor.
Most Viewed in National
From our partners
Source: Read Full Article