10 shot at French Montana video shoot outside Miami restaurant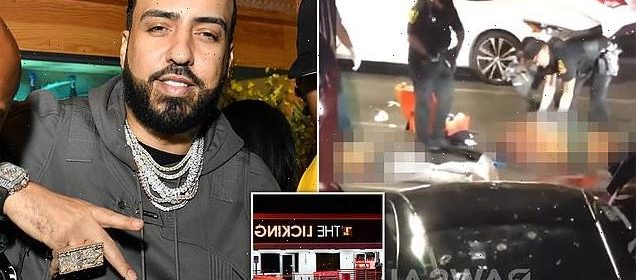 Ten are shot at French Montana video shoot in Miami – including rapper Rob49 and a bodyguard who is fighting for his life
At least 10 people were injured Thursday night following a shooting at a Miami Gardens restaurant

Rapper French Montana had been filming a music video in the parking lot of the local soul food restaurant The Licking before violence broke out

Rapper Rob49 and Montana's bodyguard said to be among the victims 

French Montana's status was unknown following the shooting, though TMZ reported that security evacuated the rapper safely from the scene 
Ten people have reportedly been injured in a shooting outside a Miami Gardens restaurant where rappers French Montana and Rob49 were filming a video.
Miami Police and Fire Rescue units responded to reports of a shooting at The Licking Restaurant just before 8pm on Thursday.
Several hours later, the building remained cordoned off by crime scene tape as ambulances and police vehicles continued to line bust 27th Avenue in Miami Gardens.
Multiple posts on social media indicate that Rob49, 24, a popular New Orleans rapper, and one of French Montana's bodyguards were two of the victims who were shot. Police have not yet confirmed those reports.
10 people were injured during a Thursday night shooting at a Miami Gardens restaurant where rapper French Montana was shooting a music video
Miami Gardens Police Department detective Diana Gorgue told local outlet WSVN that law enforcement is 'still working [the scene].'
'There's multiple shots, there's multiple cases,' she said. 'We can't confirm any numbers at this moment, because everything is still fresh.'
Paramedics reportedly airlifted four victims to the Ryder Trauma Center.
A first responder said via radio transmission, 'We had a total of 10 [victims]. Four brought themselves to the hospital, and we've treated six transported.'
At least one of the victims was in critical condition on Thursday night. Montana's bodyguard was, according to multiple social media posts, fighting for his life following the mass shooting. 
News crews also captured rescue crews wheeling two victims on stretchers into the hospital.
Witnesses Ced Mogul said rapper French Montana – known for briefly dating Khloe Kardashian, among other things – had been shooting a music video outside soul food restaurant The Licking, which is owned by DJ Khaled.
In cell phone footage, French Montana, 38, can be seen in the parking lot of the restaurant as others stand around.
Eyewitness Ced Mogul said that a man in the crowd was robbed of his keys and wallet, after which the shooting broke out.
The witness said the progression from confusion to multiple gunshots was 'very rapid.'
'It was like at least 13, 14, 15 gunshots. It sounded like an assault rifle,' he said, adding that he took off running.
https://youtube.com/watch?v=YLD0nHKRjOU%3Frel%3D0%26showinfo%3D1%26hl%3Den-US

The rapper's status and whereabouts were unknown following Thursday night's shooting, but TMZ reported that security escorted him from the scene safely
Multiple police and fire personnel and vehicles gathered at the scene where multiple people were injured and transported to local hospitals
In cellphone footage of the area, bodies of victims cold be seen strewn around the area
The shooting occurred in the parking lot of a local soul food restaurant where the rappers had been shooting a music video
Hours following the shooting, it remained unclear whether an individual shot into the crowd or whether it was an exchange of fire. It was also unclear whether anyone had been taken into custody.
A second video pans around the scene of the shooting before ambulances had arrived.
Multiple bodies can be seen in different lying nearly motionless in various areas of the parking lot.
Following the shooting, French Montana's status remains unknown, though there was no indication that he is among the injured.
TMZ reported that security got him out of the area without incident.
CBS reported that law enforcement will be going through videos posted to social media and surveillance tapes of the area as they investigate the incident.
Source: Read Full Article