Transgender Care Ban Allowed to Take Effect in Tennessee, Appeals Panel Says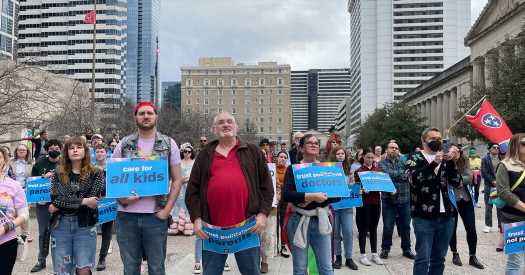 A federal appeals panel on Saturday said a Tennessee law that would ban hormone therapy and puberty blockers for transgender youth could go into effect, marking the first time a federal court has allowed a law banning transition care to fully take hold in the United States.
The ruling, issued by a divided three-judge panel of the U.S. Court of Appeals for the Sixth Circuit in Cincinnati, comes less than two weeks after a district court judge temporarily blocked the ban on hormone therapy and puberty blockers. The judges, who will now consider a broader appeal on the temporary hold on the law, said a final decision would come before Sept. 30.
The decision is a notable blow to transgender youth, their families and their allies, who have leaned on the nation's judiciary as a last resort to block a series of sweeping laws that target transition care, legislation they say would be harmful to young people's health.
Until the ruling Saturday, judges had been compelled by the argument that the laws are discriminatory against transgender people and violated the Constitution, ruling to either temporarily or permanently block their enforcement.
The decision also underscores how tenuous and uncertain the medical and political landscape is for transgender youth and their families, as conservative-led states have enacted a series of laws designed to curb L.G.B.T.Q. rights and access to health care. Twenty states have approved bans or restrictions on transition-related medical care, leaving many families and medical providers to consider moving their homes and practices for access to that care.
In Tennessee, the Legislature's Republican supermajority rallied around such a law, calling it S.B. 1 as a sign of its importance to the lawmakers' agenda. Once in effect, the law prevents doctors from beginning transition care for new patients and ends existing care for current patients by March 2024.
But just days before the law was set to go into effect on July 1, Judge Eli J. Richardson of the Middle District of Tennessee had decided to temporarily preserve access to hormone therapy and puberty blockers, though he allowed the implementation of the law's ban on transition surgeries for minors.
But the appeals panel, led by Chief Judge Jeffrey S. Sutton, found that Judge Richardson had overstepped by issuing a statewide ruling and questioned whether the challengers would prevail with their argument that the law violated constitutional rights.
"Life-tenured federal judges should be wary of removing a vexing and novel topic of medical debate from the ebbs and flows of democracy by construing a largely unamendable federal constitution to occupy the field," wrote Judge Sutton, who was named to the court by former President George W. Bush and became chief judge in 2021. He also argued that the State Legislature had the standing to regulate such treatment.
He did, however, offer a caveat, particularly since several other judges decided to rule against similar bans in other states. He wrote that "these initial views, we must acknowledge, are just that: initial. We may be wrong."
His decision was joined by Judge Amul Thapar, who was named to his seat by former President Donald J. Trump.
Senior Judge Helene N. White, who was also confirmed to her seat on the court during the presidency of George W. Bush, said she would have narrowed the scope of the injunction temporarily blocking the law from going into effect, rather than overturning it altogether. But unlike the other judges on the panel, she said she believed the law is likely unconstitutional, by discriminating on the basis of sex.
In her opinion, where she both concurred with and dissented from the majority, she also stressed that the decision was only preliminary.
But Republicans, who have framed the law as a necessary mechanism to protect children from risky medical treatment, celebrated the panel's decision on Saturday.
"The case is far from over, but this is a big win," said Jonathan Skrmetti, the attorney general of Tennessee, in a statement, predicting that the state is likely to win its broader defense of the law.
In a joint statement, legal groups challenging the ban on behalf of transgender Tennessean youth, their parents and a doctor called the ruling "beyond disappointing and a heartbreaking development."
"As we and our clients consider our next steps, we want all the transgender youth of Tennessee to know this fight is far from over, and we will continue to challenge this law until it is permanently defeated and Tennessee is made a safer place to raise every family," said the coalition, which includes the American Civil Liberties Union and the American Civil Liberties Union of Tennessee.
The appeals panel will now consider a more permanent decision on the temporary ruling, while the district court hears arguments over the constitutionality of the underlying law.
Emily Cochrane is a national correspondent covering the American South, based in Nashville. She was previously a congressional correspondent in Washington, chronicling the annual debate over government funding and economic legislation. More about Emily Cochrane
Source: Read Full Article