Senate Confirms Gen Charles Brown As Chairman Of The Joint Chiefs Of Staff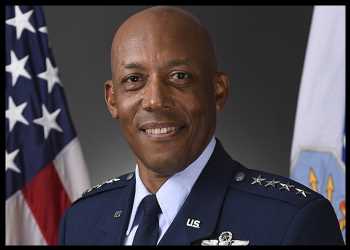 The Senate has confirmed Gen. Charles Q. Brown, Jr. as the United States' next Chairman of the Joint Chiefs of Staff after a months-long hold of hundreds of military promotions by Senator Tommy Tuberville.
To override the Republican lawmaker's block, Majority Leader Chuck Schumer filed cloture to vote separately on the nomination of three top military nominees Wednesday, including the Marine Corps commandant and the Army chief of staff.
The Senate confirmed General Brown's nomination by 83 to 11.
The motion to confirm the new Army chief of staff and the new Marine Corps commandant is expected to be put to a vote Thursday.
Defense Secretary Lloyd Austin criticized the Alabama Senator's blockade on key military nominations, saying, "Senator Tuberville's continued hold on hundreds of our nation's military leaders endangers our national security and military readiness."
"It is well past time to confirm the over 300 other military nominees. The brave men and women of the U.S. military deserve to be led by highly-qualified general and flag officers at this critical moment for our national security," he added. "And their families, who also sacrifice so much every day on our behalf, deserve certainty and our nation's unwavering support."
Austin vowed that he will "continue to personally engage with members of Congress in both parties until all of these well-qualified, apolitical officers are confirmed."
In a statement congratulating Brown on his confirmation, Austin said, "He will be a tremendous leader of our joint force and I look forward to working with him in his new capacity."
Gen. Charles Quinton Brown Jr. is a U.S. Air Force general who currently serves as the Air Force chief. He is the first African American to lead a specific branch of the United States Armed Forces.
A command pilot with more than 2,900 flying hours, he will succeed Gen Mark Milley as the 21st chairman of the Joint Chiefs of Staff on October 1.
Source: Read Full Article