Priti Patel leads Tory MPs backlash against 'visas for trade' plan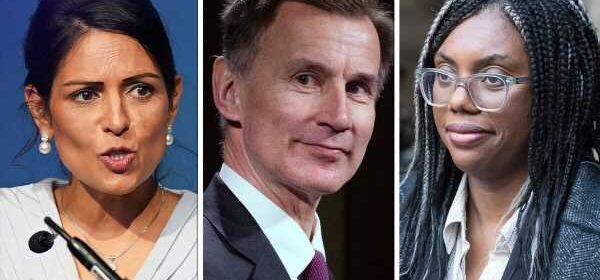 Jeremy Hunt says UK 'can't rely on uncontrolled migration'
We use your sign-up to provide content in ways you've consented to and to improve our understanding of you. This may include adverts from us and 3rd parties based on our understanding. You can unsubscribe at any time. More info
Former Home Secretary Priti Patel has blasted ministers for being prepared to cave in to pressure to allow immigration visas for trade deals. It comes amid fury over the Office for Budget Responsibility (OBR) projections that legal migration will be 245,000 instead of the below 100,000 promised by the Tories at the last election.
The Budget red book noted that ministers would accept the recommendations of the Migration Advisory Council (MAC) to add five occupations to the Shortage Occupations List (SOL).
But crucially it also provided a strong indication that trade deals would come with easier migrant visa access.
The move appears to be a preparation to reopen a massive trade deal with India which had been opposed by Home Secretary Suella Braverman in Liz Truss' Government over the condition that it included more work visas to the UK.
The Budget notes said: "In addition, the government will consider further enhanced provisions linked to negotiations with trade partners including a wider range of activities."
Ms Patel reacted with horror to the proposal and pointed out that as Home Secretary in Boris Johnson's Government, she had successfully resisted the plan.
She said: "Migration should never be part of trade deals.
"It sends all the wrong messages with regards to domestic controls on migration and also undermines the Government's attempts if they are genuine to invest in British people on skills, training and more.
"Post Brexit migration was about the brightest and the best – the points based system, knowing who came to our country and for what reasons.
"It was based on high skills to grow key sectors and not quotas from different countries as part of so-called trade deals. The PBS was also linked to digitalisation of our border – counting people in and out – all of which looks as if it's been ignored in favour of migration trade deals."
Jeremy Hunt had made a point ahead of the Budget that Brexit meant Britain "cannot rely on mass immigration any more to fill vacancies."
He insisted that his plans to get people back to work with support for parents with childcare and removal of pension penalties for older people rejoining the workforce were aimed at achieving that.
However, Nigel Farage pointed out that the 245,000 planned figures on migration and the trade for visa proposal showed that Mr Hunt in reality is still looking at mass migration to boost growth.
He said: "It is clear that mass immigration and easing visa requirements is part of Hunt's plan for GDP growth. But it won't increase per capita wealth — and has huge social consequences."
Don't miss…
Brexiteers could rebel after Sunak confirms date of EU deal vote [REVEAL]
Sunak has seven days to see off Tory revolt and end his Boris problem [INSIGHT]
POLL: Is the UK spending enough on defence? [REACT]
The Budget red book note also suggests that Home Secretary Suella Braverman is losing the argument against reducing legal migration numbers in Cabinet.
Friends of Ms Braverman said that she took the Home Secretary job on the condition that she could bring down legal migration as well as illegal migration.
Previously she clashed with Liz Truss when she was Prime Minister over her plans to boost economic growth with a liberal migration system including visas for trade deals.
While she was officially sacked by Ms Truss over a leaked email to another Conservative MP, it is understood that Ms Braverman, a former Brexit Spartan, had walked out over her disagreement on migration policy.
Instead, it appears that Business and Trade Secretary Kemi Badenoch now has the green light to offer work visas as a sweetener for trade deals around the world.
The issue is particularly important for India with Ms Braverman blamed for wrecking the deal by refusing to agree to Delhi's demands for extra visas during the Truss Government.
However, Conservative MPs in the powerful Common Sense Group (CSG) and European Research Group (ERG) are pushing back against any liberalisation of migration rules.
One CSG member noted "we have a capacity issue" and noted that 245,000 is the equivalent of adding a city the size of Swansea each year.
Marco Longhi, who belongs to both groups, told Express.co.uk that while mass migration increases economic growth for the country it decreases it per head of population.
He said: "Unless people coming into the country are high earners or at least earning £33,000 a year, then mass migration actually reduces GDP per head of population and increases hardship.
"It puts much greater pressure on trying to house people as well as public services with shortages of doctors and school places.
"Taking this path is really counterproductive and the government needs to rethink its policies."
Even Labour believes that immigration numbers need to come down.
This morning shadow Chancellor Rachel Reeves told Times Radio: "At the moment, immigration is at incredibly high levels and I would like to see those numbers come down. But we do that by training people up here in Britain to fill those vacancies. That is what a Labour government would do."
Source: Read Full Article