Local elections 2022 results in full – who won in your area?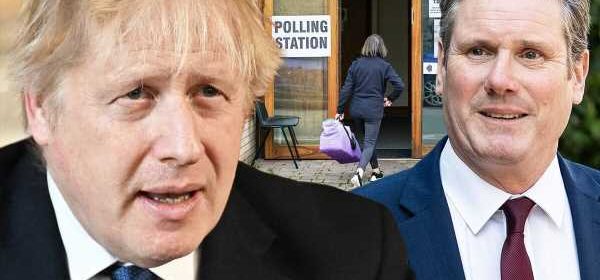 Local elections: 'Tough few months' for Johnson says expert
We use your sign-up to provide content in ways you've consented to and to improve our understanding of you. This may include adverts from us and 3rd parties based on our understanding. You can unsubscribe at any time. More info
Local elections were held across England, Wales and Scotland on Thursday, while residents in Northern Ireland voted in a new General Assembly at Stormont. Analysts have been eagerly awaiting the polls to gauge public opinion ahead of the next General Election in 2024. Read on to find out the results from this year's local elections in full.
England
Around half of the 146 councils in England have declared their results with the remainder expected to do so throughout Friday.
As of 8am on Friday, May 6, Sir Keir Starmer's Labour Party has enjoyed the strongest performance of any party, winning 37 (+3) councils and 1,189 (+38) councillors.
Boris Johnson and the Conservatives meanwhile have secured 18 (-6) councils and 535 (-124) councillors.
Results from the other parties are as follows:
Liberal Democrats: Councils 4 (+1) and councillors 257 (+57)
Residents' Association: Councils 0 (0) and councillors 40 (+6)
Green: Councils 0 (0) and councillors 39 (+23)
Independent: Councils 0 (0) and councillors 39 (0)
Reform UK: Councils 0 (0) and councillors 2 (+2)
UK Independence Party: Councils 0 (0) and councillors 0 (-2)
Post-election vacancy: Councils 0 (0) and councillors 4 (0)
Scotland
None of Scotland's 32 councils have declared their results yet, with officials beginning their counts on Friday morning.
The first results are expected around lunchtime and should continue until the early evening.
In the build-up to the election pollsters were predicting continued dominance from Nicola Sturgeon and the Scottish National Party (SNP). Labour was also forecast to overtake the Tories as the second biggest party north of the border.
Wales
Like in Scotland, Welsh councils will begin counting on Friday morning. Results are then expected to be declared later throughout the day.
For these polls residents aged 16 or older were able to take part and vote in a country that has recently seen large support for Labour.
Ahead of the election analysts had identified three key voting battlegrounds which included Flintshire, Blaenau Gwent and Cardiff.
DON'T MISS:
Lib Dems tease Boris after snatching Tory seats in Eastleigh [NEWS]
Boris issues stark local election warning after Brits cast verdict [ANALYSIS]
Tourist causes hysterics after calling London Underground 'confusing' [INSIGHT]
Northern Ireland
Votes for the Northern Ireland Assembly start being counted on Friday morning.
The first preference votes are expected around lunchtime and the results will follow in the afternoon and throughout the evening.
Sinn Fein are predicted to become the first nationalist party to be voted in as Northern Ireland's largest political entity since the signing of the 1998 Northern Ireland Act.
Source: Read Full Article