Liz Truss set for crunch Brexit showdown with Ursula von der Leyen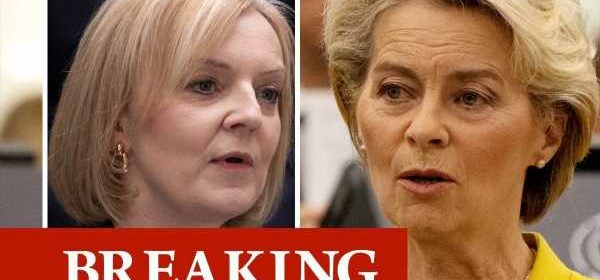 We use your sign-up to provide content in ways you've consented to and to improve our understanding of you. This may include adverts from us and 3rd parties based on our understanding. You can unsubscribe at any time. More info
Prime Minister Liz Truss is expected to meet with European Commission President as soon as next week to discuss the Northern Ireland Protocol.
The two leaders are set to meet on the sidelines of the United Nations General Assembly in New York.
Ms Truss is expected to fly to the US on Tuesday morning after the Queen's funeral 24 hours before.
The Prime Minister, who has been in the job for just 10 days, has made fixing frictions caused by the international agreement one of the priorities of her administration.
She has vowed to carry on with passing legislation in Parliament that she first introduced as Foreign Secretary to override aspects of the Protocol if the EU does not agree to renegotiate the deal.
Unionists argue that customs requirements imposed as part of the Protocol are undermining Northern Ireland' place in the United Kingdom.
It means goods crossing from the mainland to the province must undergo bureaucratic checks.
More to follow…
Source: Read Full Article