Jeremy Corbyn warns Labour MPs 'seething with anger' over Keir Starmer U-turn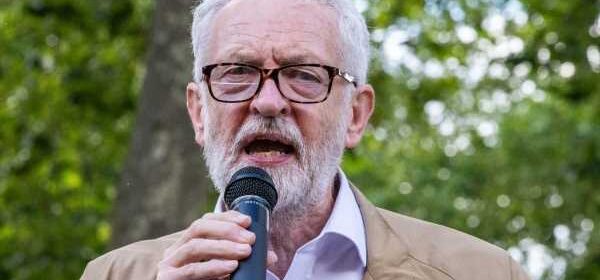 Jeremy Corbyn criticises Labour over 'two child' benefits policy
Jeremy Corbyn warned Sir Keir Starmer that Labour MPs are "seething with anger" over his U-turn on the two-child benefit cap.
The Labour leader on Sunday confirmed he will not ditch the measure despite previously pledging to, in a move that has sparked a civil war within the party.
But his predecessor Mr Corbyn warned there was fury among Labour MPs over the refusal to axe the Tory policy.
He told LBC: "I have spoken to quite a lot of Labour MPs about it yesterday, not so much on the front bench, but I have spoken to many about it and they are seething with anger, particularly as commitments have been made regularly by the party that will take children out of poverty.
"Even the Blair government, which Keir Starmer often quotes, did do a great deal to lift children out of poverty by not having a two-child policy."
Join our free WhatsApp community for the latest politics news
READ MORE: Yvette Cooper put on spot by GMB's Susanna Reid over 'another U-turn' by Starmer
Asked if he believed there could be frontbench resignations over the row, he said: "Well there could be. I should think many people are very upset about it because this is a fairly fundamental point about social justice.
"For expenditure of £1.3billion we could end the two-child policy, we could lift hundreds of thousands of children out of very desperate poverty and almost 850,000 out of relative poverty, thus improving the life chances of all of them."
Mr Corbyn added: "It's got to go."
He also urged deputy Labour leader Angela Rayner, who previously branded the cap "obscene and inhumane", to push to scrap it.
The Islington North MP said: "I think Angela's description of policy is absolutely right. And I hope that Angela will use her influence to ensure this policy of limiting benefits to the first two children will end under a Labour government."
Shadow Culture Secretary Lucy Powell this morning defended keeping the cap as she stressed the party's focus on economic responsibility.
The Labour frontbencher told Sky News: "We've opposed this policy, this is not a good policy, we've opposed it for many years through Parliament, but we're now in a very different economic situation.
We use your sign-up to provide content in ways you've consented to and to improve our understanding of you. This may include adverts from us and 3rd parties based on our understanding. You can unsubscribe at any time. More info
"As a famous phrase would go, there is no money left, the Government has absolutely tanked the economy."
Told her Shadow Cabinet colleague Jonathan Ashworth has called the policy "heinous", Ms Powell added: "Both can be true at the same time, that things can be a bad policy, they can be bad politics, but the economic reality is what we're now faced with.
"There are lots of bad policies… we're not implementing them, it's about not reversing…
"We've got a whole range of policies that are going to transform this country but we can't do everything that we would want to do because the economic reality of what we're going to inherit is so dire."
Source: Read Full Article