Inside Sunak's plan to curb Britain's supermarket bills without a price cap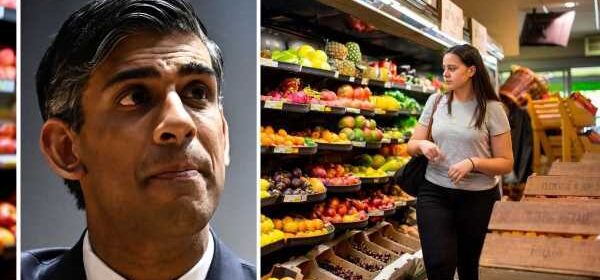 Inflation falls to lowest level in over a year
Retail chiefs have dismissed the idea of a supermarket price cap on basic food items, claiming it will not bring down grocery bills. food items.
Ministers hoped a deal with big chains would cut prices of bread and milk.
But the British Retail Consortium warned "this will not make a jot of difference".
Andrew Opie, its director of food and sustainability, said it was "highly unlikely" any members of the BRC – which includes Tesco, Iceland, Asda, Sainsbury's, Waitrose, Ocado, Morrisons, Booths and Aldi – would sign up to the voluntary pledge.
A No10 source said on Sunday: "We are talking to retailers about what can be done to keep prices as low as possible."
RETAIL chiefs have dismissed the idea of a supermarket price cap on basic food items, claiming it will not bring down grocery bills.
Ministers hoped a deal with big chains would cut prices of bread and milk. But the British Retail Consortium warned "this will not make a jot of difference".
Bill Grimshaw, ex-chief executive of Iceland, said a price cap may not work – while seeming to acknowledging that supermarkets could compete harder to trim prices.
He said: "It's not a good idea for the Government to get involved in the markets in this way.
"I do think there is a need for some action at this point because I don't think the market is working as well as it should. I don't see the supermarkets fighting each other [for customers] as much as they should. I think it is all a bit cosy."
Mr Grimshaw said any arrangement, voluntary or not, was likely to be bureaucratic, adding: "I believe the Government do believe in free markets. I think the question they should have asked [the big four grocers] is, 'Why aren't you fighting each other as hard as you should be?' They are quick at raising prices as a result of the pandemic and Ukraine but they are less quick at lowering them."
Stores are expected to be allowed to select which items to cap and would take part in the initiative, modelled on a deal in France, only on a voluntary basis.
Inflation fell from 10.1 percent in March to 8.7 percent last month, after a drop in energy costs.
The idea of chains introducing voluntary price controls on essential foods came from a meeting between John Glen, Chief Secretary to the Treasury, and retail representatives this month.
Mr Opie said: "High food prices are a direct result of the soaring cost of energy, transport and labour, as well as higher prices paid to food manufacturers and farmers.
"Yet despite this, the fiercely competitive grocery market in the UK has helped to keep British food among the most affordable of all the large European economies. Supermarkets have always run on very slim margins, especially when compared with other parts of the food supply chain, but profits have fallen significantly in the last year.
"Even so, retailers continue to invest heavily in lower prices for the future, expanding their affordable food ranges, locking the price of many essentials and raising pay for staff.
"Rather than recreating 1970s-style price controls, the Government should focus on cutting red tape so that resources can be directed to keeping prices as low as possible."
Don't miss…
Former This Morning star Dr Ranj speaks out on 'toxic' show[LATEST]
Phillip Schofield's lover 'declared his love' at event in front of colleagues[LATEST]
Teens named after river tragedy sees one die and another fighting for life[LATEST]
Health Secretary Steve Barclay confirmed that ministers were in talks with retailers about how to "address the very real concerns" many households have about food inflation and the cost of living.
He said the plans are "about having constructive discussions with supermarkets about how we work together, not about any element of compulsion".
Mr Barclay added the Government was also looking to protect "suppliers who themselves face considerable pressures".
Food prices soared by 19.1 percent in the year to March and are expected to continue rising.
Rishi Sunak has spoken with producers about supply chain issues, while his Chancellor Jeremy Hunt has held talks with food manufacturers.
The Prime Minister will speak about the state of the economy in a regional visit on Wednesday.
Julian Jessop, economics fellow at the Institute of Economic Affairs free market think-tank, said: "Caps on food prices are at best a pointless gimmick and, at worst, harmful to the very people they are supposed to help.
"Despite hype about 'greedflation' driving up food costs, UK supermarkets work on tiny profit margins. While they might be willing to regard some basic foods as 'loss leaders' for positive publicity, they may also compensate for price controls by reducing quantity or quality and by raising prices for 'uncapped' goods.
"It is not even certain that the prices of capped goods would end up lower than if there were no cap. Supermarkets may simply price to the cap, and not cut prices further even if falling costs allowed it."
Mr Jessop added: "Strong competition should prevent this, but it would incentivise supermarkets to cut their prices anyway, making price controls pointless."
A No 10 source said proposals were at "drawing board stage," adding: "Government has no plans to cap the price of food. We recognise retailers operate on low margins. But we are acutely aware of the cost of living squeeze. So we are talking to retailers about what can be done to keep prices as low as possible. Any scheme would be voluntary – it would be retailers who decide to do it."
Rocio Concha, Which? director of policy and advocacy, said: "It's good to see that the Government is looking at how to support ­consumers who are struggling to keep food on the table because food prices are putting intolerable pressure on household budgets.
"Supermarkets should not be waiting for the Government to intervene and instead help those on the lowest incomes by stocking essential budget range items in all stores including convenience stores and ensuring pricing is easily comparable so people can see which items offer the best value."
Retail analyst Richard Hyman said any help would be welcome for consumers, but warned the plan might plunge independent shops into crisis if they cannot compete.
He added: "Obviously some retailers are better able to absorb price inflation in their supply chain than others.
"It makes life much more difficult for independent retailers. Then you've got the area of persuading supermarkets to only raise prices as much as is necessary. What does that mean? Is the Government going to start determining what profit margin they make because that's kind of what underlies it.
"On the surface it seems like a very good idea, very sensible.
"It's quite difficult to actually do anything practical about it that is really going to work."
A Government spokeswoman said: "We know the pressure households are under with rising costs and, while inflation is coming down, food prices remain stubbornly high.
"That's why the Prime Minister and the Chancellor have been meeting with the food sector."
Rishi's been "too busy" to train for 10k run
Rishi Sunak competed in a 10k race on Sunday, but told the crowd that he had not done exercise for a while – as he has "been a little bit busy".
The Prime Minister, 43, was among hundreds to take part in a race in Northallerton, North Yorks, which is in his Richmond constituency.
He also denied suggestions he would most like to take on his predecessor Boris Johnson – himself an avid jogger – in a race.
Thanking the runners, he said: "I haven't done any exercise in a long time, I've been a little bit busy but I'm going to try to do it under an hour."
Asked which politician he would like to meet on the track, the premier said: "I'd like to try and [compete in a race] with Penny Mordaunt with her sword and see if we can get around with it."
Mr Sunak – whose run raised money for the Pendragon Community Trust – was referring to the Commons leader's carrying of a 3.6kg sword at the King's Coronation for 51 minutes.
Source: Read Full Article