Hope is in sight for an end to 'crippling' rail strikes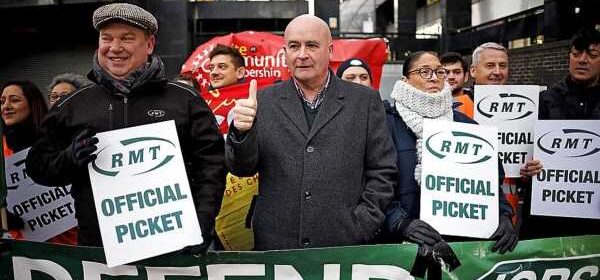 The RMT union announced it had reached an agreement with train companies to pause industrial action ­following a bitter dispute that has dragged on for 18 months.
Passengers may now be spared Christmas and New Year travel chaos.
The deal, called a memorandum of understanding, comes with a pay rise of 5%, which includes backdated wages of about £1,750.
There are also job security guarantees, such as the promise of no compulsory redundancies for a year.
RMT leader Mick Lynch said it was a "welcome ­development", adding: "Our ­members will now decide in an e-referendum whether they want to accept this new offer."
Rail unions have staged ­intermittent strikes since June 2022 over workers' pay, job security and conditions.
READ MORE: Our strike-battered railways are getting minimum service levels – Mark Harper
It caused major disruption across all 14 English train operators over the Christmas period last year.
But with members typically having lost thousands of pounds during a series of strikes, the union leadership has been looking for a way out.
The task was made easier when train operators withdrew plans for closing the majority of ticket offices at stations in England. Yesterday a statement issued by the RMT and the Rail Delivery Group, the body representing train operators, said, if accepted, the deal "will ­terminate the national dispute ­mandate, creating a pause and respite from industrial action over the Christmas period and into spring next year". The statement added the halt to strikes would allow "negotiations on proposed reforms to take place at local train operating company level".
Don't miss…
Trainline shares soar as travel giant shrugs off strikes for 23% sales increase[PERSONAL FINANCE ]
Train strikes by 'politically motivated' unions will cost rail worker jobs[POLITICS ]
The 'worst' train stations for delays and cancellations in Britain named[UK]
The declaration continued: "These discussions would be aimed at addressing the companies' proposals on the changing needs and expectations of passengers as well as unlocking further increases for staff, in order to help to secure a ­sustainable, long-term future for the railway and all those who work on it."
A Department for Transport spokesman said yesterday: "We welcome the RMT ­putting this fair and reasonable offer to its members in a referendum, marking a positive step towards resolving this dispute.
"The Rail Delivery Group's offer guarantees no compulsory redundancies and a fair pay rise, while ensuring we can take forward much-needed reform to secure the future of our railways. We hope RMT members will recognise the benefits, accept this offer and put an end to the RMT's industrial action."
Support fearless journalism
Read The Daily Express online, advert free
Get super-fast page loading
The RMT union agreed a deal worth 9% for members at track owner Network Rail in March, but it rejected the similar pay offer from operators around the same time.
A separate dispute involving train drivers' union Aslef is continuing.
Its members are being balloted for a mandate to continue industrial action for another six months.
Source: Read Full Article